Affordable Life Insurance Options For People With Disabilities
Updated: October 21, 2018 at 5:08 pm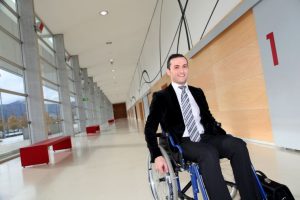 If you have a disability, or you support someone with a disability, you may think that life insurance is out of reach. While a disability could mean disclosure on a life insurance application, the disability is not, by any means, a decline. You just need to know what your options are for your situation. In this article, we discuss finding affordable life insurance options for people with disabilities.
It Really Depends…
Contrary to popular belief, and from many other agents, people with disabilities can obtain life insurance. The amount of life insurance and type depends on your condition and disability. And, one more thing matters:
Do you work?
For example, many carriers allow a high-functioning adult with autism, who is independent and maintains a job, obtain life insurance. At the other end, many carriers will decline a person with down syndrome. Why? The difference has to do with the person's life functionality and longevity. A high-functioning adult with autism, independent and holding a job, should live a normal age life than a person with down syndrome, in which the life expectancy is age 60.
These examples bring us to an important point. Carriers look at life functionality and longevity when reviewing someone with disabilities. Oftentimes, the disability has no effect on the health classification. A disabled person can even obtain preferred best rating depending on the condition.  A carrier will likely approve a person disabled and in a wheelchair and maintains a healthy lifestyle and job. It is the condition behind the disability that carriers look at.
So, again, how you live your life with your disability matters to the life insurance carriers.
Of course, declines happen. If you can't work due to your disability, that in itself can have a negative effect. The inability to work due to PTSD, depression, anxiety, drug abuse, or anything else has an effect. Moreover, if you have additional health conditions including your disability, such as smoking while diabetic and disabled, the carrier will likely decline you.
If you have any questions if a certain disability is covered or not, contact us. We would be more than happy to discuss and let you know.
Life Insurance Options For People With Disabilities
As we indicated earlier, the type of life insurance available depends on the disability. If you are able-bodied and working, then carriers should offer you a complete array of term life, whole life, or any other type of life insurance.
Remember that term life insurance contains level premiums for a "term" such as 10 years, 20 years, or 30 years. Term life insurance costs the least per dollar of death benefit coverage. We believe term life insurance is the most appropriate life insurance coverage.
There is also whole life insurance. Whole life is more expensive than term life insurance for the same dollar death benefit. Why?
(1) Premiums last your "whole life". In other words, whole life insurance policies are underwritten to pay a death benefit
(2) Contains cash value
Then, universal life comes into play. We aren't huge fans of universal life, but a guaranteed universal life policy can work really well for those seeking long-term protection (almost or nearly permanent) without the whole life insurance premium cost.
There are other ways to obtain life insurance. If you work, your employer might offer life insurance coverage. Generally speaking, life insurance through your employer requires no evidence of health or health history. Many group employer life insurances have portability where you can take the insurance with you.
I know what you are thinking. John, where does the "affordability" come into play, you wonder. Well, we work with so many carriers (over 60), we are likely to find you affordable coverage. The takeaway here: many carriers underwrite differently, particularly with disabilities, so finding affordable coverage for you should be no problem. We just match your disability to the right carrier.
Life Insurance Options For People Receiving Disability Benefits Or Social Security Disability Income
At this point, you understand that nearly all disabilities are insurable. If you suffer from depression, for example, but work and regularly visit your doctor, you are eligible for life insurance. Depending on your condition and other factors, maybe there is a rating, but generally no decline. That is why we search and work with over 60 carriers, because all the carriers underwrite your disability differently.
Here's a problem some people run into.
If you are receiving disability benefits or are receiving social security disability income (SSDI). In these cases, the fact that you are receiving SSDI indicates you have a long-term and debilitating disability in which affects your everyday lifestyle. You aren't working. Carriers will likely decline you.
For example, a person with diabetes (type 2) called us recently. He was looking for $250,000 of term life insurance. Nowadays, carriers insure people living with diabetes all the time. The problem: he was receiving SSDI benefits and disabled due to his diabetes. No chance a carrier covers him for that amount.
You can still obtain life insurance, though. If you are receiving SSDI, likely the best choice for you is a guaranteed issue life insurance plan. There are a number of these plans available. These plans are traditionally whole life insurance policies. Maximum death benefits of up to $25,000 usually. All you need to do is apply and voila, you have life insurance.
These guaranteed issue life insurance policies are whole life insurance policies. Nearly all will provide a death benefit of up to $25,000.
Unlike other agencies, we have access to guaranteed issue life carriers for people age 0 all the way to 80.
What's The Problem With Guaranteed Life Insurance?
There's a problem other agents overlook. There is no asset test if you receive SSDI. However, if you receive governmental services for your health or anything else, the guaranteed life insurance policy might have a detrimental effect. What does this mean? Well, many states have asset limits for government-entitled services like Medicaid. Fact is that you can only have so much in assets to maintain these benefits. Usually, the state asset limit is $2,000 or $3,000. It's not really much. It can be really easy to exceed this asset level and disqualify yourself from these services.
Whole life insurance offers cash value, like a savings account (but it is not) – which has value. This cash value goes against any asset limit tests for Medicaid or any other government service. (Note: we are not experts with estate planning or Medicaid law. We recommend consulting with a lawyer who is an expert in this area in your state.) Cash value in a life insurance policy is considered an asset. The value will go against your state's asset test for your services, if any.
If you are on SSDI, or SSI (supplemental security income – the kind that is asset-based) for that matter, and receiving government assistance for anything, we have a better solution. We discuss this solution next.
A Better Solution – A Funeral Trust
To get right to the point, a funeral trust creates a separate entity. This entity holds the life insurance policy on your life. The owner of the policy is the trust and the beneficiary is the trust, which pays the death benefit amount directly to the funeral home.
If that seems very easy, it is.
We have written extensively about funeral trusts. Because these are separate entities, the value inside the trust will not affect your eligibility for government assistance.
The illustration below shows the protective nature of the trust.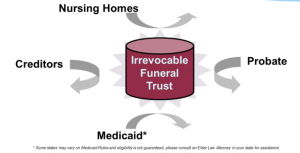 State law governs funeral trusts. Many states allow a maximum of $15,000 in the trust. Other states are less. There are a few states that do not recognize funeral trusts. Contact us to fund the parameters of your state.
Simply put, in most states, the life insurance in the trust is not an asset for Medicaid purposes. Again, seek legal advice for certainty.
Characteristics Of A Funeral Trust
The one thing you may notice about a funeral trust is that it is irrevocable. In other words, once it is set up, you can't change it.
You can't borrow from it or terminate it. You can't alter it.
That should not be a big deal since the purpose is to pay out directly to a funeral home.
Here are some major characteristics of a funeral trust through a carrier we like to use.
(1) funds immediately available upon death – paid out to funeral home within 48 hours
(2) trust and funds are portable anywhere in US – like a traditional life insurance policy
(3) protects your money from creditors, Medicaid, and probate
(4) cost of the trust is free
(5) pays for anything related to the funeral
(6) by law, any money remaining in the trust goes to the insured's estate and settled through probate
(7) only 1 question (yes, 1, but some states require 2) to answer. Two plans available – standard and guaranteed. Everyone qualifies and no declines for life insurance.
(8) issue ages 0 to 90 (really depends on the specific plan type)
Transferring Assets From A Whole Life Policy To A Funeral Trust
Many of our clients already have a whole life insurance policy. They want to establish a funeral trust because of the favorable protection characteristics. However, they don't want to start a new policy.
It is very easy to transfer the cash value from the whole life insurance policy. We generally recommend transferring the cash value when it grows to 70% of the death benefit. For example, if your death benefit is $10,000, we recommend transferring at $7,000 cash value.
What you may not realize is that the $7,000 cash value (in our example above) is your money. The death benefit covered by insurance is $3,000.
Would you lose $7,000 to Medicaid for only a $3,000 insurance component? That is right, probably not.
Alternatively, you can transfer money from a non-qualified annuity (i.e. funded with after-tax money) or a brokerage account.
For our clients on SSI, we usually set up a guaranteed issue life insurance policy whose cash value is less than the state's Medicaid requirement. We also then establish the funeral trust where it makes sense.
Summary
There are many life insurance options for people with disabilities. The right plan for you depends on the nature of your disability, if you are working, and how the disability affects your everyday life.
If you work and independent, your disability likely won't affect your life insurance options. You may have to pay an additional rate because of your disability. However, a decline unlikely to happen.
If you are on SSDI or on SSI, your options are limited. Most likely, your only option is a guaranteed-issue whole life insurance policy. Moreover, people on SSI should consider the funeral trust we described. The trust protects your money from Medicaid and other entities. In fact, we generally recommend a funeral trust to anyone who has a growing cash value close to 70% of the policy's death benefit.
Don't know what to do or where to start? That is why we are here. Contact us or use the form below. We would be more than happy to help you with your life insurance needs. As usual, we only work in your best interest and nothing less. That means if there is a plan or policy elsewhere which works better in your situation, we will direct you to that solution. Working in your best interest is the only way we know how to work with our clients.