Updated On: by My Family Life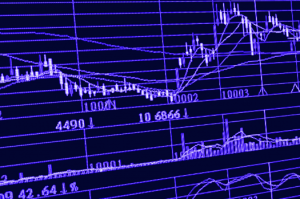 Here at My Family Life Insurance, we are asked often about indexed universal life insurance. There is good reason. At the end of 2016, indexed universal life insurance sales topped almost $2 billion! What is indexed universal life insurance, you ask? We talk about it briefly on our page; however, because of the fervor, we decided to discuss it in more detail in this article. Read on for our unbiased opinion on indexed universal life insurance. We caution, though: like many things, indexed universal life insurance is not for everyone. (Even though many agents claim it is.)
Indexed Universal Life Insurance – What Is It Really!?!?!?
So, what is indexed universal life insurance? Learning about universal life insurance first can teach us about indexed universal life insurance. You might be thinking, "John, this is universally confusing to me. Just get to the point." I promise; I will, and in lay terms so you understand.
To back up a bit, you probably know that nearly all common types of life insurance come with level premium and death benefits. We are talking about term life and whole life, specifically. (There are some others, but not to confuse you, these two are the most common).
What Is Different About Universal Life?
So, what is different about universal life? Like whole life insurance, universal life is permanent insurance. However,  there are significant differences. Universal life's flexibility is the main difference. For example, assuming appropriate cash value, its premiums can be adjusted. In some cases, an owner of universal life can even skip a payment! How is this possible? Universal life's insurance costs and components are separated, or unbundled. These components include the cost of insurance, which is the cost of your death benefit risk. Contrast this with whole life, in which the components are bundled together.
An illustration will make this more clear. This is how universal life insurance works: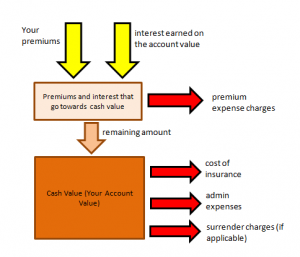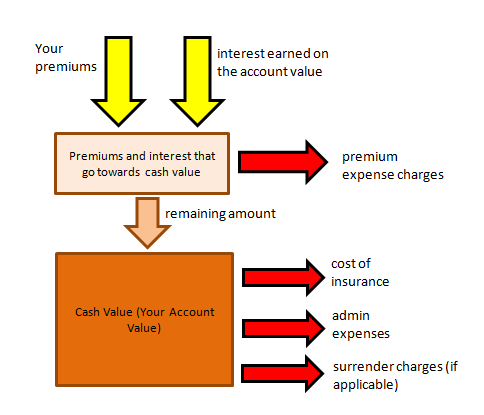 Your premiums and any interest are accumulated. The carrier then withdraws a premium expense charge. The remaining amount is added to the cash value whereupon the cost of insurance, administrative expenses, and any surrender charges (if applicable) are withdrawn. As you can see from this diagram, if your expenses are too great (in red), you will need to add more premium to keep the policy in force (or greater interest). Depending on the type of universal life insurance, as the cash value grows, so does the death benefit.
So, Now We Can Discuss Indexed Universal Life
Indexed universal life insurance is just like universal life (see the diagram above) except the interest is pegged to an index, such as the S&P 500. However, you do not invest directly in the index. Instead, the financial performance of the index determines how much is credited to the account value. The insurance carrier typically caps or buffers the upside growth. However, the carrier will also provide a guaranteed floor, never below 0%, so you will never lose money if the indexed declines. This is an advantage of indexed universal life insurance.
For example, the S&P 500 rose 20% in one year, and you have an indexed universal life whose cap is 10%. The indexed universal life receives 10% credit. Conversely, if the S&P 500 dropped 20%, you are credited 0%.
The level of the carrier's crediting ability is proportional to its investment portfolio and its internal expenses. In other words, the lower the costs, the better the crediting amount – in general. Specifically, the carrier invests in index call options to support the crediting strategy.
Four Characteristics of Indexed Universal Life Insurance
Here are four main characteristics of an indexed universal life insurance policy:
Utilizes the features and benefits of a traditional universal life policy (i.e. flexibility and death benefit protection), but uses a different method for crediting interest.The index performance determines the amount of credit.
Potential for higher crediting interest, resulting in greater cash value, compared to a traditional universal life policy.
Interest credited is linked to the performance of an index like the S&P 500.
Offers cash value protection against index declines through a guaranteed floor
What Is It Not
The misconceptions on indexed universal life insurance abound. It is not:
an investment in the stock market or index. It does not participate in any equity or bond investments
a variable contract, which those allow participation in the market/indexed
a contract where cash value performance is dependent upon subaccount (i.e. variable) performance
an investment vehicle. Although, it does offer above-average returns compared to a CD with minimal risk
How Does Crediting Work – Types Of Crediting Strategies
The crediting strategies has to be one of the most confusing aspects of indexed universal life insurance. Don't worry; we break it down here.
Generally speaking, the performance of the index as a unit of time determines the amount of credit, if any. This unit of time is usually one year, but insurers have implement time units as long as two years and even 5 years!
For example, let's say your indexed universal life insurance policy has a register date of 10/1/15. If your credit strategy measures 1 year as the unit of time, your credit is based on the S&P 500 index value on 10/1/16. If the S&P 500 was 1,000 on 10/1/15 and it rose to 1,100 on 10/1/16, the credit you will receive is 10%, less any caps or participation rates (more on that next).
There are really 3 types of crediting strategies available:
Cap – the maximum interest rate. Let's say the cap is 10% for a 1 year time unit (also called "point to point"). The 10% is the maximum cap. For example, if the S&P 500 went up 20%, your credit is 10%. However, if the S&P 500 went up 5.6%, your credit is 5.6%.
Participation rate – a percentage multiplied by the index performance.  For example, let's say the participation rate is 55%. The S&P 500 rose 10%. The credit is 5.5% (10% X .55).
Spread – a percentage subtracted from the index performance. For example, let's say the spread is 4%. The S&P 500 rose 10%. The credit is 6%.
There is a floor. Although it is not a crediting strategy, your credit can never be less than 0%. For example, if the S&P 500 lost 20% in one time unit (let's say one year), your credit is 0%.
The Tax Advantages of Indexed Universal Life
Like all life insurance policies, indexed universal life has the following advantages:
            the death benefit is income-tax free
            the cash value grows tax-deferred
You may hear that indexed universal life insurance is similar to a Roth IRA. This is true in that one can receive the cash value income tax free by borrowing from the policy. They also don't have the contribution limitations as a Roth IRA. These reasons prompted many investor alerts  and concerns from regulatory agencies. It is one reason why FINRA issued an investor alert on indexed annuities – a brother of indexed universal life insurance.
Who Could Use an Indexed Universal Life?
For the everyday person, like you and me, you probably don't need an indexed universal life insurance policy. Instead, you need an adequate term life insurance coverage, possibly a small whole life policy for burial insurance (and protected from Medicaid spend down rules), to invest your money for retirement savings or for your children's college.
However, there are some people who could use an indexed universal life insurance policy. You
(1) have permanent insurance needs
(2) are a business owner and need it for buy-sell agreement
(3) have max'd out of your 401k and want an alternative method to fund for retirement
(4) are an above-average, affluent and could use the tax advantages of the cash value
Two Problems With Indexed Universal Life Insurance
While indexed universal life insurance sounds good. We see a few problems with it. You need to be aware.
(1) it has above average fees compared to similar types of life insurance. Just look at the diagram above. There are at least 3 cash outflows. If all you need is a death benefit for income protection, then term life insurance is the better option. If you aren't maxing out your retirement plan, then an indexed universal life insurance is not the product for you.
(2) it is still life insurance, and a universal life plan at that! That means, if your cost of insurance is increasing, but your cash value and your premiums are not sufficient to cover your cost of insurance, you will need to add more. The intention of life insurance is to insure your life, not to create a separate savings account. This could happen with lukewarm returns in the market coupled with increasing expenses. Be aware of this!
Conclusion
We hope you now understand indexed universal life insurance. Is it right for you? We can help determine that. Feel free to contact us and let us know in the comments section if you would like to learn more about indexed universal life insurance. What you will receive from us? A phone call, email, and an easy discussion on what you are trying to do. Unlike other agents and agencies, we have the planning, insurance expertise, and duty of care to make a professional recommendation. We will only suggest a plan that is beneficial in your situation and your situation only.