NGL AssetGuard and NGL Funeral Expense Trust [Protect Your Money With This Powerful Combination]
Updated: May 30, 2022 at 12:41 pm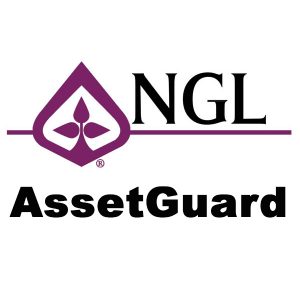 You've probably never heard of NGL or a funeral expense trust (or funeral trust, for short).
When a person is searching for the right final expense or burial insurance, sometimes the breadth of carriers and products makes the process confusing and intimidating. The person becomes frustrated. Then he or she stops this important coverage altogether, leaving his or her family exposed to a potential financial burden.
You don't need to feel that way with the NGL Funeral Expense Trust.
In the article, we offer a review of NGL AssetGuard as well as the NGL Funeral Expense Trust. The combination of the two creates a powerful combination of paying for your funeral expenses as well as protecting one's assets against nursing home costs.
No other insurance does this.
In our opinion, this insurance could be the easiest and most efficient final expense or burial insurance policy that we have worked with. One caveat: it is hard to compare this to a traditional final expense insurance policy. We will explain why.

Here's what we will discuss:
Let's discuss who is NGL.
---
Who Is NGL?
NGL (National Guardian Life) established in 1919. A.M. Best rates NGL at A-, which is the 3rd highest out of 15 rankings. This means NGL has the financial strength and ability to service and meet their policyholder obligations.

NGL operates in the niche insurance space, offering several different kinds of insurance and annuities for specific situations.
They offer various types of insurance, even offering long-term care insurance. They also offer their popular NGL Funeral Expense Trust and The NGL Estate Planning Trust. We discuss both of these next.
First, we discuss their AssetGuard product.
---
What is NGL AssetGuard?
NGL AssetGuard is a simplified issue life insurance policy. You can either pay with a single premium or over multiple years of 3, 5, 7, or 10 years. The issue age is one of the benefits of NGL AssetGuard. On a single pay, an applicant can be up to 99 years old to qualify. For multi-pay, issue age is up to age 80.
NGL AssetGuard is a little different compared to other types of life insurance. In fact, it's more of an annuity.
Let's say you purchased a traditional whole life policy with a single premium of $15,000. You might obtain a death benefit of $30,000. However, Medicaid could make claim to that policy if you are in a nursing home. It's true. Be careful what other websites tell you. Your policy will be gone.
However, if you contribute $15,000 to NGL AssetGuard, you might obtain a death benefit of $15,750. But, within a funeral trust, this $15,750 is protected from nursing home cost claims. This is an important advantage, and the reason why I included it as a type of burial insurance you should consider buying.
NGL AssetGuard is NGL's only life insurance policy. As we mentioned, you have two choices: either single pay or multi-pay. This chart will help your understanding.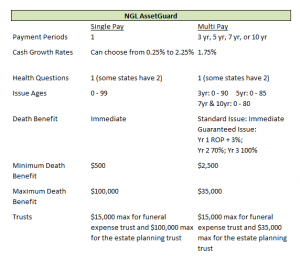 One Health Question
As you can see from the above, one of the unique characteristics of NGL AssetGuard is that its application contains one health question (some states have 2, including an HIV/AIDS question).
If you answer "no," you have the standard insurance plan. This allows you to have an immediate death benefit.
If you answer "yes," do not despair: you will have the guaranteed issue plan. Your death benefit operates on a graded schedule.
Here is the one question:
"Are you currently on oxygen, hospitalized, receiving hospice care, or residing in a nursing home, long term or residential care facility, or group home; or during the past two years have you been advised by a medical professional to have any surgical procedure that has not been performed; or have you been treated or are you being treated (including medication) by a medical professional for any of the following diseases or disorders:

Congestive Heart Failure, Immune System Disorder, Chronic Obstructive Pulmonary (lung) Disease, Amputation (caused by disease), Heart Disease, Cirrhosis of the Liver, Emphysema, Alzheimer's/Dementia, Stroke, Drug or Alcohol Dependency, Amyotrophic Lateral Sclerosis (Lou Gehrig's Disease), Cancer (other than skin), Kidney failure (including dialysis), Diabetic Coma/Insulin Shock"
Notice this insurance does not have a height/weight chart and no outright diabetes question, either.
Remember if you answer "yes," you would have the guaranteed issue plan, so you will always obtain insurance.
What do you think? One health question? Guaranteed issue if you answer yes. Your money essentially works for you from day 1.
---
The NGL Funeral Expense Trust
We talked about NGL AssetGuard, and you should have a good understanding about the product.
What makes NGL AssetGuard even more unique is that it can sit inside NGL's irrevocable funeral expense trust.
Why is this important? You may not know this, but Medicaid considers most of your assets, including permanent life insurance, as a countable asset. This means Medicaid could force you to terminate or dispose of the below assets before it will pay for long-term care services, including nursing homes. See the diagram below.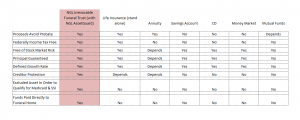 And, if you already have a permanent life insurance policy with cash value, Medicaid will force you to terminate the policy and use the cash value to pay for long-term care / nursing home costs.
"No way!" you say.
"Way!" I respond.  "Yes, see below. The below picture shows which assets are countable towards or not. Note, check your state to see which assets are countable or not."
The below is just a general framework and list. Be sure to check your state for a specific asset list.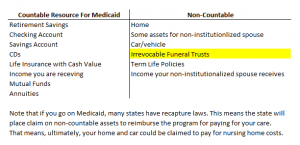 "That's nice John," you say. "I don't plan needing assisted living."

That is nice to hear, and I don't plan to either. No one does. Fact is, 7 out of 10 Americans will have a long-term care need in their future. This statistic comes from the Department of Health and Human Services. I think we can all agree DHS is not in the business of making stuff up, right?
Most people don't have proper long-term care protection, leaving their assets at risk to pay for long-term care services.
---
Advantages Of NGL Funeral Expense Trust
Let's talk about the advantages of the NGL funeral expense trust in more detail.
Creditors can't get at your money inside a funeral expense trust. It's true.
Most importantly Medicaid can't require you to use the cash value in your life insurance policy to pay for nursing home costs.
Take a look at the chart below. The advantages of the NGL Funeral Expense Trust stand out.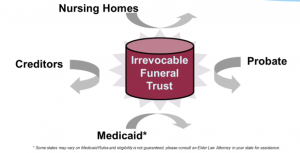 "I see that, John. Does it require a lot of effort to start?" you ask. "It seems like it."
Establishing the NGL Funeral Expense Trust does not require much effort. The application is one page.  The NGL AssetGuard product sits inside the trust, protecting your money from nursing home costs and ensuring your money is there to pay for your funeral.
The combination is quite powerful!
This brings us to another point: it's hard to compare the NGL Assetguard and Funeral Trust to another final expense or burial insurance policy. The trust protects your money. A traditional final expense or burial insurance policy does not offer this protection (see the grid chart above).
How To Fund The Trust
Through NGL AssetGuard, here are ways to fund the trust:
transferring the cash value from a life insurance policy. Note that underperforming universal life policies are a good option
through your savings account
from Bank CDs
multiple payments from your checking account
from other countable assets
You will essentially transform countable assets for Medicaid into a non-countable asset.
Consider These Caveats
As we mentioned, the combination of the NGL AssetGuard and The NGL Funeral Expense Trust creates a powerful combination. The NGL AssetGuard creates a life insurance policy that works for you day 1. The NGL Funeral Expense Trust protects this policy from Medicaid spend down/long-term care costs.
Sounds great! However, we used the term "irrevocable" before. What does this mean?
Well, you can't break this trust once established. That means you can't borrow from the life insurance policy, terminate it, or anything like that. This is very important to understand.
Once this funeral trust is set up, you can't change it!
We at My Family Life Insurance do not think that is bad. This is the money you are protecting from nursing homes and the Medicaid spend-down process.
Also, the maximum one can contribute is $15,000, subject to state laws. While that does not seem like much, consider this:
(1) when a nursing home or long-term care services deplete your assets, saving anything you can will matter

(2) your heirs (and yourself) will have peace-of-mind knowing your funeral is already taken care of
(3) if the funeral expenses are less than what you have in the trust, the balance will revert to your gross estate. For example, you have $15,000 in the trust. The funeral expenses are $10,000. That means your estate receives $5,000.
(4) the trust and funds are portable. If you pre-pay at a funeral home, you may be stuck or locked in at that funeral home
---
The NGL Estate Planning Trust
While a bit outside the scope of this article, NGL offers a much more robust trust if you want to protect more of your money. It is called the NGL Estate Planning Trust.
The process is similar to their funeral trust. The NGL AssetGuard sits in the trust. The trust through NGL AssetGuard protects your money from creditors and Medicaid spend-down rules. It ensures your heirs that money will be there upon your death.
There are differences, however. Whereas the maximum contribution to the Funeral Trust is $15,000, the maximum contribution to the Estate Planning Trust is $100,000 (subject to state rules).

Additionally, your designated beneficiaries receive money after the funeral expenses. Recall that your gross estate receives any balance left over in the Funeral Trust.
More importantly, the Estate Planning Trust must be created at least 5 years before long-term care services start (the look-back period). If not, then Medicaid penalties will apply. Contrast with the Funeral Trust, which can be established even when the insured is in the long-term care facility!
Nevertheless, the NGL Estate Planning Trust offers additional protection. Moreover, there is no cost to establish the trust.
---
Now You Know The Powerful Combination Of The NGL AssetGuard And The NGL Funeral Trust
We hope you see the benefit of the NGL AssetGuard combined with the NGL Funeral Expense Trust. Combined, they represent a powerful combination to protect your assets while ensuring the money is there for your funeral.
Is the NGL AssetGuard and Funeral Trust right for you? It could be. Maybe it is not. Contact us to find out or use the form below. We will determine if the NGL AssetGuard/Funeral Trust meet your goals and objectives.
That is who we are at My Family Life Insurance. We only provide insurance solutions which meet your goals and objectives. Not the other way around. We work first and foremost with your best interests at hand, always. There's no risk to contacting us. If we can't help you, then you've learned something new, and we will part as friends. Simple and easy.
Learn More
Are you interested in learning more about the information in this article? Please fill out the form below, and we will email you additional information or give you a call. We always work in your best interest. By entering your information, you are providing your express consent that My Family Life Insurance may contact you via e-mails, SMS, phone calls, or prerecorded messages at any phone number(s) that you provide, even if the number is a wireless number or on any federal or state do-not-call list. Additionally, you understand that calls may be placed using automated technology, and that consent is not a requirement for purchase. Your information will NOT be sold and will remain private. However, you may opt out at any time. We respect your privacy first and foremost.