Did you know guaranteed issue term life insurance exists?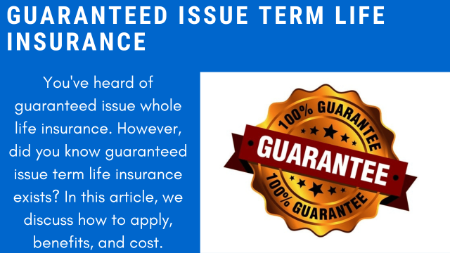 No, John. I've only heard about guaranteed issue whole life insurance.
Right. This is guaranteed issue term life.
Same thing. No health questions.
No MIB lookup or underwriting.
You fill out the online application. Then, pay via credit card or with a debit card.
You then have life insurance.
There are some differences. Notably, this is term life insurance.
John, tell me more.
We'll go through all the details.

Here's what we will discuss:
Let's jump in and discuss how the guaranteed issue term life insurance works.
---
How Does The Guaranteed Issue Term Life Insurance Work?
I know what you are thinking.
John, how am I able to obtain guaranteed issue term life insurance? I only heard of guaranteed issue whole life insurance.
Here's how you can obtain term life insurance with no health questions or underwriting.
It's through an association. Associations, like businesses, can offer insurance benefits to their members. One of those benefits is life insurance.
The association is the Wellness Association of America (WAOA). The life insurance premium includes the membership fee for WAOA.  In other words, your monthly life insurance premiums cover both the membership fee and the life insurance itself.
The life insurance plan is underwritten by Lifeshield National Insurance company. They are located in Oklahoma.
The marketing name of the insurance plan is Protection Plus.
You can purchase between $10,000 and $50,000 of term life insurance. They are
Protection Plus10 = $10,000 death benefit
Protection Plus20 = $20,000 death benefit
Protection Plus30 = $30,000 death benefit
And so on…
People between the ages of 18 and 75 may apply.
Everyone is accepted. No social security number is required.