Updated On: by My Family Life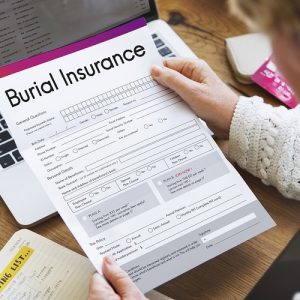 You receive a brochure in the mail which says something like, "Don't hesitate. Set up your funeral costs now!" Or, you see an infomercial on late-night TV regarding final expense cost. You haven't done anything, feel concerned, and make the phone call. Or, you apply! We at My Family Life Insurance say: STOP! You might be doing yourself a disservice and applying in haste. Yes, there are some burial insurance policies you should avoid. In this article, we discuss what burial insurance is and the 5 types of burial insurance not to buy.
What Is Burial Insurance?
Burial insurance is simply a whole life insurance policy designed to pay for your funeral and burial costs. In our opinion, we feel that life insurance is the easiest and most efficient way to pay for your burial costs. Why? Here are some basic advantages:
(1) they usually pay out much quicker upon death compared to other types of life insurance policies
(2) unless you have significant health complications, coverage is day 1 (i.e., tax-free if you die the next day, your beneficiaries will have the money to pay for your funeral)
(3) the death benefit is income tax-free. Other ways of savings, such as an annuity or savings account, can be taxable to your heirs
(4) lets you stay in control. Pre-burial services through a funeral home could be disadvantageous in that the services apply only to the home and nowhere else. What if you decide to move? A life insurance policy allows you to have the money for "anywhere." We really are not making that up
(5) they usually cover moderate to significant health conditions such as obesity, heart conditions, etc
(6) a bit of a summary of #2 and #3. You don't know when you are going to die. If you are saving through a traditional savings account or some other vehicle, you could die without your funeral costs adequately funded
If you don't have money to pay for your funeral, what will your family do then? Life insurance uses leverage; that is, you pay a small premium for a greater death benefit. If you have day one coverage, your policy will pay a death benefit even if you had made one payment. However, be aware of an incontestability clause. This allows the carrier to hold the death benefit if it thinks there was some misinformation in the application. Let's say you die six months later from cancer, but there was no mention of cancer in your application. It may want to perform a thorough investigation.
How Much Do Funerals Cost
As mentioned, burial insurance (sometimes called final expense insurance) usually is whole life insurance which offers a cash value. Death benefits range from $1,000 to $50,000 depending on the carrier, your age, and if you have significant health conditions.
Sounds good? How much do funerals cost? That is a great question. Peruse on the internet, and you will find varying ranges. According to the National Funeral Directors Association, the average funeral in the united states cost about $8,500. However, this amount excludes any cemetery costs. Add another $6,000 for cemetery costs, and the average funeral costs about $15,000. This amount excludes any incidentals such as a meal after the funeral.
Cremations generally cost much lower, in the $5,000 range.
The 5 Types Of Burial Insurance NOT To Buy
Now that you have some understanding of burial insurance, you may think that burial insurance is all the same. Truthfully, any life insurance policy is a burial insurance policy. However, some types of life insurance policies are not designed to be burial insurance. Here are the 5 types of burial insurance not to buy.
Term Life Insurance
We believe term life insurance is the foundation of any financial plan. It provides the best combination of low cost and death benefit coverage. While many carriers are offering additional riders, such as critical illness coverage, term life insurance is still term life insurance. However, it should not be used as burial insurance. Why?
Two reasons: we don't know when we will die, and it covers a temporary period, up to 30 years in some cases. If you die outside the term, you will have no money to pay for your funeral.
"Well, John, I can always reapply at the end of the term, right?" you ask.  Sure you can, but who knows what your health will be like. If you do have a term life insurance policy, make sure it has a conversion option to whole life or some type of permanent insurance. And, make sure you exercise that option when you can. The sooner, the better. These conversion options usually come with no evidence of health insurability. You covert all or part of your term policy to permanent coverage. The younger you convert, the lower the cost. If you need help, we assist many clients with their term life policy conversions. Feel free to contact us.
"Why whole life, then?" you ask. Good question. Whole life is designed to last your "whole life." Since you don't know when you are going to die, whole life is the most beneficial. It also has level premiums and a guaranteed death benefit.
Universal Life
These policies were popular in the 1980s and 1990s when interest rates were high. While we won't go into great detail (we have written extensively about universal life and index universal life), the success of these policies are based on interest rates. If interest rates are higher than those shown in the insurance illustration, the policy cash value will grow. If actual interest rates are lower compared to the illustration, then the cash value would most likely decline, requiring a higher, additional premium to keep the policy in force. Since interest rates have dropped significantly, those universal life policies from the 1980s and 1990s are upside down (i.e. inadequately funded), requiring higher-than-normal premiums to remain in force.
Universal life policies require vigilance because of the interest rate and insurance cost effects. If you have a universal life policy and need a death benefit, a viable solution could be to transfer the cash value to a burial insurance whole life policy.  We have helped many individuals with their upside-down universal life policies.
There is one type of universal life policy that we like. It is called guaranteed universal life. These policies don't have cash value and will last for a near life. (You specify the age the policy terminates age 90, 95, 100, or even 121). If you are healthy with a few minor health complications, this type of policy might be a better fit than a whole life, burial insurance. They are generally less expensive per $1,000 of insurance compared to whole life. Additionally, you may apply for a larger death benefit.
Policies That Don't Protect You From Medicaid Spend Down
While whole life, burial insurance has advantages, it has a drawback. Generally speaking, the cash value generated by the policy is not protected from Medicaid spend down rules for nursing homes. What does this mean? It means Medicaid will force you to use the cash value in any final expense or burial insurance policy towards paying any long-term care costs BEFORE it will pay. If you don't know anything about long-term care, know that individuals aged 65 and over have a 7 in 10 chance of needing some type of long-term care service in their lifetime.
If your beneficiaries want to keep the policy in force, there are ways they can pay, but they will have to pay more since you borrowed from the policy.
In our experience, these policies tend to terminate which means you spent money for nothing.
One viable solution is to use a funeral trust. We have discussed it extensively. These trusts are a great way to (a) pay for your funeral and (b) ensure the money is there, giving you and your heirs peace-of-mind. There are usually no costs for these policies. Some states allow these trusts and others don't. Talk to us to find out.
Even if you opt to not use a funeral trust, at least check them out for understanding. And, know the repercussions if you opt to use a traditional burial insurance policy. A traditional burial insurance policy isn't "bad" by any means, but it does leave you open to this spend down possibility. We would rather see you covered with some type of burial insurance than none at all.
Guaranteed Issued Whole Life
These policies will give you life insurance without any underwriting. You fill out an application, and voilà, you have life insurance.  How does that sound?
Well, it sounds good. These are much more expensive and graded. They are expensive because people who have significant health conditions purchase these policies. The carriers know this and price the risk accordingly.
These policies can serve a purpose for those, say, who are in remission from cancer, but haven't been cancer free per the terms of the carrier for a traditional policy.
These policies are also advantageous for people with down syndrome, Huntington's Disease, AIDS/HIV, and more. These conditions are, unfortunately (and currently), uninsurable through traditional burial insurance underwriting.
However, in our experience, even those with significant health conditions, we can find a comparable policy at a lower cost.
Any Insurance That Comes In The Mail Or You See On TV
This brings us to where we started. You see the brochure in the mail or the advertisement on TV which tells you to "buy now!". Or, the "buy insurance for only $1 down!" While these might sound good, the only policy that is right for you is the policy that fits your specific situation.
How do you know if the brochure in the mail is the right policy for you? You don't. You might be throwing your hard-earned money to a policy that can't meet your needs. It's like throwing your money away.
We at My Family Life Insurance don't want to see that. If you work with us, we have the knowledge and expertise to select the right policy for your situation. We do everything on the phone. Don't want to talk on the phone? Oh, you are tired of those hard-sell life insurance agents? We aren't those. We can email or jointly fill out the application together. There are many ways to accomplish what you need without us being intrusive in your life.
Conclusion
We hope this article made you aware of the 5 types of burial insurance NOT to buy. There are so many to consider. What do you do next?
Contact us. Really. We can help and have the knowledge and expertise to match what you need for your specific situation. Many agents and agencies try to do that, but we ACTUALLY do that.
Call, email, or fill out the form below. Or, use our contact form. Just include some pertinent information about yourself say you need to some help determining the right burial insurance. We will be in touch within 24 hours.