We Can Help With Health Insurance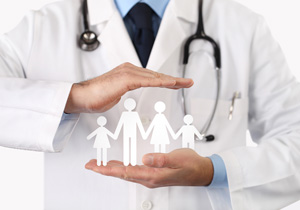 We at My Family Life Insurance can help with health insurance. We receive many phone calls from people looking to switch health insurance carriers because of high monthly premiums. You may not realize, but we convince most of them to remain with their current insurer. Why? Health insurance is more than a monthly premium decision. It is an out-of-pocket cost decision which includes deductibles, copays, coinsurance as well as network, pharmacy costs, and a whole host of other variables. When taken all together, we have found that the current insurer may cost less than an alternative from a total cost perspective. Naturally, however, the decision to switch really depends on your situation.
While many remain with their health insurance (and we are certainly open to helping people switch when it is in their best interest to switch), we can help our clients more by addressing the often overlooked dental, vision, and hearing insurance.
Say what? (OK, bad pun 🙂 )
You may get these insurances through work – or not. You may not realize that dental and vision may cost more through work or be limited in benefits than what you can get elsewhere. That is where we can help. Although over 90% of people get these benefits through work, they can have some limitations:
They might be overpaying for their needs
Their benefits might not provide what they need
There are also over 1 million workers and families without this important coverage. If this is you, we can help. There are low-cost plans available if you are working within a budget.
Did you know we help small business owners with group employer health insurance? We work with an affordable option compared to the typical fully-insured options. It can save a business owner money. Here are some articles about the health insurance we assist with small business owners.
Medicare Needs
Are you over 65 and eligible for Medicare? Medicare plans can be a confusing topic for many people who are eligible. We at My Family Life Insurance are well versed with Medicare plans. We can help you answer the following questions and more:
How does Medicare work?
Medicare seems like alphabet soup. Where do I start?
What is the difference between a Medicare Advantage plan and Medicare Supplement plan?
I don't take any prescription drugs. Do I still need a Part D Drug plan?
Will Medicare cover my long-term care?
I have retiree medical care from my employer. Do I need Medicare?
While Medicare does cover many services, it does leave holes. Depending on the plan selected, you may leave yourself vulnerable to high out of pocket costs from significant illnesses or injuries. Luckily there are plans that will fill the holes and pay for some, or all, of these costs.
Here are some popular topics about Medicare:
Already know what you need? You can apply yourself!
(Click the button below and fill out our secure application.)
I acknowledge and understand that by contacting My Family Life Insurance through any contact form, "Submit," "Display Rates," "Apply Yourself" or other form means, I am providing my express consent that I may be contacted by My Family Life Insurance via e-mails, SMS, phone calls and prerecorded messages at any phone number(s) that I provide, even if the number is a wireless number or on any federal or state do-not-call list. I understand that calls may be placed using automated technology, and that consent is not a requirement for purchase. Your information will NOT be sold and will remain private.