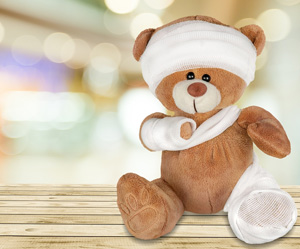 Many financial advisors and agents discourage the need for accident insurance. If you don't know what accident insurance is, it is simply a plan that will pay you a lump sum (typically) for an accidental injury and accidental death. For instance, if you are skiing and break your leg, a typical accident insurance plan will pay a lump sum benefit for the ambulance ride, the ER, the surgery to fix your broken leg, and potentially for other services such as durable equipment, doctor services, and follow up.
The purpose of these policies is to help alleviate the cost of doctor's services, hospital services, etc. upon an injury due to an accident. It will give you cash that you can use for deductibles, copays, coinsurance or even your daily living. You decide what you want to do with the money.
These advisors and agents state that the cost of the accident policy (see below) outweighs the benefits. The policy gets thrown into the "useless insurance" bin like "life insurance on children." If you read our article on life insurance for children, you understood there are important benefits of having this. Similar to life insurance on children, there are important benefits of an accident policy that these advisors and agents overlook.
What Does An Accident Insurance Policy Cover?
These tend to be simple policies; however, some are better than others (like any type of insurance).  These policies will pay you a lump sum for an injury or death due to an accident. There is a set schedule that the carrier will pay. For example, a broken arm might pay out $1,000 while stitches might pay out $100. Nearly all policies will pay upon the use of an ambulance and ER. Some policies will pay for the use of a non-emergency room as many doctor's offices have the equipment to treat for broken bones, stitches, and other injuries.
A great accident policy will pay you for both on-the-job and off-the-job accidents. It should also not cost a lot of money. We have seen strong accident insurance plans cost about $30 per month for a husband and wife. It is also flexible where the injured person can receive treatment. These policies should also have an expansive schedule of benefits and provide a benefit upon accidental death or dismemberment.
Who Can Use An Accident Insurance Policy?
Nearly everyone; however, we know nearly everyone can't. About 1 in 8 people will experience an injury requiring ER or doctor services. That's where the advisors and agents who are against accident insurance policies point out. One in 8 is about 12%. However, move off the average and think about these situations below. You can probably utilize an accident insurance policy if:
Already know what you need? You can apply yourself!
(Click the button below and fill out our secure application.)
I acknowledge and understand that by contacting My Family Life Insurance through any contact form, "Submit," "Display Rates," "Apply Yourself" or other form means, I am providing my express consent that I may be contacted by My Family Life Insurance via e-mails, SMS, phone calls and prerecorded messages at any phone number(s) that I provide, even if the number is a wireless number or on any federal or state do-not-call list. I understand that calls may be placed using automated technology, and that consent is not a requirement for purchase. Your information will NOT be sold and will remain private.
You drive a long distance for work, for your kid's traveling sports teams, for anything – about 2.4 million people are injured or disabled in vehicle accidents each year in the U.S. (www.asirt.org)
You and your spouse are active, or have active kids, playing in sports – about 1.4 million youths were seen in ERs for sports-related injuries (www.usatoday.com)
You have a laborious job such as a machinist, laborer, fishermen, tradesman, construction, or tractor trailer driver – any job in which you perform physical exertion (there are approximately 150,000 construction site accidents each year, National Safety Council)
You are a first responder, fireman, police officer, etc.
You like to go motorcycling on the weekends (88,000 motorcyclists were injured while riding in 2013, www.nsc.org)
You use firearms
The above situations seem to challenge the 1 in 8 probability. In 2013, the medical costs from these accidents were about $220 million (National Safety Council Injury Facts). Medical costs include doctor's services, hospital and ER services, etc.