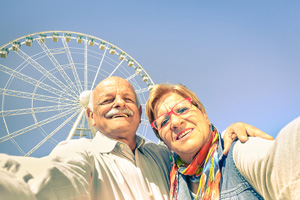 Final expense is a funny term. (In case you have not realized it yet, the life insurance industry is filled with funny terms.) A final expense policy is a whole life insurance policy designed typically for people from age 40 to 80 (or higher). Although these death benefits can be used for anything, they are intended to pay for funeral/burial expenses and other end-of-life expenses such as medical bills or loans. Are you a candidate for a final expense policy? If you haven't planned how to pay for your funeral or saved for it, a final expense policy might be right for you.
These policies incorporate health conditions, making the application process, underwriting, and decision making quicker and easier. Underwriting is usually instant or a few days and policy issuance soon thereafter. Typically, the death benefit of these policies does not exceed $25,000. Benefits are comparatively lower because the underwriting process is very simple. Generally speaking, an application and a phone interview from an underwriter confirming your health status are all that is required.  The interviewer will typically run a prescription drug check and medical information through the MIB, confirming your answers match what is in the database. Depending on your health condition, you may be granted a level benefit or a graded / modified benefit. Here are the differences between a level benefit and graded benefit:
LEVEL BENEFIT – means that once the policy is issued, the insured's beneficiaries are eligible to receive 100% of the death benefit if death were to occur immediately.
GRADED OR MODIFIED BENEFIT – if you have some moderate to severe health complications, most likely you will be eligible for a graded or modified policy. These policies have a death benefit waiting period, typically 2 or 3 years. If you die within the waiting period, your beneficiaries will receive a percentage of the full death benefit (graded policy) or the premium paid to date plus some interest (modified). Many guaranteed issue life insurance policies have 2-year waiting periods. Feel free to check out our guide on guaranteed issue life insurance for detailed information.
Similar to the needs of a typical whole life policy, a final expense policy is useful for:
Pay funeral expenses. Insurance proceeds are still income tax free
Pay off debts upon death that your spouse or someone cosigned
Provide some money to heirs upon death
You don't need it, you think? You have a few options to consider. You can either…
Do nothing, and let the burden of your death upon your loved ones
Start saving, but when will you die? It is conceivable you could save $50 (let's say the same as a monthly premium), and then die, what would your family do then? And, we at My Family Life Insurance are aware of how people tend not to save (we were financial planners and advisors)
Moreover, any growth in savings is taxable while insurance proceeds are tax-free
Utilize pre-burial services from the funeral home; however, most patrons feel like they tend to overspend here or forced to purchase things they really don't need. Moreover, you tend to hand control of your money over to someone else rather than your maintaining control
Simply use a small premium to pay for a life insurance policy – the best choice
Every carrier is different in its underwriting process. Some carriers might be more lenient with a health condition, such as type 1 diabetes, than others. Some may require a prescription drug history check while others don't. If you have some health complications, some insurers will have you in a 3 year modified policy while others will have you in a more beneficial 2 year graded policy. That is why it is important to consult an independent insurance agency.
We are experts in finding the right final expense / burial insurance based on your specific situation. We have helped people with the following health conditions or lifestyle situations.
buying burial insurance on your parents
burial insurance for New York residents
overweight or obese individuals
Funeral Trust for Medicaid eligibility
How life insurance pays for your funeral
Already know what you need? You can apply yourself!
(Click the button below and fill out our secure application.)
I acknowledge and understand that by contacting My Family Life Insurance through any contact form, "Submit," "Display Rates," "Apply Yourself" or other form means, I am providing my express consent that I may be contacted by My Family Life Insurance via e-mails, SMS, phone calls and prerecorded messages at any phone number(s) that I provide, even if the number is a wireless number or on any federal or state do-not-call list. I understand that calls may be placed using automated technology, and that consent is not a requirement for purchase. Your information will NOT be sold and will remain private.