Available And Affordable Burial Insurance Options For New York Residents | Burial & Funeral Insurance Can Be Hard To Find, But We Have Options For You!
Updated: June 1, 2022 at 11:45 am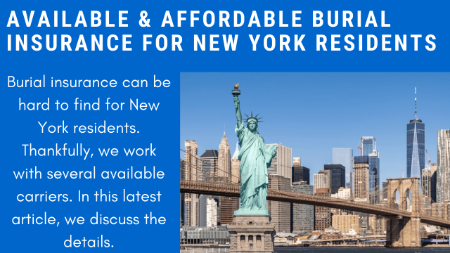 If you live in New York, you've probably had a hard time buying burial insurance or funeral insurance (i.e. life insurance policies with a small death benefit).
Am I right?
Yes, John. Carriers tell me they can't help me out.
Generally, that is true.
However, we work with several carriers that have burial insurance plans available for New York residents.
How great is that?
We also discuss other available options.
If you live in New York and need burial insurance, you've come to the right spot.

In this article, we discuss:
Let's jump in and discuss why is it hard for New York residents to obtain burial insurance.
---
Why Is Burial Insurance Hard To Obtain In New York?
All states have insurance departments and commissions. These departments regulate many things including, but not limited to:
Grace periods
Free-look periods
Death benefit proceeds
Agent and agencies operating in New York
Privacy rights for policyholders
And more
In New York, the state regulations are more stringent. For example, New York requires insurers to establish a New York business in order to sell to its residents. That is why if you go on company web pages, you will see something like this:

They also have more regulatory and suitability requirements for life insurance and annuities. In other words, the agent/agency/carrier must show support that the life insurance and/or annuity was purchased in the best interest of the New York resident. This is known as Regulation 187 in New York.
Other states have similar regulations, but they are not as stringent.
All of these regulations add cost to the carrier. Sometimes, these costs are significant, so the carrier elects not to do business in New York.
Additionally, New York does not allow some life insurance plans. For example, the state generally does not allow simplified issue life insurance.
So, add that all up, and that makes some carriers stay away.
However, there are life insurance carriers available in New York. There are many term life insurance and permanent life insurance (e.g. whole life or universal life) plans available.
Let's Discuss Burial Insurance In New York In More Detail
The problem, though, is there are not many burial insurance options available in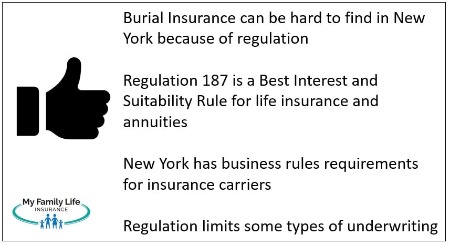 New York.
Remember that burial insurance is simply a permanent life insurance policy with a small death benefit, like $25,000.
Burial insurance has many names to it. It is also known as funeral insurance, final expense insurance, final needs insurance, end-of-life insurance, and on and on.
While many names exist, the main purpose remains the same. These plans fund funerals and burials. Additionally, some people use them to bequeath money to loved ones or pay off small debts.
These plans also are commonly issued on a simplified issue basis. This means the underwriting process is limited to an electronic application, MIB check, a prescription drug check, and maybe a phone interview with an underwriter.
New York really doesn't like plans issued on a simplified basis.
Additionally, they like face-to-face sales, and that sometimes doesn't happen in burial insurance situations. Many of these types of meetings are happening over the phone, especially since the COVID pandemic.

Add this all up, and carriers stay away.
I've tried to make this understanding in layman's terms. If you have specific questions, feel free to contact us.
Let's now discuss your burial insurance options.
---
Available And Affordable Burial Insurance Plans In New York
But, John, I thought you said there are plans available?
Yes, there are!
We will discuss them here. Because of marketing rules, we can't address the carriers by name. Contact us if you would like to learn more.
From a traditional sense, these plans aren't necessarily "burial insurance", but they are life insurance.
To start, with most of these, you will have to answer the Regulation 187 (discussed earlier) suitability questions. In order to operate in New York, all of these carriers must comply with that law.
Here they are in no particular order.
#1 New York Burial Insurance
Depending on your age (starting at age 56), women can purchase up to $16,500 of life insurance and men can purchase up to $15,000 of burial insurance.
The carrier fixes the premium at $54 per month. The death benefit adjusts based on the applicant's age.
Rate includes health conditions and lifestyle situations up to table 4.
Paper applications only.
Not tobacco distinct. In other words, tobacco users and non-tobacco users pay the same price.
Expect full underwriting, but could be simplified.
Monthly premium examples, subject to change and underwriting:
$16,500 for a woman, age 56: $54
$15,000 for a man, age 56: $54
$10,800 for a woman, age 68: $54
$9,600 for a man, age 68: $54
The carrier offers other whole life insurance, subject to underwriting.
#2 A "No Dividend" Life Insurance Policy
Another option is a "no dividend" whole life policy.
These types of policies exist and are comparatively cheaper (all things being equal) than their dividend-issuing counterparts.
They don't issue dividends like other whole life policies. That makes the premium less.
They do, however, still earn cash value.
We work with a carrier that offers this in New York currently.
The application is via a paper application.
The minimum death benefit starts at $50,000.
Here are the rates for a man and a woman, age 55, for $50,000:
Man: $119 per month
Woman: $105 per month
Full underwriting applies.
#3 Traditional Whole Life Insurance
As we said, burial insurance is a small death benefit policy like $25,000 or $50,000.
These are usually issued on a simplified basis. However, in New York, burial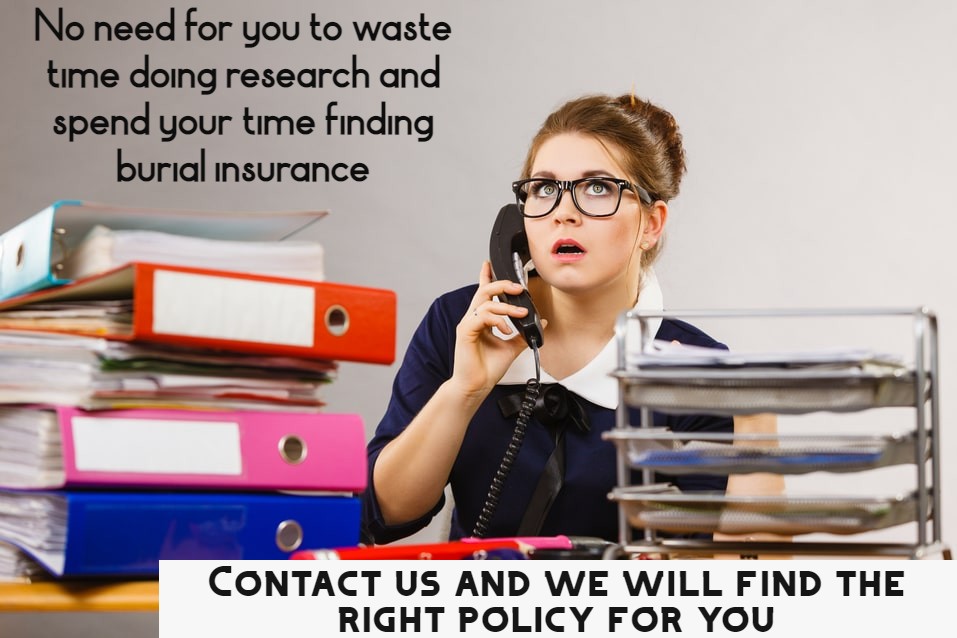 insurance policies usually have to go through some traditional or full underwriting.
We work with another carrier that allows $50,000 of dividend-paying whole life insurance.
We complete the application electronically; however, the carrier requires a video conference. In other words, you and I have to be on a zoom conference call or some other type of video conference call.
If you have a decent health history, then the carrier may waive the full underwriting requirements.
The benefit of this carrier is that the application process is more simple compared to others.
Here are the monthly rates for $50,000 for a 55-year-old:
#4 Burial Insurance For New York Residents With A Smaller Death Benefit Available
John, I can't pay over $100 per month.
I get it.
Many of these carriers have a minimum death benefit of $50,000, which usually pushes applicants over $100 per month.
Thankfully, there is a carrier that is as close to burial insurance as there is in New York.
It is a simplified issue plan. You can purchase up to $35,000.
The application is a paper application.
If you have moderate health conditions, this is a nice option for you.
You still have to call in for a phone interview. We are on the phone with you and a member of the underwriting team. He or she will process the information and look up your information in databases like the MIB. If all checks out, you will be approved.
Rates are much better, too. Here are the monthly rates for age 55, $35,000:
Man: $115.00
Woman: $89.75
Remember, you can apply for lower amounts, which will place the premium below $100 per month.
#5 Guaranteed Issue Burial Insurance for New York Residents
Guaranteed issue life insurance is a popular type of life insurance.
If you have a severe condition like cerebral palsy, AIDS,  cancer, or some type of disability a guaranteed issue policy works well.
These types of insurance have no underwriting. So, there's no MIB or prescription drug lookup. No phone interview. You apply and then you have life insurance.
Thankfully, there is one carrier approved to sell guaranteed issue life insurance to New York residents.
You can purchase up to $25,000. You must have a minimum application age of 50.
Their application is electronic. Moreover, it's seamless and easy to administer.

You still have to comply with Regulation 187. That always takes time.
Like most guaranteed issue life insurance policies, because there is no underwriting, the carrier places a 2-year waiting period on the death benefit. Why? Because it doesn't know the health status of applicants. In other words, the carrier doesn't underwrite, so it can't make a health assessment. The waiting period protects the carrier from quick deaths and therefore quick payouts.
So, if you have a serious health problem or lifestyle situation, guaranteed issue life insurance is available if you live in New York.
---
Other Options Available For New York Residents Instead Of Burial Insurance
There are other options for New York residents instead of burial insurance.
Because of the stringent laws in New York, these products and availability are subject to change.
In all of these cases, no underwriting exists.
Here they are in no particular order:
A Funeral Trust
I like funeral trusts. These plans allow you to place money into a trust which is then paid out to a funeral home of your choice. The benefits of a funeral trust are profound. Additionally, and more importantly, it protects that money in the trust from creditors, Medicaid, etc.
A funeral trust operates outside of the Medicaid spend-down rules. Therefore, the 5 year look back is not a factor here. Most states allow up to $15,000 transferred to the trust.
Upon your death, your family indicates to the carrier that you passed away. The trust will then pay the funeral home of your and your family's choice.
A funeral trust is an easy way to set up future burial and funeral needs.
A PreNeed Burial Plan
If you go to a funeral home, you can set up your own funeral plan. You can select what you want and then pay as you go.
However, I really don't like that. You are tied to the funeral. Moreover, if your funeral plan isn't fully funded, your loved ones are on the hook for the difference.
We work with a preneed funeral/burial plan that doesn't have these two restrictions. You pay, for example, $70 per month. The plan will then pay the following (including more) when you pass away:
Legal procedures
Transfer from the hospital or home to a funeral home
Funeral home assistance
Memorial service
Viewing
And more
There is a waiting period, depending on your age. For people under the age of 65, that waiting period is 30 days. In other words, if you die within the first 30 days of the start date, then the plan won't pay.
Annuity
An annuity is another option for New York residents instead of burial insurance.
However, you must fund the annuity. When you pass away, the value of the annuity can be used to pay for your funeral expenses.

Obviously, this is not perfect. You can pass a year later of starting the annuity which likely won't have enough money in it to fund your funeral.
Moreover, the annuity has potential adverse tax consequences that life insurance does not. (Please consult a tax professional for more information on this matter.)
Nevertheless, it is an option.
Again, your health is not factored in.
---
Now You Know How New York Residents Obtain Affordable Burial Insurance
If you live in New York, you now know how to obtain affordable burial insurance. We have many options here.
In every case, you will have to go through Regulation 187 for suitability compliance. The purpose of this regulation is to ensure the life insurance you are buying is in your best interest.
Do you need assistance? Contact us or use the form below.
There's no risk in contacting us. We always work in your best interests. If we can't help you, we'll point you in the right direction and then part as friends. You can reach back out to us anytime if your situation changes.
Learn More
Are you interested in learning more about the information in this article? Please fill out the form below, and we will email you additional information or give you a call. We always work in your best interest. By entering your information, you are providing your express consent that My Family Life Insurance may contact you via e-mails, SMS, phone calls, or prerecorded messages at any phone number(s) that you provide, even if the number is a wireless number or on any federal or state do-not-call list. Additionally, you understand that calls may be placed using automated technology, and that consent is not a requirement for purchase. Your information will NOT be sold and will remain private. However, you may opt out at any time. We respect your privacy first and foremost.