Don't Worry: How To Get Burial Insurance Easily Approved For Kidney Disease | Immediate, Full Death Benefit Possible
Updated: May 28, 2022 at 10:01 am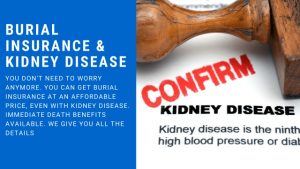 If you, or a loved one, have kidney disease, I am sure you worry about burial insurance.
We are here to tell you that you can definitely obtain burial insurance, even if you have some type of kidney disease. Usually, with no problem at all. You can obtain burial insurance even if you are on dialysis!
That is great news! That means your loved ones and surviving family will have the funds available to pay for your funeral and burial needs. Moreover, you can leave extra money for them, too, if you wish.
You'll have peace-of-mind and relief that you won't burden your family and loved ones.
Of course, various stages of kidney disease exist. The stage and type of kidney disease matter to burial insurance carriers. We'll get into that soon.
Moreover, you'll pay a little bit higher than someone who is healthy. That's just the way it is. I think you know that, though.
We specialize in providing the right combination of value and cost for our clients. Additionally, we work with over 20 burial insurance and final expense carriers. I am sure we can find the right carrier that'll meet your coverage needs and budget.

Here's what we will discuss:
Let's get into the article. Feel free to jump around as needed. I know we can help you obtain the burial insurance you need.
---
Background About Burial Insurance And Kidney Disease
Here's the deal when it comes to buying burial insurance if you have kidney disease.
You can easily get it, no problem in many cases.
Every burial insurance and final expense application will ask about kidney disease one way or another. There's no way getting around that.

And, likely, you'll have to pay more in some cases. Nevertheless, an immediate death benefit is available. We'll discuss what that means shortly.
You see, the amount you'll have to pay and the burial insurance available depends on the type of kidney disease you have.
Underwriting is the process carriers use to determine all this. We discuss underwriting next.
---
Burial Insurance Underwriting For People With Kidney Disease
The underwriting process with burial insurance carriers is easy. Remember that burial insurance is a small whole life insurance policy, usually not more than $25,000. Some carriers go up beyond that. (Know that we can get you any death benefit amount, dependent on your health conditions and need.)
The underwriting process is easy. Usually, it's a questionnaire answered and a phone interview with the carrier's underwriter. The underwriter looks up your MIB and prescription drug history.
Here's the thing. Carriers all underwrite health conditions differently. However, a general consensus exists about kidney disease. Carriers all ask about kidney disease. There's no getting around it. Moreover, they, generally, separate kidney disease into 2 parts:
those with chronic kidney disease (not on dialysis), and
those with kidney failure or on kidney dialysis. Also known as end-stage renal disease or renal failure
There are various types of burial insurance. Depending on the stage of kidney disease, you'll either have the opportunity for an immediate death benefit or a graded benefit. Graded benefits have a partial benefit or a return of premium in the first 2 or 3 years.
What matters to the carriers are the types of questions the carriers ask as well as the medication you take. Moreover, carriers consider your other conditions. We'll discuss that in more detail later in the article.
First, we discuss the typical kidney disease questions on a burial insurance application.
The Questions Matter To The Carrier
The health questions are the first part of the underwriting process.
Here are some examples of how carriers ask about kidney disease. These are taken off real applications:
in the past 4 years, have you been treated or diagnosed with chronic kidney disease?
have you ever been diagnosed with end-stage renal disease or required dialysis?
in the past 24 months, have you been diagnosed or treated for kidney failure (including dialysis) or chronic kidney disease?
We'll get into this more. Do you see how these questions all differ? They are based on timeframe. Additionally, some carriers lump kidney failure and chronic kidney disease in the same question. That can make a difference with the type of burial insurance and the premiums you pay.
We at My Family Life Insurance work with over 20 burial insurance carriers, so we can find the right carrier that fits your situation.
The Medication Matters
The second part is the medication. Your medication matters to burial insurance carriers, too.
The carrier can look up your prescription use through your prescription drug history. However, it is good practice to tell your underwriter what medication you take.
The medication confirms your diagnosis of kidney disease. Common medication includes:
Azathioprine
Azasan
Imuran
Zortress
Everolimus (zortress)
Zenapax
Thymoglobulin
Sirolimus
Simulect
Rapamune
PrismaSol
Nulojix
Myfortic
Mycophenolic Acid
Lymphocyte Immune Globulin
Daclizumab
Belatacept
Basiliximab
Atgam
Irbesartan
Avapro
Venofer
Procysbi
Lanthanum
Iron Sucrose
Fosrenol
Cysteamine Bitartrate
Cystagon
Aranesp
Rocaltrol
Decostriol
Calcitriol
Calcijex
Zemplar
Procrit
Phoslo, Phoslyra
Paricalcitol
Levocarnitine
Epogen
Epoetin Alfa
Eliphos
Carnitor; Carnitor SF
Calphron
Calcium Acetate
Sevelamer
Sensipar
Renvela
Renagel
Hectorol
Doxercalciferol
Delflex
Cinacalcet
All of the aforementioned drugs treat kidney disease or kidney failure. Don't think you can hide any of these medications. The carrier sees what you take through your prescription drug history check.
Finally, Other Health Conditions Matter
The carrier considers other conditions as well. They look at your overall health picture and take everything into consideration. For example, if you have sickle cell anemia in addition to kidney disease, the anemia plays a factor.
If you are extremely overweight, that could also play a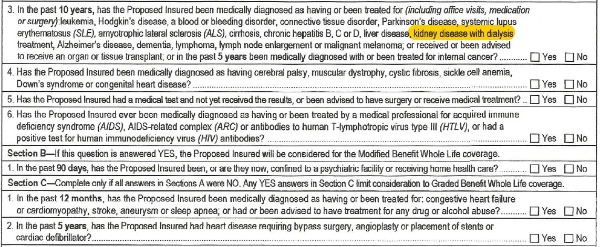 part in the underwriting. Many carriers have height and weight tables.
All of your conditions matter. See the health questions from a real application. The carrier leaves no stone unturned.
Additionally, if you use tobacco or smoke, that habit will land you into tobacco rates.
The moral: it's important to disclose all of your health conditions. We work with so many carriers that we can find one that meets your needs and budget.
---
Burial Insurance Options Depend On Your Kidney Disease
As we mentioned earlier, your stage of kidney disease governs the type of burial insurance available.
If you have kidney disease, but not kidney failure, you can definitely obtain burial insurance with an immediate death benefit. There are a few carriers that offer an immediate death benefit for people with kidney disease. You'll pay a little more than someone who is healthy, but you'll have an immediate benefit nonetheless.
If you'd like to search for rates, feel free to use our quoter below. Select "excellent" or "decent" health for your health status. As always, we reserve the right to say hello and thanks, give you a call and contact you in other ways. However, you agree to our privacy policy. We don't contact you 1,000 times per day.
Contrast with a graded benefit plan or one with a waiting period. In these cases, your beneficiaries receive a partial death benefit or a return of premium (with interest) if death occurs, usually, in the first 2 years of the policy's start date.
Burial Insurance If You Have Kidney Failure (Dialysis)
If you have kidney failure, have end-stage renal disease, or are on dialysis, you have one burial insurance option. It is a guaranteed issue life insurance policy.  There's no way around it.
Guaranteed issue life insurance is just how it sounds. It's guaranteed issue. There are no health questions. You just fill out an application, and you have life insurance.
However, the drawback is a 2-year waiting period on the death benefit. If you die (by illness or natural cause) within the first 2 years of the policy's start date, your beneficiaries receive the premiums you paid + interest.  Your beneficiaries receive an immediate payout if you die by accidental means.
While this may sound lousy, it's not. Some coverage is better than none. Additionally, the best thing to do is apply now and get that waiting period started.

We work with nearly all the guaranteed issue carriers. Additionally, we work with a couple of carriers that have affordable insurance premiums.
Feel free to check out what rates could be. Just select "poor" health for health class. This isn't an inclusive list, as we work with a few carriers that offer guaranteed issue life insurance, but don't subscribe to the quoting service. As before, you agree to our privacy policy. Also, you understand we can give you a call or other means to say thanks and how we can help. But, we don't call you a zillion times.
---
Now You Know You Can Get Burial Insurance If You Have Kidney Disease
We hoped you enjoyed this article and learned a little more. Yes, if you have kidney disease, you can obtain burial insurance. As we discussed, the stage of kidney disease matters. Additionally, your other health conditions do, too. If you only have kidney disease, expect the following burial insurance results:
kidney disease (no dialysis): immediate or graded death benefit
kidney failure, dialysis, end-stage renal disease: guaranteed issue life insurance only
So, what do you need to do next? Contact us, or use the form below. I hope we have shown we can help you obtain burial insurance. Additionally, we work with many carriers, and I know we can find one that meets your needs.
As always, we work with your best interests first. That is not only ingrained in our culture, but also required by our certifications. What does that mean? We have to put you first. I know that shouldn't sound surprising. Moreover, if we can't help you, we put you in touch with someone who can. There's no risk of contacting us.
Learn More
Are you interested in learning more about the information in this article? Please fill out the form below, and we will email you additional information or give you a call. We always work in your best interest. By entering your information, you are providing your express consent that My Family Life Insurance may contact you via e-mails, SMS, phone calls, or prerecorded messages at any phone number(s) that you provide, even if the number is a wireless number or on any federal or state do-not-call list. Additionally, you understand that calls may be placed using automated technology, and that consent is not a requirement for purchase. Your information will NOT be sold and will remain private. However, you may opt out at any time. We respect your privacy first and foremost.