Affordable Burial Insurance For People With Vascular Disease PVD or PAD | We Discuss Plan Options, Costs, And How Easy It Is To Apply
Updated: August 8, 2022 at 8:48 pm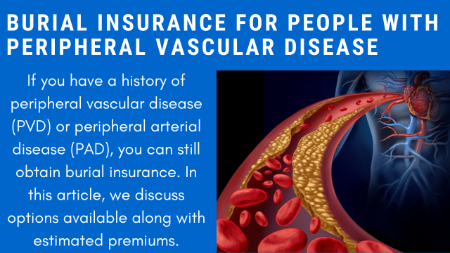 If you have peripheral vascular disease (PVD) or peripheral arterial disease (PAD), you can obtain burial insurance.
Moreover, you can likely obtain burial insurance rather easily at affordable rates.
How great is that?!
In this article, we discuss how. In 30 minutes, you could obtain burial insurance coverage, which gives you and your family peace of mind.

Here's what we will discuss:
Let's jump in and quickly discuss what burial insurance is.
---
What Is Burial Insurance?
This might sound surprising, but burial insurance is simply a whole life insurance with a small death benefit, like $25,000.
What?!
Yes, I know the life insurance industry likes to confuse people. Burial insurance is called "burial insurance" because of what it is intended to do:
Pay for your funeral or cremation
Pay for final expenses and debts
Leave a little money for loved ones
That is really it.
Sometimes, you'll hear burial insurance called:
Final expense insurance
Funeral insurance
Cremation insurance
End-of-life insurance
These all mean the same thing.
The benefit of burial insurance compared to other options, like paying a burial plan directly with a funeral, is simply control.
If you have burial insurance with a proper death benefit amount, then you have already funded your funeral and burial needs.

You are in control. You can go to any funeral home and set up your funeral. Because, you see, you've already funded your funeral with your burial insurance.
Moreover, you don't have to be tied to the funeral home in your home area. Let's say you live in Akron, Ohio, but your kids and grandkids moved to Tampa. You now want to be buried in Tampa, but you have a "pre-fund" plan with a funeral home in Akron. Well, you are kind of stuck. (Unless there is some type of "out" clause in your contract.)
With burial insurance, you can simply talk to a funeral home in Tampa, no problem.
---
Burial Insurance Underwriting For Peripheral Vascular Disease (PVD) and Peripheral Arterial Disease (PAD)
Before we get into burial insurance options for people with peripheral vascular disease and peripheral arterial disease, let's talk about underwriting.
Underwriting for burial insurance is much different than that for term life insurance, IUL, and even whole life insurance.
The underwriting departments for these types of insurance are going to want to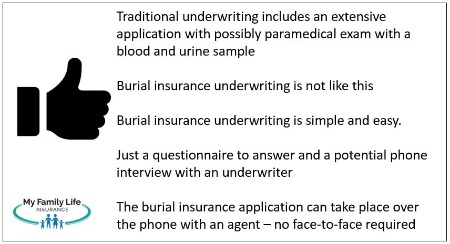 know the severity of your vascular disease. They will want to see your doctor's records. Additionally, they may want to see the results of certain tests describing the magnitude of your vascular disease. They will also want to know if you have any other underlying health issues, including hypertension, obesity, and depression. (If you have vascular disease and need term life insurance, whole life, or an IUL, contact us, and we will discuss the steps and process with you.)
With burial insurance, however, underwriting is different. The carrier doesn't care about all of the fine details.
They don't want your doctor's records or any of the other stuff.
All you do is fill out an application with a health questionnaire with us over the phone. Once the application transmits to the carrier, they will look up your:
medical claim history through the MIB
prescription drug history
If everything checks out, you have burial insurance.
Some carriers may require a phone interview. Thankfully, most carriers are eliminating this phone interview step.
There's no blood draw, urine sample, or physical exam. You simply apply for the burial insurance. The carrier looks up your information in the background. If all checks out, you then have burial insurance.
Honestly, applying for burial insurance is really easy. We discuss more later.
More On Underwriting Regarding PVD And PAD
Just about all of the burial insurance and final expense carriers ask about vascular disease, or some form of it, on their applications.
The reason is simple: millions of people globally die from cardiovascular type diseases every year.
Vascular disease encompasses other conditions as well, such as cardiovascular disease (vascular disease of the heart itself), angina, angioplasty, stent placement, atherosclerosis, high blood pressure, and stroke.
Your diagnosis date of PVD or PAD (and any other health condition) defines the underwriting differences among carriers.
We introduce some real questions next so you can see the differences. Moreover, if you have any other health conditions stemming from vascular disease, you will have to meet the underwriting guidelines on those conditions as well.
Just Yes Or No Health Questions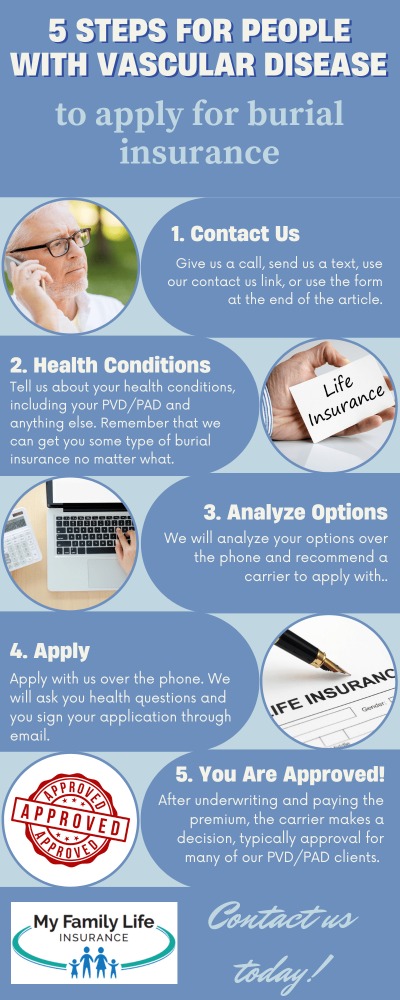 As we mentioned, burial insurance underwriting is a simple "yes/no" application. Some carriers then follow the application with a phone interview. We prefer the ones that don't when possible. After that, a coverage determination usually is instantaneous or a couple of days thereafter.
If the carrier doesn't ask the question regarding your specific condition, likely they ignore it (along with the prescription drug history). To give you an idea, here are 4 questions on 4 real, separate burial insurance applications that ask about vascular disease:
(1) in the past 12 months, have you had or been advised to have circulation surgery?
(2) have you ever received care or treatment for, or been advised by a physician to seek treatment for, Peripheral Vascular Disease (PVD or PAD)?
(3) in the past 2 years have you had, been told you have, been treated for, or been prescribed medication, or had surgery for circulation or blood clot problems in the legs or to the heart or brain?
(4) in the past 2 years, other than for preventative, maintenance, or risk lowering medication prescribed, have you been diagnosed or treated for heart or circulatory disorder (except controlled hypertension) or stroke?
As you read these, can you say "yes" or "no"? These are real questions about vascular disease.
Let's present an example to make this clear. Three years ago, you were diagnosed with vascular disease. You had no surgery. You take a cholesterol statin medication for preventative measures.  In this case, questions 2 and 3 are "yes"; we would stay away from those carriers and focus on the carriers in #1 and #4.
That sounds, great, John, you say. But, I am sure the carriers in questions 1 and 4 will charge me a lot because I have vascular disease, right?
Premiums Are Not Expensive
Well, probably not. For a male, age 65, looking for $15,000 of burial insurance, the carrier in question #1 charges $79 per month and the carrier in question #4 charges $82 per month for level benefits. So, to answer your question, likely not, assuming you don't have other significant health conditions.
Let's change the facts a bit. Let's say your doctor inserts a stent 10 months ago. That is circulatory surgery. (Moreover, it could also indicate heart disease, and if so, you would need to answer heart disease questions.) In all cases, you can say "yes". Absent of other carriers, a guaranteed issue life insurance policy is likely your only option.
Circulation Surgery: A Deciding Factor
When it comes to it, a deciding factor is if you've had a circulation surgery for your PAD or PVD like angioplasty or a stent.
#1 If you've had no surgery and your PVD/PAD is controlled by medication – you should have no problem getting burial insurance.
#2 If you've had circulation surgery over 2 years ago – you should have no problem getting burial insurance
#3 If you've had circulation surgery over 1 year ago, but less than 2 years ago – only certain types of burial insurance are available. Usually, a graded policy is available. We discuss this more later in the article.
#4 If you've had circulation surgery less than 1 year ago – only a guaranteed issue life insurance policy is available
 #5 If your doctor recommends circulation surgery, but it has not happened yet – only a guaranteed issue life insurance policy is available
Your Medication Matters, Too
Your medication matters, too. Many carriers have "knock-out" prescription drugs, meaning if you take these drugs, the carrier declines your application.

Thankfully, many carriers accept medication for people with PAD or PVD. However, some carriers may "rate up" certain medications for vascular disease – even if you've been stable for a long time. For example, carriers may only offer a "graded benefit" burial insurance plan if you take the following:
Plavix / Clopidogrel
Xarelto / Rivaroxaban
Zontivity / Vorapaxar
You can see in the snapshot on the right, that this carrier will only offer a "graded" benefit burial insurance plan for someone who uses Plavix.
Now is a good time to discuss the types of burial insurance plans available to people with peripheral vascular disease (PVD) and peripheral arterial disease (PAD).
---
Types of Burial Insurance For People With Vascular Disease
There are a few types of burial insurance for people with vascular disease. We will help you make sense of them.
The first one is called an immediate benefit (or sometimes called level benefit). This means the death benefit has "day 1" coverage. Immediate benefit coverage is what we want.
It is also, generally, the least expensive burial insurance option. For example, let's say Jim applies for $20,000 burial insurance. The carrier approves him with level benefit coverage. Six months later, Jim, unfortunately, dies suddenly.  Jim's beneficiary will receive the $20,000 to help pay for Jim's funeral costs.
The second one is called graded benefit. Think of this as a semi-"waiting period" for death benefit coverage. If you pass away in the first two years of the policy, the carrier pays a percentage of the death benefit. Let's say carrier XYZ pays 10% of the death benefit if you pass away in year 1 and 65% if you pass away in year 2. In year 3 and after, the carrier pays the death benefit 100%
An example will make this clear. Let's use Jim, except the carrier approves Jim for graded benefit coverage with the graded percentages outlined above.
Unfortunately, Jim unexpectedly dies of sickness 6 months later. His beneficiary receives $2,000 ($20,000 X 10%).
If he passes away 20 months into his burial insurance plan, the carrier pays $13,000 ($20,000 X 65%).
People with many health complications usually end up with graded benefit coverage. It is, by no means, bad. However, we aim to find immediate benefit coverage when possible. Immediate benefit coverage usually means the lowest cost for you. Feel free to search for costs here:

Other Types Of Burial Insurance For People With Vascular Disease
John, what if I am denied? Can I still get life insurance?
Yes, if you can't obtain a level benefit or graded benefit, there is guaranteed-issue life insurance coverage available. This means just as it sounds: you automatically receive coverage. There are no health questions. Just fill out an application, and then you have life insurance. The carrier does not run your background through the MIB or prescription drug history.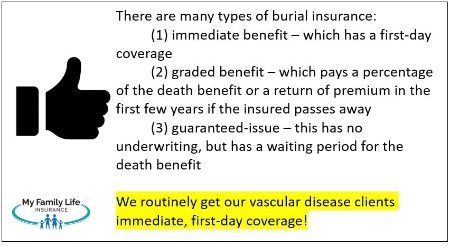 That sounds great!
Yes, but guaranteed issue life insurance contains a waiting period, usually 2 years. You see, the carrier places this waiting period because it does not know the health status of the applicants. I think you'll agree with me that makes sense. Would you provide an immediate benefit to someone without knowing his or her health situation first? Of course not.
Nevertheless, guaranteed issue life plans can work well.
We work with a few different guaranteed-issue carriers. We even work with carriers that many other brokers and agencies don't work with.
For example, we work with a guaranteed issue term life insurance carrier. You can even apply on your own here: https://protectionpluslife.com/m/jbarnes

Feel free to search your own rates. Just put "poor health" in the health class section in the quoting tool above.
Sometimes, the cost of the guaranteed-issue insurance coverage is less than that of a traditional graded benefit policy. If that's the case, it makes sense to apply for the guaranteed-issue coverage and not waste your time with a traditional graded benefit policy.
---
Affordable Burial Insurance Premiums For Someone With Peripheral Vascular Disease Or Peripheral Arterial Disease
We would be remiss if we did not display costs.
You can search right above in the quoting tool.
However, here are some examples of a 65-year-old male and female eligible for an immediate benefit plan: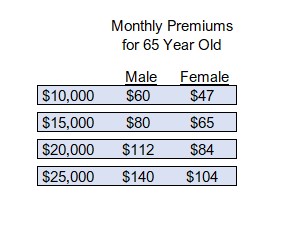 Rates are subject to change and are dependent upon your own health situation, age, and state availability. Nevertheless, you can see these rates are affordable.
John, sorry, these prices are too high.
OK, let's break this down.
First, we can always work within your budget. Having some burial insurance is better than having none.
Second, I am aware that many retirees are on a fixed income. The daily price of the burial insurance is around a cup of coffee per day. So, if you like to go to the coffee shop and get a cup of coffee, you are already paying for your burial insurance.

Finally, you can't afford to not have it. With the average funeral being around $15,000, will your loved ones have this money? Or, can you spend the $80 per month? Spending $80 rather than $15,000? See what I mean?
Moreover, you can have another loved one pay for the policy. We routinely help many children buy burial insurance for their parents for this reason.
---
Burial Insurance Application Process For People With Vascular Disease (PVD/PAD)
Applying for burial insurance is easy.
There's no need to meet with us face-to-face.

All you need to do is:
Contact us – you can call us, text us, or contact us
Tell us your health conditions – in addition to PVD or PAD
We analyze your options based on #2
Apply with us over the phone – carriers run your background through databases
Approved – you will likely get approved through us
This all takes about 30 minutes.
I know applying sounds easy, and it really is. There is really no risk. If a carrier declines your application, we can pivot to a guaranteed issue life plan.
---
Now You Know People With Vascular Disease (PVD/PAD) Can Obtain Burial Insurance
We hope you found this article informative. You can obtain burial insurance if you have vascular disease.
Are you ready to find out what you are eligible for? Feel free to contact us or use the form below.
We work with many carriers in the burial insurance area and know we can find the right coverage for you. As with everything we do, we always work with your best interests. That means if there is a better option for you than what we can provide, we will help put you in touch with someone who can.
Learn More
Are you interested in learning more about the information in this article? Please fill out the form below, and we will email you additional information or give you a call. We always work in your best interest. By entering your information, you are providing your express consent that My Family Life Insurance may contact you via e-mails, SMS, phone calls, or prerecorded messages at any phone number(s) that you provide, even if the number is a wireless number or on any federal or state do-not-call list. Additionally, you understand that calls may be placed using automated technology, and that consent is not a requirement for purchase. Your information will NOT be sold and will remain private. However, you may opt out at any time. We respect your privacy first and foremost. By contacting us, you agree to receive text messages from our number (800) 645-9841. If you no longer wish to receive text messages, you may opt out at any time by replying "STOP".