Is The Colonial Penn 995 Plan Worth The Money? | We Give You An Expert, Unbiased Review And If There Are Better Options For Your Situation
Updated: December 21, 2022 at 9:48 pm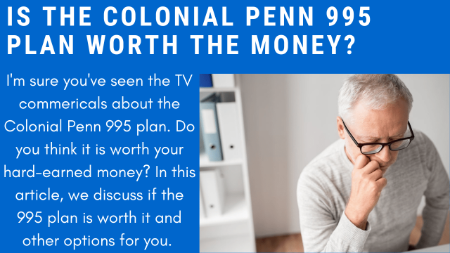 Sometimes, I'll have CNBC, Yahoo! Finance, or some other news channel on here in the office, and invariably, the Colonial Penn 995 Plan commercial comes on.
You know the one. Before his death, Alex Trebek used to be the spokesperson for the Colonial Penn 995 Plan. Now an employee named Jonathan Lawson is.
Yes, I know the one, John! He says my plan will only cost $9.95 per month!
Well, yes, that is partly true.
But, it's not the entire story.
In fact, if you don't know the whole story, you may end up with the wrong plan. If so, you will have spent your hard-earned (likely fixed-income) money on something that isn't right for you.
You don't want that to happen, do you?
In this article, we give an overview of the Colonial Penn 995 Plan. We also give you other options that may be more appropriate for your situation.
You can then decide if the Colonial Penn 995 plan is right for you.

In this article, we will discuss the following:
Let's discuss what the Colonial Penn 995 plan is all about.
---
What Is The Colonial Penn 995 Plan All About?
Colonial Penn makes an impact on its television advertisements. I recently had a person tell me she didn't need what I was offering because she went with the "$9.95 plan" and then hung up.
She didn't hear how I could have saved her money, but hanging up was her decision.
Colonial Penn is a good carrier. You may hear otherwise from other agents and websites. Colonial Penn is an A-rated carrier, owned by CNO Insurance. CNO is a conglomerate insurance carrier.
Colonial Penn offers a couple of insurance plans, but their "$9.95" plan has to be the most popular, augmented by great advertising. (Indeed, it is because most people construe $9.95 as low cost and value.)
It is whole life insurance. See the box for more information about the plan.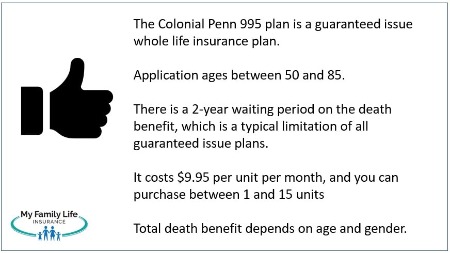 They say in the commercial that you all pay $9.95 per month for "guaranteed acceptance life insurance".
Guaranteed acceptance life insurance means Colonial Penn guarantees to accept and approve you. In other words, you simply apply and you automatically have life insurance.
There's no underwriting, no MIB lookup, and no prescription drug lookup. You are automatically approved.
Wait, John. I've read your articles, and this sounds like this is the guaranteed issue life insurance that you talk about.
That is right. It is.
Although we don't work with Colonial Penn, we work with many other guaranteed issue carriers that are notably less in premium compared to Colonial Penn.
But, they said my insurance would cost $9.95 per month. How are your offerings lower?
Let me guess. Do you think $20,000 on yourself would cost $9.95 per month?

Yes.
$15,000 would cost $9.95 per month. Do you think that?
Yes.
OK, now is a good time to clarify how the "$9.95" works.
---
Here's The True Cost Of The Colonial Penn 995 Plan
Colonial Penn's guaranteed acceptance/issue life insurance does cost $9.95 per month.
But, that is $9.95 per unit per month.
What, John?
I said, "$9.95 per unit per month."
What is a unit?
With Colonial Penn, they express their life insurance availability in terms of units.
A unit is the amount of death benefit that $9.95 per month pays for.
For example, 1 unit (i.e. $9.95 per month) will buy $1,515 in death benefit for a 53-year-old man.

5 units will buy $7,575 (5 X $1,515) of life insurance and will cost 5 X $9.95 or $49.75 per month.
Applicants can purchase up to 15 units.
However, the worth of each unit depends on the applicant's age and gender.
Following our 53-year-old man example, 1 unit is worth $1,420 in death benefit for a 55-year-old man.
The unit is different for women. It is much higher because women live longer than men, on average.
But, it's not grossly higher. One unit corresponds to a $1,845 death benefit for a 53-year-old woman.
Colonial Penn will accept an application up to age 85, whereupon the unit worth for an 85-year-old man is $418 per unit!
That means if the 85-year-old wanted 10 units, he would have to pay $99.50 per month for $4,180 in death benefit ($418 X 10).
What do you think now?
2-Year Waiting Period, Too
The Colonial Penn 995 plan also contains a "waiting period" on the death benefit. It means if you pass away in the first 2 years of the policy…
…my family receives the death benefit?
…no. It means they just pay your family the premiums you paid + interest. In other words, they return your money back.

This is a common provision of all guaranteed issue life insurance policies. Because carriers automatically approve you without underwriting, they don't know the health conditions of applicants. To avoid a quick death benefit payout, they administer a waiting period.
Well, this all seems screwy. You mentioned that you have comparable plans. What are they?
Sure, let's discuss that next. But first, let's touch on underwriting.
---
Burial Insurance Underwriting
Before we discuss underwriting, let me say that if you want to go with Colonial Penn's 995 plan, then please do so.
I'm not going to twist your arm. They are a good carrier, although there are many complaints about the plan because it is a little misleading. Just look at some of the reviews here. I think you have better options.
We discuss with underwriting first because I have found so many people are healthy enough that they don't need a guaranteed issue plan, not even from Colonial Penn.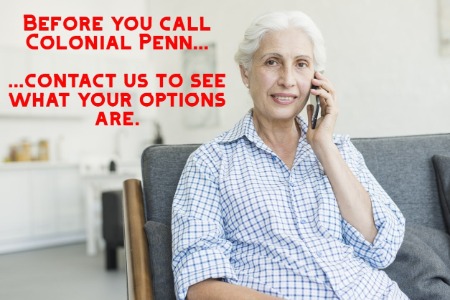 For example, the woman who hung up the phone on me. She could have been generally healthy and qualified for a much better plan. (More on that below.)
John, I don't want to go through a blood test or fast, though!
I understand. That's why I am starting off with underwriting. This type of insurance is simplified issue. It is known as "burial insurance" because people use it to fund their burials, funerals, and end-of-life needs.
Yes, John. That is why I am interested in the Colonial Penn 995 plan. I want to fund my funeral.
Great. With burial insurance, though, you don't need to go through a paramedical exam or give a blood or urine sample.
Application Process
The underwriting process and application are all very simple.
You:
Apply with us over the phone
Sign your application over the phone with us
Wait on the phone with us as the carrier looks up your history through the MIB and prescription drug databases
Are approved if all checks out correctly. You then have the burial insurance
The application is all simple "yes/no" questions. See the example in this section. If you truthfully answer "no" to these questions, you likely have burial insurance.

It all takes about 30 minutes from start to finish.
Spend 30 minutes with us first to see what other options you have. If Colonial Penn is the best option for you, we will tell you that.
You have 30 minutes, right, to find out if you qualify for something better than the Colonial Penn plan?
---
Burial Insurance Options Versus The Colonial Penn 995 Plan
If you are generally healthy, you will qualify for burial insurance easily. Even if you have some health conditions, better options may exist.
Moreover, the cost is much less than Colonial Penn's 995 plan.
There are 3 types of burial insurance:
Immediate benefit – which offers 1st day coverage. In other words, if you pass away the next day, the carrier pays the benefit. People in good, general health will qualify.
Graded benefit – think of this as a step up in the death benefit. For example, if you pass in the first year, your family receives 10% of the death benefit; 2nd year, 60%; and in the 3rd year and beyond 100%. These plans are generally reserved for someone with moderate health conditions.
Guaranteed issue life insurance – these plans automatically give you coverage no matter your health condition. As we discussed, the Colonial Penn 995 plan is a guaranteed issue plan.
But, John, I have multiple sclerosis. I won't qualify for an immediate benefit.
That isn't true. We work with many carriers that will offer an immediate benefit for multiple sclerosis and many health conditions.
That is the benefit of calling us first instead of Colonial Penn. We work with many other carriers and can match your situation to a carrier.
You'll also potentially save a ton of money.
Search For Plans Yourself
You just need to contact us and we can help. Or, you can search for plans here.
If you are generally healthy, enter "excellent" in the health class field. If you have some moderate to severe health conditions or situations, select "decent" for graded benefit options. Finally, if you are in poor health, select "poor" from the drop-down menu. The quoter will then show the available guaranteed issue plans.

But, if you feel your situation is poor, we offer many guaranteed issue plans. We offer a guaranteed issue term life insurance plan that you can self-enroll. Additionally, we offer guaranteed issue whole life insurance for people under the age of 40. We also offer relatively affordable guaranteed issue whole life policies.
---
Price Comparison Of Our Plans Vs. The Colonial Penn 995 Plan
As we discussed, you likely have more affordable burial insurance options available to you compared to the Colonial Penn 995 plan. Even if you have health conditions, we can likely get you a better, affordable option.
Using the examples above, here are comparable options:

Look how much you can potentially save!
A few things to note here:
If you are generally healthy, even with some health conditions, we can likely find you low-cost burial insurance.

Because we are an independent broker, we work with many carriers. As we have written in other articles, sometimes it makes sense to simply go with a guaranteed issue plan rather than a graded benefit plan. You can see the guaranteed issue plans we offer are usually less than graded benefit plans.
Colonial Penn seems to be competitive at upper ages; however, contact us first to find out your options.
---
Final Thoughts About The Colonial Penn 995 Plan
I hope you found this article informative. There are likely other options for you other than the Colonial Penn 995 plan.
We discussed that a majority of you may qualify for an immediate burial insurance plan. An immediate benefit plan would not only be the cheapest option, but also likely be the best option.
Remember that the Colonial Penn 995 plan has a 2-year waiting period. Again, an immediate benefit plan does not.
Moreover, if you only qualify for a guaranteed issue life insurance plan, we have cheaper options compared to Colonial Penn's 995 plan.
You may spend 30 minutes on the phone with Colonial Penn to enroll in their guaranteed issue plan. Why not spend it with us and see if you qualify for something better?
Feel free to contact us or use the form below.
If you think we'll constantly call you and bother you, you don't need to worry about that. There's no risk of contacting us. We only work in your best interests. We have to.
That means if there is a better plan available, even the Colonial Penn 995 plan, and we can't help you, we will point you in the right direction as best we can.
It's the only way we know how to work with our clients – putting you and your family needs first, not our own.
You can always reach back out to us if your needs change. We are happy to help in any way we can.
Learn More
Are you interested in learning more about the information in this article? Please fill out the form below, and we will email you additional information or give you a call. We always work in your best interest. By entering your information, you are providing your express consent that My Family Life Insurance may contact you via e-mails, SMS, phone calls, or prerecorded messages at any phone number(s) that you provide, even if the number is a wireless number or on any federal or state do-not-call list. Additionally, you understand that calls may be placed using automated technology, and that consent is not a requirement for purchase. Your information will NOT be sold and will remain private. However, you may opt out at any time. We respect your privacy first and foremost. By contacting us, you agree to receive text messages from our number (800) 645-9841. If you no longer wish to receive text messages, you may opt out at any time by replying "STOP".