Here's Affordable Burial Insurance For People With Atrial Fibrillation | Easy Application And Instant Approval
Updated: June 3, 2022 at 10:22 pm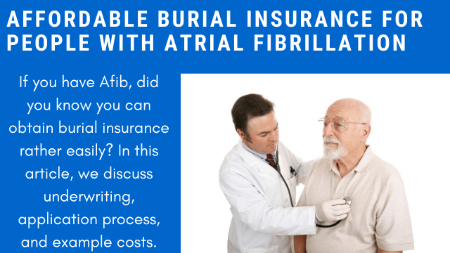 If you have atrial fibrillation, you can obtain burial insurance.
That is right. Additionally, most people with atrial fibrillation, or Afib, purchase burial insurance rather easily with no policy limitations.
In other words, your burial insurance policy will not have a waiting period, graded benefits, or limited death benefits.
How great is that?

How is that, John, you ask? I've looked, and all I can get is a guaranteed-issue policy.
We are going to discuss all of that next. Here is what we will discuss.
Let's jump in and discuss how carriers underwrite if you have Afib.
---
Traditional Underwriting For Atrial Fibrillation (And How It Differs With Burial Insurance)
Before we get into burial insurance for people with atrial fibrillation, let's talk about underwriting.
Underwriting for burial insurance is much different than that for term life insurance, universal life insurance, and whole life insurance. These types of underwriting are going to want to know the severity of your AFib. They will want to know if you have paroxysmal or chronic atrial fibrillation.
They'll probably order your doctor's records. Also, they will likely want a paramedical exam with blood and urine samples.
Additionally, likely, you will have to undergo an EKG. Carriers will also want to know if you have any other underlying health issues. (If you have atrial fibrillation and need term life insurance, whole life, or an IUL, contact us, and we will discuss the steps and process with you.)
And on and on…traditional life insurance takes time. Again, if you need term life insurance or a large death benefit, contact us. We can help.
How Burial Insurance Underwriting Differs For Atrial Fibrillation
However, with burial insurance, the underwriting process is different. The carrier really doesn't care about all of that aforementioned stuff.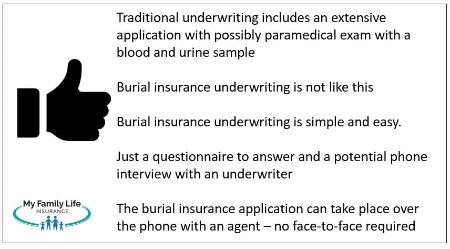 Isn't that great?!
They don't want you to go through a medical exam or an EKG. All you do is answer about 10 to 12 health questions and possibly speak to an underwriter on the phone. The health questions are all "yes or no". They just want to know if you have atrial fibrillation or not.
The question could be as simple as, "in the past 2 years have you been diagnosed or treated for atrial fibrillation?" Or, the question could vary, such as, "have you ever been treated for an irregular heart rhythm or irregular heartbeat?"
Here is the interesting point. Some carriers don't even ask questions about AFib. That is right. They don't care!
So, if you have atrial fibrillation, and you have no other significant underlying health conditions, which carrier do you think we will use? That is right – the carrier that doesn't ask the question about atrial fibrillation.
As we said, burial insurance underwriting is a simple "yes/no" application. Some carriers then follow the application with a phone interview. We prefer the ones that don't when possible. After that, a coverage determination usually is instantaneous or a couple of days thereafter.
More On Burial Insurance Underwriting – MIB, Medication, And Phone Interview
When filling out the application, carriers run your background through a few different databases. They do this for obvious reasons: to make sure what you say on the application matches the available, public records. One database is the MIB. The MIB looks at your insurance application and medical claim history. It can see when you applied for insurance in the last few years. If you applied to several life insurance carriers, the carrier would want to know why.
Additionally, they will access your prescription drug history through Milliman Intelliscript. Carriers can see all of that. (Even the ones I take.) They can see medication that indicates Afib including, but not limited to:
Beta-blockers like metoprolol and atenolol
Calcium channel blockers like verapamil
Sodium channel blockers like Flecainide
If an answer on the questionnaire does not match a prescription drug you take, that will be a red flag. For example, if you take an inhaler for emphysema, but say no to the question, "in the last 2 years, have you been diagnosed or treated for emphysema?", the carrier questions your truthfulness.

That's why some carriers conduct phone interviews. They look all of that stuff up while on the phone with you. The interview usually lasts 10 minutes, sometimes less, sometimes more. An underwriter conducts the interview and will either approve or modify it on the spot or within a couple of days.
Nowadays, though, with technology, carriers can look that all up on the spot. In other words, there's no need for a phone interview.
Nevertheless, remember that lying on a life insurance application constitutes fraud. Obviously, fraud is a bad thing. There is no need to lie. We will find you the lowest cost policy for your situation, which we discuss next.
---
Types of Burial Insurance For People With Atrial Fibrillation
There are a few types of burial insurance for people with atrial fibrillation. We will help you make sense of them.
The first one is called level benefit. This means the death benefit has "day 1" coverage. Level benefit coverage is what you want! It is also, generally, the least expensive burial insurance option. Let's say Jim applies for $20,000 burial insurance. The carrier approves him with level benefit coverage. Six months later, Jim, unfortunately, dies suddenly.  Jim's beneficiary will receive the $20,000 to help pay for his funeral costs.
The second one is called graded benefit. Think of this as a semi- "waiting period" for death benefit coverage. Depending on the carrier, the waiting period could be 2 years or more. If you die within the waiting period, the carrier usually reimburses your premiums plus interest to your beneficiary or pays a percentage of the death benefit.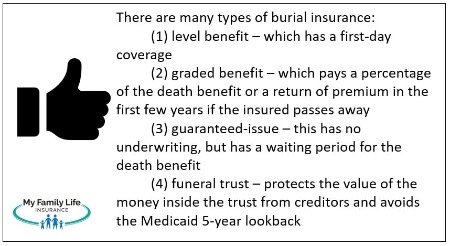 An example will make this clear. Let's use the same example, except the carrier approves Jim for graded benefit coverage. The graded death benefit is 2 years. Should Jim die of natural or sickness within the 2-year year timeframe, the carrier will reimburse his beneficiary the premiums plus 10% interest in the first year and 50% of the death benefit in the second year. If Jim dies in year 3 and after, the full death benefit paid to his beneficiary. One caveat: beneficiaries receive the full death benefit if death by accident.
Unfortunately, Jim unexpectedly dies of sickness 6 months later. His beneficiary receives the premiums back plus 10%.
People with many health complications usually end up with graded benefit coverage. It is, by no means, bad. However, we aim to find level benefit coverage when possible. Level benefit coverage usually means the lowest cost for you.
Other Types Of Burial Insurance For People With Atrial Fibrillation
There are a couple more types of burial insurance for people with atrial fibrillation.
If you can't obtain a level benefit or graded benefit, there is guaranteed-issue whole life insurance available. This means just as it sounds: you automatically receive coverage. Just fill out an application and answer a few non-health questions. The carrier does not run your background through the MIB or prescription drug history.
Guaranteed-issue coverage contains a graded death benefit, usually 2 years. We work with a few different guaranteed-issue carriers. Sometimes, the cost of the guaranteed-issue insurance coverage is less than that of a traditional graded benefit policy. If that's the case, it makes sense to apply for the guaranteed-issue coverage.
We also utilize a funeral trust. Funeral trusts pay the death benefit directly to the funeral home. They also protect your policy from the Medicaid spend-down process. That is right. Whole life insurance, including burial insurance in most cases, is a spendable asset for Medicaid since it contains cash. That means if you need to go into a nursing home, Medicaid will force you to terminate your life insurance policy and use the cash for your nursing home care. If that happens, you have lost the initial intention of the life insurance.

We don't let our clients get to that point. We expedite the transfer of the cash in your burial insurance policy into the funeral trust, where it will be protected.
Additionally, we have several life insurance options if you are on Medicaid including a term life insurance option.
Contact us to learn more.
---
Affordable Burial Insurance For People With Atrial Fibrillation
Now that you know the types of burial insurance available to you, which type do you think we will choose? That's right. The one with the lowest cost and that best fits your situation.
People with atrial fibrillation can obtain level death benefit burial insurance coverage. As we said earlier, AFib by itself is not life threatening. However, there may be other health conditions that affect your approval.  For example, if you are overweight, have diabetes or cancer, or have some other significant health condition in addition to AFib, the chances of a level death benefit coverage are lower.
That is where we come in. We have helped people with AFib AND some other health conditions obtain proper coverage, usually at level death benefit coverage.

There is no reason to pay an arm and a leg for burial insurance if you have atrial fibrillation. Even if you have additional health complications, we can likely find a policy that will meet your needs and budget as we specialize in finding low-cost burial insurance.
Here are some example premiums and death benefits, subject to change These are all level death benefits:

---
Now You Know You Can Obtain Burial Insurance If You Have Atrial Fibrillation – And Rather Easily, Too!
We hope you found this article informative. You can easily obtain burial insurance if you have atrial fibrillation.
Are you ready to get started with us? We can get you covered today.
Feel free to contact us or use the form below. We work with many carriers in the burial insurance area and know we can find the right coverage for you.
As with everything we do, we work in your best interests at all times. That means if there is a better option for you than what we can provide, we will help or put you in touch with someone who can.
Learn More
Are you interested in learning more about the information in this article? Please fill out the form below, and we will email you additional information or give you a call. We always work in your best interest. By entering your information, you are providing your express consent that My Family Life Insurance may contact you via e-mails, SMS, phone calls, or prerecorded messages at any phone number(s) that you provide, even if the number is a wireless number or on any federal or state do-not-call list. Additionally, you understand that calls may be placed using automated technology, and that consent is not a requirement for purchase. Your information will NOT be sold and will remain private. However, you may opt out at any time. We respect your privacy first and foremost.