Updated On: by My Family Life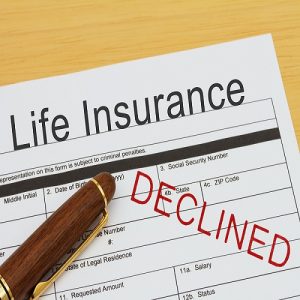 You feel good. You just completed a life insurance application, something on your "to-do" list for awhile. A week goes by, and you don't hear anything. A couple of days later, you receive a letter from the carrier. You open in earnest, only to read that you have been declined for life insurance. You are upset and don't know what to do next. Declined for life insurance? Don't worry. Chances are you can still obtain life insurance coverage. How? We outline the steps next. In this article, we discuss what to do if you are declined for life insurance.
First: Request Information
We know it can be a shock if declined for life insurance. In our experience, declines happen for the following reasons:
Disclosure – you did not disclose a significant health condition or lifestyle on your application. As we said in a previous post, even though the insurers can't see your medical or lifestyle history, they have ways of determining health conditions or high-risk lifestyle through various reporting on the MIB.
Just be honest on the application. There is no need to lie or hide information. In our experience, underwriters like to see the whole, honest picture of a person. It provides them the best way to make a complete and honest offer.
Unknown Information – This can happen. Let's say you are one of those people who does not go to the doctor. Or, you just haven't been in awhile. You apply for life insurance with full medical underwriting. The lab results come back with abnormal, high blood sugar. Or, your urine test indicates the presence of blood.
These situations can happen. The insurer might decline you in order to obtain more information. Generally speaking, if you go to the doctor regularly, there really shouldn't be any surprises unless an ailment occurred between doctor visits.
Applied to the Wrong Carrier – We all like to "DIY." When it comes to life insurance, however, your life isn't a bathroom makeover. Unless you know you are 100% healthy, you can't just buy any policy.
All carriers have different underwriting requirements. Some carriers are extremely stringent and will decline you for any significant ailment or lifestyle condition. Contrast this to another carrier, which may accept the ailment or lifestyle condition with little or no rating.
Don't forget: upon request, the carrier can supply you with the reason for the decline. This is a good place to start if declined.
Second: Work With An Independent Agent
Ok. Call this a shameless plug. However, we know that by working with an independent agent, your chances of decline are much lower. Why? Independent agents, like My Family Life Insurance, work with many carriers and can match your specific situation to the right insurance solution.
For example, one carrier may decline your life insurance application because of diabetes. However, another may accept your application because your diabetes is controlled well with medication.
Independent agents know which carriers will work and which will not. The really good agents will act as your champion, fight for you, and lobby on your behalf by working with the underwriters. Additionally, a cover letter from the agent describing your information in more detail is extremely helpful. For instance, let's say you have type 1 diabetes. You may not know that life insurance for someone with type 1 diabetes can be rated or declined. However, you are in great shape with no ancillary effects from the diabetes. A well-structured and written cover letter describing your situation in more detail can be the deciding factor between a decline and approval.
If declined for life insurance, don't re-apply somewhere else quickly.  Instead, contact an independent agent who works with many carriers. Pass along the pertinent information so the agent may research and present the best options.
Three: Time Heals All Wounds
Sometimes, just letting the sheer passage of timelapse can help. For example, let's say you had cancer 2 years ago and are cancer free now. You go to the oncologist regularly. Everything is in the clear. You apply and get declined for life insurance.
Most carriers have a 5-year wait upon diagnosis and recovery upon cancer. If you applied before the 5 years, you probably would be declined for life insurance.
DUI or drug use are in a similar category. If you have recovered, most carriers need to see an extended period without use before you apply for life insurance.
Depending on your situation, waiting could make sense.
However, that doesn't mean you can't go without any life insurance. Next, we talk about your options.
Four: Know Your Options
As we mentioned before, every carrier has different underwriting requirements. Some are only looking for the healthy applicants and price themselves accordingly. Others want to specialize in applicant-insureds who have diabetes or some other moderate to significant health conditions.
You, therefore, have many options depending on your situation. 
As we mentioned before, working with an independent agent who fights and acts on your behalf sometimes is the key difference. Independent agents can determine what types of policies are in your best interest. For example, a simplified issue policy, a fully underwritten policy, or something else, such as group coverage (for family businesses or a husband and wife business).
If a current ailment is precluding you from an appropriate amount of affordable life insurance, there is a guaranteed issue option. With guaranteed issue life insurance, you simply fill out an application, send in a check for the first month's premium, and you have life insurance! While we at My Family Life Insurance don't usually promote these guaranteed issue plans, they are good options. For example, let's say you had cancer which is in remission. You need life insurance, but you haven't met the waiting period for a traditional life insurance policy. A guaranteed issue option can potentially meet your needs until you are eligible.
Conclusion
Declined for life insurance? Now, we hope you realize the many options you have. Working with a knowledgeable, independent agent can make all the difference.
If you were declined for life insurance, rated, or just don't know what to do next, contact us. Or, fill the form below. We at My Family Life Insurance have assisted and fought on behalf of many families to obtain the life insurance they need.