Non-Medical & Guaranteed Issue
Non-Medical and Guaranteed Issue Life Insurance
These policies make the life insurance application and underwriting process easier. Read on to learn the advantages and disadvantages of each, and if they will fit in your situation.
Non-Medical Policies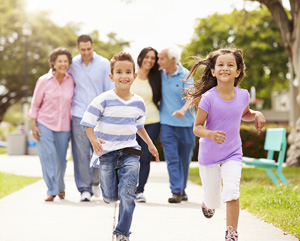 These policies are just as they sound. They do not require a medical exam, blood urine sample, etc. Contrary to popular belief, these policies can insure up to high death benefit amounts, some policies up to $1 million depending upon your health classification. Because they are non-medical, they tend to be quicker in their underwriting process. They can either be term or permanent policies. Most do accept health complications such as obesity or type II diabetes, but potentially at a lower death benefit. These policies can be a great way to obtain insurance quickly. The downside? They can be a little more expensive than if you went through the full underwriting process. The reason? Because there is no medical exam , the insurance company doesn't have the chance to "see" you through a traditional life insurance underwriting process. However, they still are competitively priced. People generally from ages from 18 to 80 are eligible, depending on the carrier.
Note, if you have significant health conditions, a non-medical policy may not be the right choice. It may be better to take your situation through a full underwriting process to determine your health classification. Talk to us if you have any questions about a non-medical policy or if you think a non-medical policy is right for you. We can find you the right non-medical policy at the lowest cost given your situation.
Guaranteed Issue Policies
These type of policies do not require any medical underwriting. Typically, an applicant just fills out a form, sends it in to the carrier, and they are granted life insurance. Sounds too good to be true? Well, it is and it's not. Although carriers will issue the insurance, these policies can be expensive for the simple reason that those who apply and purchase these plans have significant heath complications or are uninsurable. Moreover, they tend to be limited in death benefit, with some policies going only as high as $25,000.
These policies are useful, however. If a person is uninsurable for any reason, these policies will cover a person. More often, they have a two year graded or modified benefit, which means if client dies within those two years (other than from an accident), the beneficiary will receive the premiums back plus some interest.
You are probably thinking you don't want to do this because of the expense. Don't discount these policies. And, if you do have health complications, don't discount your life, your family, or your loved ones. These policies can be a great way to establish some final expense coverage. If you have many health complications or think you can't qualify for a traditional life insurance policy, contact us to find out what you could qualify for.
Feel free to check out our ultimate guide to guaranteed issue life insurance for further details.
We also have the following articles available:
guaranteed issue life insurance for people less than 40
affordable guaranteed issue life policies
Already know what you need? You can apply yourself!
(Click the button below and fill out our secure application.)
I acknowledge and understand that by contacting My Family Life Insurance through any contact form, "Submit," "Display Rates," "Apply Yourself" or other form means, I am providing my express consent that I may be contacted by My Family Life Insurance via e-mails, SMS, phone calls and prerecorded messages at any phone number(s) that I provide, even if the number is a wireless number or on any federal or state do-not-call list. I understand that calls may be placed using automated technology, and that consent is not a requirement for purchase. Your information will NOT be sold and will remain private.