Updated On: by Laura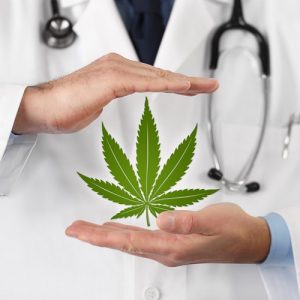 The marijuana industry has changed in the last few years. No longer is the stigma that smoking marijuana is a dirty, criminal activity (although still largely illegal at the federal level). TV shows such as High Profits have attracted record viewers. More importantly, as of this writing, 8 states have legalized both the medical and recreational use of marijuana. Additionally, 21 states have legalized the medical use of marijuana. The life insurance industry has changed as well. If you thought you could not obtain life insurance (or any other type, for that matter) because of your marijuana use, you should be happy to know that you absolutely can. In this article, we will discuss how to obtain life insurance for marijuana users.
Misconceptions Galore On Obtaining Life Insurance For Marijuana Users
Before we get into the nuts and bolts on how to obtain life insurance (and it is really simple), let's get several misconceptions out of the way. These could have been reasons impeding your decision to purchase life insurance. Below are the major myths.
Your health information is private – when you apply for life insurance, your health history remains private. This goes for any health conditions or lifestyle concern including marijuana use. Neither law enforcement agents nor anyone else can access your life insurance application. The HIPAA law makes this possible.
You will pay an exorbitant amount for the policy – not necessarily. If you have limited marijuana use, and are healthy every other way, including not smoking tobacco/cigarettes or other drug use, you can receive preferred or standard non-smoker rates. All things being equal, this means you can save 5 or 6 times than someone who smokes cigarettes. (Not all carriers offer nonsmoker rates for marijuana users. The key is to use those companies that favorably rate marijuana users). Only those who smoke marijuana excessively or who have additional health conditions could be rated with a table rating or declined.
The carrier will decline your application because it found marijuana traces in your medical exam -. If you want to qualify for the best life insurance rates, you will have to go through a fully underwritten policy, which means a blood test and urine sample among other requirements.  So, a decline could happen if you smoke marijuana excessively, but most carriers will rate you as a smoker status and possibly a rating depending on use if they find traces of THC in your urine. However, as we said before, it is important to select a carrier that has favorable underwriting standards for marijuana users.
What The Carriers Look For
A few things to discuss when considering applying for life insurance:
don't lie about your marijuana use – we at My Family Life Insurance work with many "marijuana-friendly" insurance carriers. Your marijuana use, among other health factors and lifestyle concerns, will dictate your health status rating. Be honest about it. Remember, your application remains confidential.
whether it is recreational use or medical use – if medical, you could qualify for better rates, but that depends on the reason why (the underlying condition) you are smoking marijuana. The carrier should not/would not rate you on the marijuana use alone because the use is medicinal; they would rate you on the underlying health condition. If recreational, you will need to work with the right carrier that accepts your level of marijuana use among other factors. This is where working with an independent insurance agency, like My Family Life Insurance, can help. We know the carriers and can select the right carrier for your specific situation.
Here is a chart, generally, of application outcomes for life insurance for marijuana users: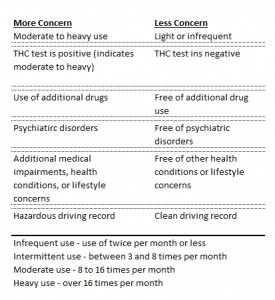 Types of Life Insurance for Marijuana Users
Marijuana users can apply to any type of life insurance – term life, whole life, IUL, etc. The right type depends on the answers to the following questions, however:
            what is your unique, overall situation
            how often you use marijuana
            do you have additional health conditions or lifestyle concerns
            do you want to go through a fully underwritten or simplified underwriting process
If you want the cheapest life insurance option, you will need to go through a fully underwritten process. This includes a urine sample. If your THC test comes back positive, that could mean you are rated from the carrier. Typically, a negative THC test indicates infrequent to low use.
Conversely, you could apply through a simplified underwriting process. Simplified underwriting is known as "no-exam" life insurance. Instead of going through a medical exam, you will have a telephone interview with an underwriter to discuss the application and health history. While on the phone, the underwriter will be looking your information up in the MIB database and your prescription drug history. If it sounds easy, it is. However, you will pay more versus a fully underwritten policy because the carrier has already incorporated health conditions and/or lifestyle concerns into these policies.
Bottom Line Advice
Life insurance for marijuana users is easily obtainable. Here is our recommendation:
Be truthful in the application on your marijuana use. Honesty is the best policy. Be honest, not only on your marijuana use but also on any other conditions. If you don't disclose your marijuana use, you could be declined for life insurance. And, if you are declined, that information is reported to the MIB. If you do receive life insurance, but did not disclose your marijuana use, and you die within two years of the contestability period, your beneficiaries could be denied the death benefit. So, just be honest.
Work with an independent agency like My Family Life Insurance. We work with over 70 carriers and can select the right carrier for your specific situation. Moreover, we work in your best interest every time, all the time. Your situation might be trickier if you have other health conditions or lifestyle concerns. So, contact us, and we would be happy to help. Above all, using marijuana is no longer a reason that you can't obtain life insurance, so don't let that be a reason to keep you from applying.