5 Strong Dental Insurance Plans For Seniors On Medicare | These Provide The Great Combination Of Affordability And Value
Updated: December 23, 2021 at 7:10 am
Seniors generally think their Medicare plans cover their dental insurance needs.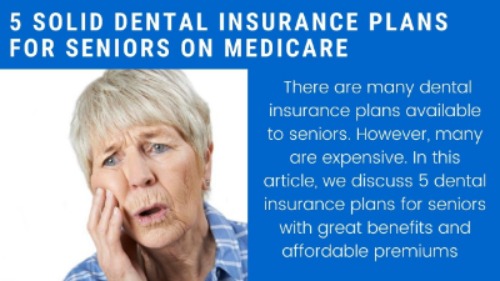 However, that is rarely true.
Medicare and nearly all Medicare Advantage and supplement plans do not cover dental needs. If they do, they usually cover preventative care only, like cleanings.
What will you do about fillings, bridges, and crowns? Or, even a cavity?
Moreover, most dental services through Medicare plans have limited dentist networks.
So, seniors need to find their own dental insurance plans. However, many plans are expensive with not much value. You don't want to waste your money, especially if you are on a fixed income, right?
Luckily, we at My Family Life Insurance have many and affordable coverage solutions when it comes to your dental insurance needs. In this article, we discuss the best dental insurance for seniors. We've worked with many dental insurance plans and present here those that combine great benefits at an affordable cost.

Here's what we will discuss:
Let's jump into a quick overview of how dental insurance works. Understanding dental insurance will help you make an informed decision. (Additionally, you'll see why we picked the plans we did.)
Note: many websites tout "the best", but many of these websites have information that is misleading. For example, many websites illustrate discount dental plans as insurance. Discount dental plans are not insurance. Be careful what you read. Additionally, many carriers fall into the "sameness" category. With the exception of a few differences, they are all the same. We discuss several unique dental insurance plans for seniors. 
---
How Dental Insurance Works
We've discussed how dental insurance work in our dental insurance guide as well as an article about understanding your dental insurance.
In those articles, we discuss dental insurance in way more detail with examples of how dental insurance works.
Here, however, we will present an overview of dental insurance.
As I've said before, many people overpay for their dental needs. The reason is they don't know how their plan works. It's a huge mistake I see many seniors make with their current dental insurance plan. Additionally, I see many seniors waiting to purchase their dental insurance. This can be a major mistake as well.
First, you need to know the carrier's annual benefit. This is how much the carrier pays for your dental needs on your behalf every contract year. Think of this as a "bank" replenished every year.
Then, you want to make sure your dentist accepts the plan. This is called an in-network provider. Going to an in-network dentist saves you money. However, many solid plans accept out-of-network dentists or if your dentist does not accept insurance.

You'll have to pay a deductible on your plan. This is the amount of money you pay out of pocket before the insurance pays its share.
Additionally, there are coinsurances you'll have to pay. This is your share of the cost you'll pay for a service. It's expressed as a percentage, but you pay in dollars.
Now is a good time to discuss the best dental insurance plans for seniors on Medicare.
---
Best Dental Insurance For Seniors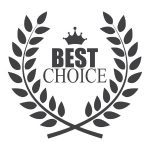 There are many dental insurance carriers available. However, as we mentioned earlier, there's a lot of sameness with these carriers. Moreover, they can be expensive for the benefit you pay for. As I like to say, there is "not a lot of juice in that squeeze".
However, the carriers we present here are our top picks for dental insurance for seniors. Why? The following strikes the right balance of premiums, value, and uniqueness. Our goal is to illustrate plans that pay for your dental needs and minimize out-of-pocket costs.  Not ones that are costly and won't cover much.
As we indicated earlier, if you search on Google, you will see other websites touting their "best" dental insurance. All I can say is that what you see may not be totally true. For example, many websites tout the "best dental insurance" only to show and illustrate discount dental plans. Again, discount dental plans are not insurance, and websites stating so are grossly misleading. Be careful.
Ultimately, the "best" dental insurance is the one that pays your dentist and minimizes your out-of-pocket costs. It is that simple. We outline our "best" here. Will they be the "best" for you? Maybe. Maybe not. Everyone's needs are different. But, I think the following gives you a great start. If the following seems confusing, don't worry. You can always refer to our article on how to understand your dental insurance if you need to learn the basics. Or, better yet, contact us. We can help for sure.
The dental insurance plans we like below are in no particular order.
#1 Ameritas
I think Ameritas is an often-overlooked dental insurance carrier. They don't have brand recognition like Mutual of Omaha, Humana, Cigna, United Healthcare, etc. but they have some awesome plans.
They are available in nearly all states (even New York and Washington state). At last count, there were over 500,000 providers in their network. Most states have 3 plans available.
Let's introduce some of the unique qualities of Ameritas dental insurance plans.
Their 3 plans are:
Value plan – great for young adults and students.
Access plan – offers a higher annual benefit and more benefits, including teeth whitening.
Total plan – offers a higher annual benefit than the Access plan. Includes hearing benefit which is an indemnity reimbursement.
Additionally, Ameritas's plans are beneficial for people who see dentists who don't accept insurance or are out of network.
If you'd like to research more, feel free to check out your plans here: https://myplan.ameritas.com/id/010N8631
All you need to do is enter your zip code, and the plans available in your area automatically populate.
#2 Spirit Dental
Spirit Dental is actually the marketing name. These plans are administered by a third-party administrator called Direct Benefits, but are underwritten and claims paid by Ameritas.
You might think, "John, what are these? The same plans?"
No, they are not. The plans offered under Spirit have different, unique features although there are many similarities. They belong on our best list because of their uniqueness and are backed by Ameritas.
What are some of their features? Check these out.
If you want to see available plans in your area, please click on the link here and enter your zip code: https://spiritdental.com/get-a-quote?agent=001C000001nVM5GIAW
#3 National Care Dental (Nationwide)
National Care Dental came on the scene a couple of years ago. They are actually underwritten and backed by Nationwide.
Here's why National Care Dental made the list:
National Care Dental doesn't really have any special "bells and whistles", but they do allow an immediate $3,000 or $5,000 benefit and no waiting period on major services with proof of prior coverage. Other carriers do waive waiting periods, but don't have the same annual benefits.
Additionally, they have 3 fixed rates across the US and are affordable given their plans' value.
OK, John. Sounds good, but how do these plans compare to others?
OK, let's get into that with a comparison.
Comparison Between Our "Best" Dental Insurance For Seniors And The Rest
OK, so I will compare Ameritas and Humana.
Humana is a great carrier, but you'll see they simply just lack benefits for the money.

In this example, I'll compare the plans for a senior living in Athens, TX, zip code 75751. (I arbitrarily picked out of thin air).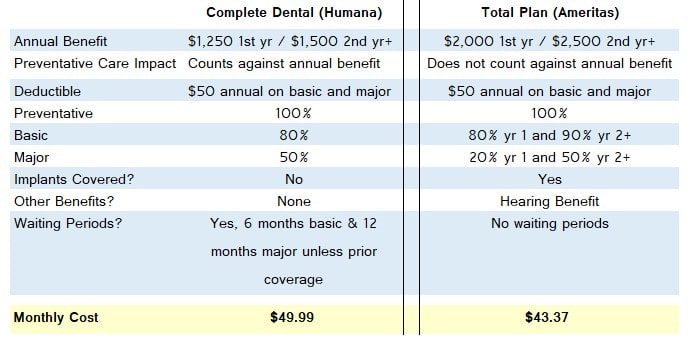 As you can see, the Ameritas Total plan yields better benefits at a lower cost. Of course, this won't happen at all times, but I think most times.
---
Best Combination Dental Vision Hearing (DVH) Insurance Plans For Seniors
There's another dental insurance option for seniors.
"Combination" dental, vision, and hearing insurance plans are popular nowadays.
However, many websites have inaccurately touted these as the best thing since sliced bread. Honestly, in my opinion, they used to stink. However, they are better now since 2 of the plans have introduced a dental network. Remember, going to an in-network dentist ultimately saves you money.
Some seniors like to have an "all in one" dental insurance plan which not only includes dental coverage, but also includes coverage for vision and hearing.
Think of these as a "swiss army knife".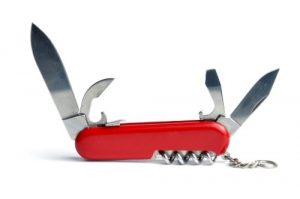 Hearing coverage can be especially important since, currently, no stand-alone hearing insurance exists. (Except for Ameritas, which includes a hearing benefit on its Total plan.). Moreover, Medicare plans usually do not have good hearing coverage, if any.
Before we get into the two we like, these plans are useful if your dentist does not take insurance or if you need secondary dental insurance. Neither one of them coordinates with other dental insurance, although you may want to check, if you desire to, how your other insurance coordinates.
#4 Manhattan Life DVH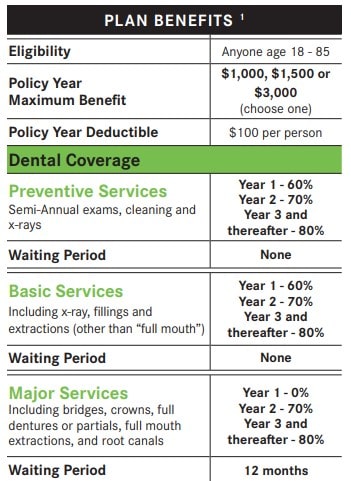 The first plan we like is from Manhattan Life.  Manhattan's plan allows any dentist, although they use the Careington dental network.
You can select an annual benefit of either $1,000; $1,500; or $3,000. Think of it as a pot of money that gets used throughout the year and then filled up again every contract year. You can use this money for your dental, vision, and hearing needs.
The plan pays based on the contracted insurance rate if you see an in-network dentist and the UCR fee if your dentist is out of network. The coinsurance amounts are as follows:
Manhattan Life allows you to have another dental insurance. They don't care if you have other dental insurance. Even a dental discount plan can work well here. Using the above example, if the dentist routinely charges $200 for cleaning, but per the discount plan contract, charges you $100, you will have a net cost of $20.
For a 65-year-old person entering Medicare, the indemnity plan starts at around $35 and $45 per month for the $1,000 annual benefit and the $1,500 annual benefit, respectively.
Other Benefits Vision & Hearing
This plan also allows vision and hearing benefits as well. As mentioned earlier, you would draw from the same annual benefit. Reimbursements are as follows:
Vision – 6 months waiting period. Will reimburse up to 80% of the cost by year 3. It will cover exams and eyewear.
Hearing – 12 month waiting period. Will reimburse up to 80% of the cost by year 3. It will cover exams, hearing aids, and repairs.
How great is that? You have dental, vision, and hearing coverage all into one!
Although it's outside the scope of this article, you could potentially be even on your vision insurance spending. Vision insurance for seniors is usually pretty cheap. This plan is nice as there is no limitation on vision (or hearing as well). The only limitation is your annual benefit.
The disadvantage: this plan is not offered in every state.
#5 Aetna DVH
Aetna DVH is also a solid "combo" plan. It also uses the Careington dental network. However, plan differences exist between Manhattan Life and Aetna.
For one, they have $2,000 and $2,500 annual benefit options in addition to $1,000; $1,500; and $3,000.
Second, Aetna has a $100 deductible that Manhattan does not. They are also a bit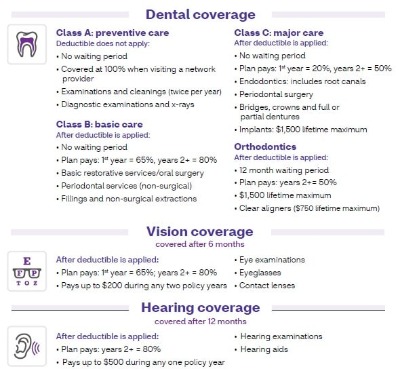 less expensive than Manhattan Life, but this premium difference is usually offset by the deductible.
One of the issues we see with Aetna is that they have a cap on vision care, up to $200 every two years. However, the plan pays in addition to any benefits paid by other stand-alone vision insurance you have.
As you can see, hearing is also covered, but up to $500 each year.

Nevertheless, they are a solid option for a combo DVH. Moreover, they exist in more states than Manhattan's DVH plan.
There are a few more carriers that offer a combo dental, vision, and hearing insurance. We, however, did not include them here because they either were much higher in premium for a lower value benefit or had low payment rates. For example, some DVH plans have 75% UCR, which generally means (all things being equal), you'll pay more for your dental needs.
---
Now You Know The Best Dental Insurance For Seniors On Medicare
We hoped you learned more about dental insurance plans we like for seniors. You have many options.
Do you need assistance or want to learn more? Feel free to contact us or use the form below.
We would be happy to help you find an affordable insurance plan for you. And, if we don't, you've learned a little more, and we will part as friends. Really! There's no risk of speaking with us. Remember, we work in your best interests only, so we have no problem letting you know if better dental insurance plans exist. This is the only way we know how to work with our clients. If there is a better plan available that we can't offer you, we would be happy to help you obtain or recommend that plan to you.
Learn More
Are you interested in learning more about the information in this article? Please fill out the form below, and we will email you additional information or give you a call. We always work in your best interest. By entering your information, you are providing your express consent that My Family Life Insurance may contact you via e-mails, SMS, phone calls, or prerecorded messages at any phone number(s) that you provide, even if the number is a wireless number or on any federal or state do-not-call list. Additionally, you understand that calls may be placed using automated technology, and that consent is not a requirement for purchase. Your information will NOT be sold and will remain private. However, you may opt out at any time. We respect your privacy first and foremost.