Updated On: by My Family Life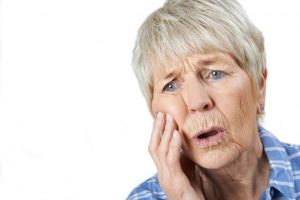 It is a far too common situation. You enroll in Medicare and have your medical and health needs covered. You feel good. Finally, you made a decision about Medicare. What about dental coverage? Your teeth matter, right? We all know when our teeth and gums hurt, everything hurts! Yet, Medicare and nearly all Medicare Advantage and supplement plans do not cover dental needs. If they do, they usually cover preventative care only. What will you do about fillings, bridges, and crowns? Luckily, we at My Family Life Insurance have many coverage solutions when it comes to dental needs. In this article, we discuss individual senior dental insurance, plan types, what to look for with affordable dental insurance, and the best dental insurance for seniors on Medicare.
Note: many websites tout "the best", but many of these websites have information that is misleading. Additionally, many carriers fall into the "sameness" category. With the exception of a few differences, they are all the same. We discuss several unique dental insurance plans for seniors. First, though, we start with some dental insurance background.
Dental Insurance Background
A carrier recently told us that many seniors expect to carry over their dental insurance coverage from their employer. Yet, that rarely happens. What does happen is that about 90% of seniors on Medicare don't have proper dental insurance coverage (American Dental Association). After filling out the Medicare paperwork, most seniors put dental insurance on the back burner.  (And vision and hearing, too…we'll get to those later.) And, why not? Your teeth are not hurting yet and they feel pretty good.
As time passes, many seniors leave dental coverage (and vision and hearing) behind. Then, when they need it, it is too late. Waiting can be devastating in some cases as many insurances have waiting periods for certain services. For example, a routine filling for a cavity typically requires a 6-month wait. If you can't wait that long, you will have to pay the cost in full.
By now, you realize that Medicare or Medicare insurance plans do not cover dental needs or procedures.
Many seniors make mistakes when selecting dental insurance. Going forward, we discuss the right way seniors should approach purchasing dental insurance.
It is also important to note that while many dentists accept dental insurance, many do not accept individual dental insurance plans. They may only accept group plans (sponsored through an employer). Moreover, many dentists do not accept insurance at all. What do you do if your dentist does not accept dental insurance? We can help.
Understanding Your Dental Insurance
Many seniors don't know how individual dental insurance works. Individual dental insurance works just like employer-sponsored (i.e. group) dental insurance. It is important that you know how dental insurance works so you can save money. In our experience, many seniors spend way too much money on dental insurance. We wrote how to understand your dental insurance in a separate article. Consider the following the abridged version of our article.
Premium – how much you pay for the dental insurance
Waiting Period – usually, preventative services are covered at day 1, basic services (fillings, for example) at 6 months, and major services (bridges & crowns) at 12 months
Annual Benefit – how much the plan will pay each year
Deductible – the amount you need to pay first, excludes preventative costs usually
UCR – means Usual, Customary, and Reasonable. This pertains to how dentists in your area charge for a certain procedure. The insurance company looks at the UCR fees in your area and bases its cost sharing or reimbursement on this fee. UCR is usually with out-of-network coverage and with indemnity plans.
In-Network / Out-Of-Network – you should be familiar with this as likely your health insurance had in and out-of-network coverage. Same with dentist coverage
Honestly, you will want to go to an in-network dentist whenever possible. In-network dentists are required to charge you the contracted insurance rate for a procedure. If your dentist is out of network or your dentist doesn't accept insurance, don't worry. There are affordable solutions that we discuss in this article.
Types Of Dental Insurance For Seniors
There are really three types of dental coverage. They have many similar attributes, yet differences which we describe throughout this article.
The three types include:
(1) traditional dental insurance with in and out-of-network coverages, cost-sharing, deductible, and copays. Traditional insurance can either be an in-network plan or both in and out-of-network (PPO). Many senior dental insurance plans have a waiting period on basic and major services. However, there are a few dental insurance plans for seniors which have no waiting period.
(2) indemnity insurance plans which will pay a fixed dollar benefit directly to you or the dentist. It doesn't usually matter which dentist you go to. Most indemnity plans have a waiting period.
(3) discount dental plans which you pay out-of-pocket costs at a discount off the dentist's rate, per a contracted fee schedule. These plans are not insurance and they do not have waiting periods.
We touch base on all of these coverage types throughout the article. First, though, let's discuss how to find affordable dental insurance.
How To Find An Affordable Senior Dental Insurance Plan
If you are coming off of group coverage, and you like your dentist, you will want to ask what plans he or she accepts. Otherwise, you have the freedom to choose any plan. Remember that group dental insurance is different than individual dental insurance.
In either case, in our opinion, the purchase of individual dental insurance can be hard if you don't do your homework. Why? The premiums aren't in favor of the benefit. For example, if you are paying $100 per month for dental insurance which has an annual benefit of $1,000, that really isn't in your best interest. You are paying $1,200 annually for a $1,000 benefit. In this case, it is better to simply negotiate a discount with the dentist or utilize a dental discount plan where appropriate (more on that below).
You will also want to look at the monthly premiums, deductibles (and on which services), and coinsurance.
It is also important to note that many individual senior dental insurance plans have waiting periods. Some, however, have no waiting periods.
However, seniors can obtain affordable dental insurance. They just need to understand how to go about doing so. We discuss the steps next.
Affordable Dental Insurance Depends On Your Dentist
If you read our article on discount dental plans, you may think we are 100% against dental insurance. We are not. We simply know seniors can get sucked into paying high premiums with equally high out-of-pocket costs with no major insurance advantage. But, affordable dental insurance for seniors is possible that balances the right premiums, out-of-pocket costs, and coverage.
There are a couple of ways to go about this. If you like your dentist or if that doesn't matter to you.
If you like your dentist, you'll want to find out from the office staff which insurances they accept. Don't ask them what insurances they like – they could like an insurance that pays them a nice benefit but has high premiums to you – just ask what they accept. With that list, start your research. We discuss that next.
Also remember to tell them you are looking for individual dental insurance plans as Medicare, generally, does not cover dental procedures.
If you don't like your dentist or the dentist doesn't matter to you, then you'll want to contact someone like My Family Life Insurance that can search for plans in your area.
How To Research Affordable Dental Insurance
The next step is to find dental insurance that fits your needs and budget. You also one that has a solid benefit plan. We have discussed the below previously, but the dental insurance you choose depends on the following:
(1) premiums – how much the insurance costs each month
(2) deductible – is there a deductible? If so, is it applies to basic and/or major services only? Or, does it include preventative care? All things being equal, you want no deductibles or only a deductible on basic and/or major services. Of course, you need to consider your premium, too
(3) waiting periods – preventative care usually has immediate coverage. Basic and major services usually have waiting periods of 6 months and 1 year, respectively. Obviously and ideally, a plan with no waiting period would be great, but generally comes at a higher cost
(4) insurance cost-sharing – preventative care usually pays 100% of the cost. However, basic services might pay 80% of the cost, and major might pay 50%. Many plans start cost sharing low and then increase sharing each year the longer you stay with the plan.
(5) annual benefit – the most the insurance will pay for its share annually, usually $1,000 but many plans now offer $1,500 or more.
(6) in-network / PPO or indemnity plans – if you have an in-network dentist, you will pay a lower cost share than someone who goes to an out-of-network dentist. Most insurances nowadays allow you to pick either, and they operate like a PPO. There are many indemnity plans now which will pay the benefit directly to you
Before we discuss our best dental insurance options for seniors, let's briefly discuss discount dental plans. You probably have seen their advertisements.
What Are Discount Dental Plans?
There is another type of dental coverage that is available to seniors. These are discount dental plans. They can work…if you find the right dentist. Unfortunately, not many dentists take these plans. Moreover, many dentists who take these plans tend to be lower established dentists. That in itself is not bad, but they might be out of school, trying to establish a patient base.
These plans are not insurance. They are discount plans. Too many websites promote these plans as insurance, but they are not at all. Just like a Costco membership, these plans allow you to receive a discount on services from participating dentists. Here are the characteristics of a dental discount plan.
(1) relatively low premiums – usually cost $8 to $15 dollars per month depending on the plan and additional services.
(2) fee schedule – these operate on a contracted fee schedule. Need a filling, you may pay $150. A crown might cost $900. The fee schedule is based on the ADA dental codes.
(3) preventative services – unlike traditional dental insurance, you need to pay for preventative services
(4) no waiting periods – if you need a crown, you can get it done the next day. It is day 1 coverage
(5) you need to confirm the network – if there is a plan you like, you will need to confirm the dentist is in your network.
Where You Can Find More About Dental Discount Plans?
Does this sound good? Maybe. You'll pay for everything…at a discount. How does this compare to traditional dental insurance for seniors? Well, in our opinion, you may end up paying the same or less, generally speaking. While you have to pay for preventative care, it is at a discount. Compare with dental insurance, which preventative care is free, but you generally pay a higher monthly premium. If this seems like a see-saw, it is. You can either pay a low premium for a higher out-of-pocket cost (dental discount plan) or a relatively higher premium for a lower out-of-pocket cost (if your dentist is in the network).
We work with all of the major discount dental plans. If you want to view them, you can search on your own and buy a discount dental plan yourself. No agent or telemarketer required. Of course, if you need assistance. You can always contact us.
Best Dental Insurance For Seniors On Medicare
We now discuss the purpose of our article: the dental insurance plans we like for seniors. You have many options. As we indicated earlier, if you search on Google, you will see other websites touting their "best" dental insurance. All I can say is that what you see may not be totally true. For example, many websites tout the "best dental insurance" only to show and illustrate discount dental plans. Again, discount dental plans are not insurance, and websites stating so is grossly misleading. Be careful.
The "best" dental insurance is the one that pays your dentist and minimizes your out of pocket. It is that simple. We outline our "best" here. Will they be the "best" for you? Maybe. Maybe not. Everyone's needs are different. But, I think these give you a great start. You can always refer to our article on how to understand your dental insurance. Or, contact us and we can help for sure.
As with all dental insurance, it is important to read the exclusions and limitations. For example, nearly all carriers won't cover teeth whitening. Additionally, these plans only cover work performed in the United States.
The dental insurance plans below are in no particular order.
Mutual of Omaha Dental Insurance
No other website will have Mutual of Omaha in their "best" list. Why not? They boast 375,000 dental provider locations. Mutual of Omaha requires all of these providers to charge at their negotiated insurance fee.
They have 2 plans available: a  "protection" plan and a "preferred" plan. The protection plan, in my opinion, is the better option. Here are the particulars on the protection plan.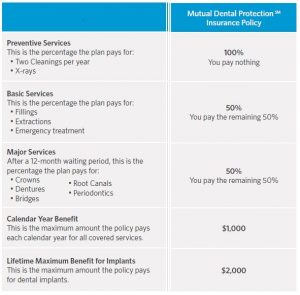 The protection plan is one of the lowest premium plans available. Of course, nothing is perfect, and there are some downsides. One is that there is a flat, annual $100 deductible on all services. Another is the waiting period of 12 months on major services. Then, there currently is a maximum cap on implants. I am not so sure if this is a downside, however, as many carriers do not cover implants.
They have no waiting periods on preventative and basic services, so that is good. With basic services, their coinsurance is 50% whereas other plans are at 80%. Is this a major deterrent? I don't think so, unless you like to eat candy a lot and not floss or brush your teeth.
Let's briefly talk about the preferred plan. In my opinion, it is not very good. It s a $1,500 plan and much more expensive. Competitors have comparable plans that are less expensive.
Mutual of Omaha dental insurance is currently not available in Massachusetts, New York, Virginia, or Washington state.
Ameritas
I think Ameritas is an often overlooked dental insurance carrier. They don't have brand recognition like Mutual of Omaha, Humana, United Healthcare, etc but they have some pretty awesome plans.
They are available in nearly all states (even New York and Washington state). At last count, there were over 400,000 providers in their network. Most states have 4 plans available. Currently, these plans are as follows:
*Two in-network plans that utilize discounted insurance fees. Remember that Ameritas requires the dentist to charge the in-network insurance fee. You can go to an out of network dentist, but your cost sharing will be much greater. There is a $1,000 annual benefit plan and a $2,000 annual benefit plan
*Two PPO or "out-of-network" plans. These are also $1,000 or $2,000 annual benefit plans. These plans allow you to go to any dentist (for real).  If you go to an in-network dentist, the dentist still charges you the contracted insurance fee. Charges are handled differently for out of network dentists. Instead of the in-network fee, however, Ameritas will pay your dentist the UCR fee. Ameritas percentile on the UCR is 80%, which is on the higher end of most carriers.
There are many benefits to Ameritas. First, they have immediate coverage for all services. Yes, even for major services like a root canal. They also have a low annual deductible of $50 which in most states applies to basic and major services only.
Ameritas's PPO plans are beneficial people who see dentists who don't accept insurance or are out of network.
Spirit Dental
Spirit is the marketing name. These plans are administered by Direct Benefits but are underwritten and claims paid by Ameritas. You might think, "John, what are these? The same plans?" No, they are not. The plans offered under Spirit have different, significant features although there are many similarities. They belong on our best list because of their uniqueness and backed by Ameritas.
What are some of these significant differences? Well, for starters, there is a lifetime deductible of $150. Or course, that is on all services. But, once it's done, it is done! Secondly, some of their plans have higher coinsurance amounts paid by Ameritas. That is nice. Finally, they have some unique, alternative plans that you won't find anywhere else. For instance, they have a couple of "step-up" plans where the plans start with a relatively low benefit in the first year. The benefits increase each year until the maximum amount in the 3rd year. My favorite is one that starts at $1,200 in the first year, $2,500 the second, and $5,000 in the third year.
They also have a $3,500 annual plan. Additionally, all of their plans offer 3 cleanings per year.
Here is the breakdown of their "step-up" plan. If you are looking for a quality plan with a higher than normal annual benefit, this one is potentially for you.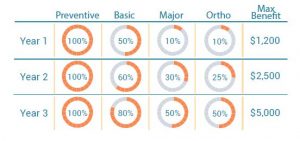 Even if you don't opt for their "step-up" plan, they offer some affordable plans in your area.
Humana & Cigna
We lumped these two households names together. Why? Well, in our opinion, there is a lot of sameness between them and others. Yes, that is right. While they might have good networks, they are usually higher-than-normal premiums for average benefits. There are some features that are worth considering, though. That's why we included them here.
First is that both will allow you to have an immediate benefit on basic and major services if you have had continual dental insurance. That is a plus; however, I have found that seniors who took care of their teeth and whose dentists said there was no major concern did fine with a better plan from Ameritas. Otherwise, there is generally a 12-month wait.
Humana offers a one-time deductible on a couple of their plans. However, these plans are a little bit pricey, in our opinion. Their plans also don't go beyond $1,500 annual benefit.
Both Humana and Cigna offer "value" plans. These are true in-network plans. You need to specify a primary dentist and all work must be done in the network. So, if you need to see a specialist, even if the closest one is 40 miles away, that is the one you have to see. These plans are usually cheap with no annual maximum and no limit on services.
Physicians Mutual
Although we are not contracted with them, Physicians Mutual does have a couple of features that stand out. Their plans have no deductible or no annual maximum. This may sound like the best thing since implants.
Consider this, however. Do you know who they use for claims administration and network? That is right. Ameritas. That says something about Ameritas, doesn't it? While you may think we are drumming the Ameritas beat. Not so. We are simply pointing out that Ameritas is a solid dental insurance carrier. We always operate in your best interest.
Their plans tend to be higher cost on average than a $2,000 annual plan or even one of Spirit's "step-up" plans. They also operate in a handful of states. Their plans have a 3 month waiting period on basic services and 12 month on major.
Combination Dental Vision Hearing (DVH) Plans
Many websites have inaccurately touted theses as the best thing since sliced bread. Honestly, in my opinion, they used to stink. However, they are better now since 2 of them have introduced a dental network. Remember, going to an in-network dentist ultimately saves you money.
Some seniors like to have an "all in one" plan which not only includes dental coverage, but also includes vision and hearing. Hearing coverage can be especially important since, currently, no stand-alone hearing insurance exists. Moreover, Medicare plans usually do not have good hearing coverage.
Before we get into the two we like, these plans are useful if your dentist does not take insurance or if you need secondary dental insurance. Neither one of them coordinates with other dental insurance, although you may want to check, if you desire to, how your other insurance coordinates.
Manhattan Life DVH
The first plan we like is from Manhattan Life.  You can use any dentist, although they use the careington dental network.
You can select an annual benefit of either $1,000 or $1,500. Think of it as a pot of money that gets used throughout the year and then filled up again every January 1.
The plan pays based on the contracted insurance rate if you see an in-network dentist and the UCR fee if your dentist is out of network. The coinsurance amounts are as follows: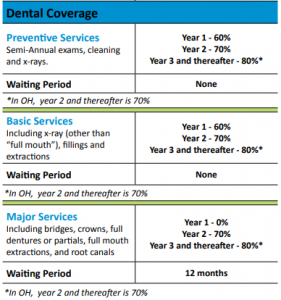 Manhattan Life allows you to have another dental insurance. They don't care if you have another dental insurance. Even a dental discount plan can work well here. Using the above example, if the dentist routinely charges $200 for cleaning, but per the discount plan contract, charges you $100, you will have a net cost of $10. Remember, most discount dental plans charge between $8 and $15 per month depending on other features.
For a 65-year-old person entering Medicare, the indemnity plan starts at around $35 and $45 per month for the $1,000 annual benefit and the $1,500 annual benefit, respectively.
Other Benefits
This plan also allows vision and hearing benefit as well. You would draw from the same annual benefit. Reimbursements are as follows: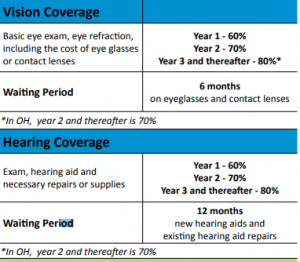 How great is that? You have dental, vision, and hearing coverage all into one!
The disadvantage: this plan is not offered in every state.
Aetna DVH
Aetna DVH is also a solid "combo" plan. It also uses the careington dental network. However, differences exist between Manhattan Life and Aetna.
For one, Aetna has a $100 deductible that Manhattan does not. They are also a bit less expensive than Manhattan Life, but this premium difference is usually offset by the deductible.
One of the issues we see with Aetna is that they have a cap on vision care, up to $200 every two years.
Nevertheless, they are a solid option for a combo DVH. Moreover, they exist in more states than Manhattan does.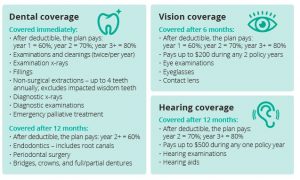 There are a few more carriers that offer a combo dental, vision, and hearing insurance. We, however, did not include them here because they either were much higher in premium for a lower value benefit or had low payment rates.
How To Enroll In Dental Insurance
Thinking we need to meet face-to-face to enroll? Nope? We work with people all over the country. It is easy to enroll. Enrollment takes place online through a secured application process. The benefit of online enrollment is that there is no need to meet face-to-face, thus saving you time and money. We can enroll you, or you can do so you on your own. We can email you an application link in most cases.
Conclusion
We hoped you learned more about dental insurance for seniors. You have many affordable options. Need assistance or want to learn more? Feel free to contact us or use the form below. We would be happy to help you find an affordable insurance plan for you. Remember, we work in your best interests only. This is the only way we know how to work with our clients. If there is a better plan available that we can't offer you, we would be happy to help you obtain or recommend that plan to you.