The Best Vision Insurance For Seniors On Medicare
Updated: February 16, 2019 at 10:27 am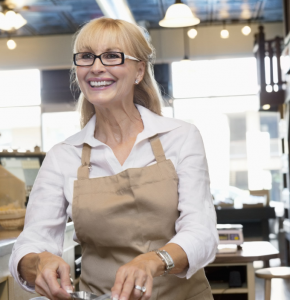 If you are a senior on Medicare, you know by now that your Medicare insurance has limited, or does not cover, vision needs. You have to purchase a separate plan or a plan that combines dental and vision coverage. In this article, we discuss vision insurance and the best vision insurance for seniors on Medicare.
How Does Vision Insurance Work?
You know we have a hard time justifying the purchase of dental insurance. When a monthly premium costs $50 per month, but the annual benefit is $1,000, you are simply paying over half of the annual benefit anyway. There's more to it.
That is not the case with vision insurance, typically.
With vision insurance, most carriers have a base (i.e. basic) plan and a richer benefit plan. You pay between $15 and $20 per month for a base vision plan. The base plan usually includes a vision exam with copay as well as an allowance for frames or contact lenses. You also pay a copay for additional services.
Does The Math Work?
Insurance makes sense when the math works out (that is why we generally recommend discount dental plans versus dental insurance; however, there are some dental insurance plans that we do like). In other words, the amount of premium paid corresponds to the value you receive by using the insurance.
With vision insurance, the math tends to work out nicely. You generally can save money by using vision insurance than paying directly out-of-pocket.
Here is one carrier's analysis of their savings. It is from VSP. They estimate the average person could save over $200 annually. Your savings may differ from this.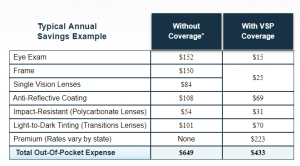 VSP is also one of our favorite vision insurance carrier. Here is why.
Best Vision Insurance For Seniors On Medicare
We don't like to use superlatives. What is the "best" here may not be the best for you, so you always have to do your homework. However, we like VSP as the best vision insurance for seniors because:
• they have the largest vision network in the nation with the most optometrists and doctors in the network
• you actually save money
• there are value-added benefits such as hearing
• when you enroll in an individual plan through VSP, you become a member of healthy vision association which affords you additional benefits and savings on everyday items
Two Plans Offered By VSP
VSP makes it simple. There is a base plan and a richer plan called EasyOptions. Everything between the two plans is the same except the EasyOptions plan has a higher frame and contact allowance as well as higher discounts on other services.
Enrolling in VSP
Enrolling in the vision plan is very easy. There are a paper application and an online application option. There is no medical underwriting or anything like that.  You simply fill out the application and submit it to VSP.
We admit the online application can be a tad cumbersome. You have to select "get rates" first which then takes you to another screen where you then select your home state, select a plan, and then enroll with your information. We have no problem walking through it with you as we have with other people. It is best to contact us (or use the form below) if you would like the link to apply.
Other Options
There are many other carriers we work with. We work with other vision carriers if VSP doesn't seem like a good fit. We also work with VSP's discount vision plan, which has a lower premium per month and offers discounts on services and products rather than a copay or included services.
For example, we work with vision insurance carriers that may offer 100% coverage on eye exams for seniors. Moreover, vision insurance for seniors could be lower – around $10 per month.
Additionally, there are combination dental and vision insurance which act as a nice primary or secondary coverage.
As a senior, you have many options when it comes to vision insurance coverage. The one thing we won't want you to do: spend a lot of money.
Conclusion
We hope you learned more about vision insurance for seniors on Medicare. While Medicare does not include vision coverage, you have affordable options. One of the options we like is VSP. They have the largest vision network and affordable plans. If you would like to learn more, contact us or use the form below. We will send you some additional information on the VSP plans.