My Dentist Does Not Accept Insurance
Updated: November 3, 2018 at 10:44 am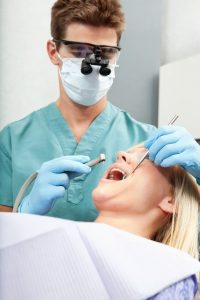 A common situation. You make a new visit to a new dentist for a new patient appointment. You like the dentist and the staff. The location is nice. The waiting room has a pleasant ambiance, and the staff treats you warmly and respect. Your dentist checks your teeth, and you appreciate the way he or she communicates to you. On the way out to discuss insurance options and make a follow-up appointment, the staff tells you the dentist does not accept insurance. You don't know what that means, but it doesn't sound good. Not to worry. In this article, we discuss what to do when your dentist does not accept insurance.
Why Some Dentists Do Not Accept Insurance?
Before we answer this question, it is important to describe the different, popular dental insurance plans. Long ago, dental HMOs exist. (They still do, but not as frequent as before.) The had a similar structure to that of a healthcare / medical HMO. You select a primary dentist and had your services through them and your insurance plan. Like medical HMOs, the purpose of the dental HMOs was to keep costs low by using contracted network providers.
PPO plans made their way mainstream. I can only surmise that dentists did not want to lock themselves into an insurance fee like in the HMO plans. PPO plans allow dentists to join, and in return, they can receive new patients through the referral network. Dentists are business owners. They perform a valuable service. Many don't want to lock themselves into a set fee. These dentists charge cash price and then willing to file "out of network" for their patients who hold PPO dental insurance. They market themselves without the need of a referral PPO network.
As you can guess, PPO plans rose in popularity. PPO stands for "preferred provider organization". It is a fancy way of saying, "You can go anywhere. We would prefer you to go to an in-network dentist, but if you don't, you may face higher out of pocket costs."
So, to answer the question, usually, a dentist does not accept insurance because he or she does not want to lock themselves into a fixed service fee.
What To Do If My Dentist Does Not Accept Insurance?
Well, you have a couple of options. You can:
(1) negotiate with your dentist on the cash price, or
(2) enroll in a true "PPO" plan that does not discriminate between in-network and out-of-network dentists
If you choose number 1, then you should appropriately set aside $2,000 annually for dental costs. Usually, a simple savings account or some other account in which the money is easily accessible.
If you choose option 2, which many do, then we discuss that option next. But, first, we discuss how dentists are paid and how you are charged.
How Dentists Are Paid And You Are Charged?
Let's assume you hold a PPO dental insurance with both in and out-of-network options. If you go to an in-network dentist, the insurance carrier pays the dentist directly a set fee. This fee is also called the "allowed amount". Let's say, for example, you had 2 fillings done. Those procedures are $500 ($250 X 2) per the contract with the insurance carrier. The dentist files a claim for this amount.
With PPO plans that have separate charges for in-network and out-of-network dentists, the PPO plan will charge you less if using in-network dentists. Using our same example, let's say the insurance carrier's cost sharing on fillings is 80%. Because you are using an in-network dentist, the carrier pays $400 and you pay $100. ($500 X 80% = $400) You pay the $100 directly to the dentist.
This is a very easy, but generally accurate example.
What Happens For Out-Of-Network Dentists?
This is where things get tricky. Your dentist does not accept insurance, but he or she will gladly file as out-of-network. This means their office will receive some money from the insurance carrier. However, carriers usually use out-of-network cost sharing, which usually is lower coverage. Moreover, dentists will balance bill. What is balance bill, or balance billing? It is when a dentist charges you the difference between his or her dental charges and the carrier's allowed amount. (The $500 described in the above example.)
Here is an example, continuing with the 2 fillings above.
Let's say your dentist charges you $750 for the 2 fillings. Her office gladly will file the service with the carrier as out of network.
Because you used an out-of-network dentist, your charges are based on the UCR fee for your area. What is UCR? It means "usual, customary, and reasonable". These are the average fees for services that dentists charge in your area. All of the carriers keep track of this. They look at the UCR for the procedure in your area and use that amount. Let's say it is $500 ($250 X 2).
Moreover, sometimes carriers have a lower cost sharing for out-of-network dentists. Let's say, instead of 80%, it is 50%.
The carrier pays the dentist $250 ($500 X 50%). Do you think you are done? No.
You have to pay your insurance share, which is $250. Moreover, here is where balance billing will come into play. The cost of your fillings is $750. The carrier paid the dentist $250. Your dentist invoices you for $500! ($750 – $250 received from insurance.) Wow, that is a difference! Compared to the in-network dentist, you are paying $400 more for the same procedure!
This is why we always recommend using an in-network dentist.
But, You Really Like Your Dentist…
I know what you are thinking. John, I really like my dentist. This stinks!
Well, you have a few options. You could:
(1) just bear the brunt of a higher out-of-pocket cost
(2) find an in-network dentist (but, you really like your dentist..)
(3) purchase a "true" PPO plan
John, what is a "true" PPO plan, you ask?
We discuss that next.
What Is A True "PPO" Plan
If your dentist does not accept insurance, a "true" PPO plan works nicely. You might be thinking what is a "true" PPO plan when we just described the differences between the in and out-of-network of a typical PPO plan.
A "true" PPO plan doesn't have any network dentists. You can "truly" go anywhere and the plan will pay. In-network versus out-of-network cost sharing doesn't exist. However, there is still the chance of balance billing. (Additionally, there is always that chance when you don't have in-network dentists who agree to a contract fee.)
The UCR fee still in effect. Using our fillings example again, let's say the charges are $750. Let's say the UCR is $500 again. A "true" PPO plan pays 80% of the UCR or in this case, $400. You owe the dentist $350.
So, $350 versus $500. Still out of pocket costs, but much better. Obviously, the closer the dentist's fee is to the UCR, the better for you.
With these plans, you can take the benefit directly. In other words, you can file the claim yourself and take the monetary benefit instead of assigning it to the dentist.
An advantage of these plans is that you can negotiate with the dentist if you pay in cash. Let's say your dentist gives you 20% off of your fillings, so your bill is $600. Using the same numbers above, you would pay $200 net.
If you really like your dentist, or you just don't want to hassle and switch, then these "true" PPO plans can work nicely.
Another Option: Indemnity Plan
Another option is an indemnity plan. These plans pay a flat fee directly to you (or to the dentist if you assign benefits). For example, they may pay you directly $125 towards a cleaning or $250 for a filling. Using our example above, if the dentist charges you $750 for your fillings. You file the claim and receive $500. You owe $250 to the dentist. What if the cost was $400? You still receive $500 and keep the $100.
These plans create flexibility, too.
Our Recommendation
These plans can work much better than using insurance with an out-of-network pricing option. It makes sense to look into one if your dentist does not take the insurance you have or any insurance at all.
Conclusion
Yes, it is possible. Even if your dentist does not accept insurance, you can keep your dentist and still receive insurance coverage. Moreover, you can use your dentist's cash price (or negotiate) then file a claim directly. That will save you additional money.
Are you interested in learning more? Feel free to contact us or use the form below. We would be happy to go through your options and determine which is the best course of action for you. As with everything we do, we work only in your best interests. It is the only way we know how to work with our clients.
Learn More
Are you interested in learning more about the information in this article? Please fill out the form below, and we will email you additional information or give you a call. We always work in your best interest. By entering your information, you are providing your express consent that My Family Life Insurance may contact you via e-mails, SMS, phone calls, or prerecorded messages at any phone number(s) that you provide, even if the number is a wireless number or on any federal or state do-not-call list. Additionally, you understand that calls may be placed using automated technology, and that consent is not a requirement for purchase. Your information will NOT be sold and will remain private. However, you may opt out at any time. We respect your privacy first and foremost.