Best Time Seniors Should Purchase Dental Insurance
Updated: June 14, 2018 at 10:46 am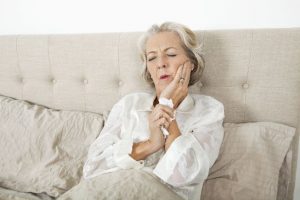 You know that dental insurance is an important component of your overall health care. As we have said before, if your teeth hurt, everything hurts! And, if you wait too long, your out-of-pocket costs likely increase. Many seniors wait to buy dental insurance. Waiting is not the right strategy. In this article, we discuss the right time seniors should purchase dental insurance.
The Importance Of Dental Insurance
Many trustworthy publications attribute proper dental care to your overall health. For example, studies have shown that significant periodontitis contributes to other health conditions.
Moreover, as we said, when your teeth hurt, everything hurts. What's worse, it may even hurt in the wallet or purse if you don't have an insurance plan.
These reasons are why dental insurance is important.
Best Time Seniors Should Purchase Dental Insurance
In our opinion, there is a "right time" or "best time" seniors should purchase dental insurance. When do you think that is?
Nope, not before your teeth hurt. Although, that is typically what most do.
Nope, not 6 months before you start services, although you are close.
In our opinion, the best time seniors should purchase dental insurance is a minimum of 12 months before:
(1) accepting Medicare at age 65, or
(2) retiring from your employer plan (and then going on Medicare)
…whichever comes first.
In other words, a year before you enroll in Medicare or get out of group dental coverage.
Why is this? We will discuss next.
Waiting Periods Matter
Did you know there are waiting periods with dental insurance? You didn't? That is OK. Most people do not know that.
There is a likely reason. Your cleanings and preventative care are covered day 1, at 100% insurance paid (usually). However, there are usually waiting periods for the following:
Basic services – fillings, extractions, cavities – usually a 6 month waiting period, covered at 80% insurance paid
Major services – bridges, crowns, dentures, periodontics, endodontics – usually a 12 month waiting period, covered at 50% insurance paid
What usually happens is a senior comes off an employer's plan with no dental insurance. However, his or her teeth aren't hurting. So, no big deal, right? Delay the insurance until needed…
That's the problem. When you need coverage, a waiting period sits between you and insurance coverage. That means you will pay 100% out of pocket if you need basic or major services.
By enrolling sooner, you will avoid any waiting periods. Moreover, your out-of-pocket costs will likely be less.
This is why we suggest enrolling in an individual dental plan a minimum 1 year before taking Medicare or stopping your employer dental coverage. You will have satisfied any waiting period. It is one less thing to worry about.
Some Plans Have Coverage Day 1
The most requests for dental insurance we get are from seniors wanting bridge / crown coverage now. And, they want good insurance coverage, too.
That usually does not happen. We don't know any carrier that will have high coverage amounts AND day 1 coverage on basic and major services.
There are some plans that do have basic and major services at day 1 coverage; however, the first year insurance coverage is very low…maybe 15% at the most. It then increases each year to its maximum plan benefit.
If you can't wait, there are discount dental plans available that will charge you a reduced cost for day 1 coverage. We have written about these extensively and think they can work in the right situations.
The Plans We Like
If you enroll early to avoid waiting periods, there are a couple of plans we like. We discussed them before.
The first one is a PPO plan that allows you to go to any dentist. There are no networks. Your reimbursement is based on the average usual, customary, and reasonable charge for your metropolitan area. As you can see below, after year 1, they will reimburse 70% for major services. After the completion of year 2, your reimbursement is 80%. We rarely see coverage at these levels. Of course, a disadvantage is that you have to pay for preventative care. If the math works out, you could purchase a preventative-care only plan and use this plan for basic and major services.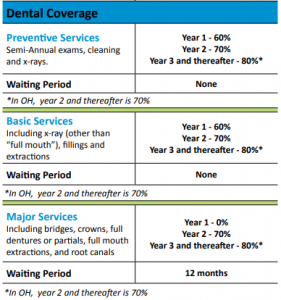 If you want to stay in network with a dentist you like, we work with several insurance plans that have great in-network dentist coverage (with out-of-network coverage available, too) at affordable monthly premiums. Although major services coverage is 50%, you will save by going to an in-network dentist.
Conclusion
The best time, in our opinion, for seniors to purchase dental insurance is at a minimum, 1 year before the senior enrolls in Medicare or leaves employer coverage (and essentially enrolls in Medicare). Not only will this give you time to look and, but also will allow the waiting periods to lapse.
Are you confused about your options? Do you feel you are out of time? We can help. We work with many dental insurance carriers and discount dental plans. Additionally, we can help you find the right policy that meets your needs and budget. Contact us or use the form below. As always, we work only in your best interest. If we can't find you the plan that is right for you, we will direct you to someone who can. Working in your best interest is the only way we know how to work with our clients.
Learn More
Are you interested in learning more about the information in this article? Please fill out the form below, and we will email you additional information or give you a call. We always work in your best interest. By entering your information, you are providing your express consent that My Family Life Insurance may contact you via e-mails, SMS, phone calls, or prerecorded messages at any phone number(s) that you provide, even if the number is a wireless number or on any federal or state do-not-call list. Additionally, you understand that calls may be placed using automated technology, and that consent is not a requirement for purchase. Your information will NOT be sold and will remain private. However, you may opt out at any time. We respect your privacy first and foremost.