Fly High With Low Rates: A Comprehensive Guide For Pilots On Getting the Best and Lowest Life Insurance Rates
Updated: May 25, 2023 at 9:58 pm
Pilots know how important life insurance is.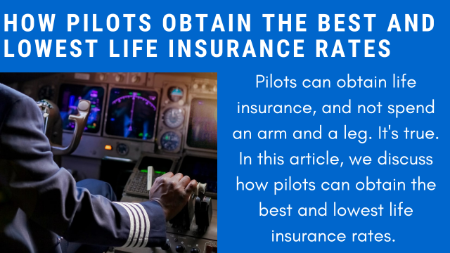 Accidents happen, and while flying accidents nowadays are rare, you still need that life insurance protection for your family and peace of mind.
But, John, I heard that carriers charge way more for life insurance because I am a pilot!
That was the case 10 years ago, but not anymore in most cases.
If you are reading this, you probably think that life insurance will be expensive.
In most cases, no.
In fact, many pilots can get a preferred best health class, which is the best premium rate classification available!

Here's what we will discuss:
Let's jump in and discuss if pilots can get life insurance.
---
Can Pilots Obtain Life Insurance?
Yes, pilots can obtain life insurance and rather easily, too! Moreover, pilots generally have access to many types of life insurance options including term life insurance, whole life insurance, and even universal life options like indexed universal life.
Pilots can obtain life insurance. Most times, at the best health classification available.
Gone are the days when pilots paid higher premiums because of their occupation. Long ago, many carriers charged a higher premium because of the inherent, high risk of the pilot occupation. However, airline travel is now seen as safe travel. People have a higher chance of dying from a car accident than an airline accident!
Moreover, research shows that airline pilots (generally):
are better educated
are healthier (stringent health regulations governed by the FAA)
earn higher incomes…
…compared to other people and professions. These are all positive factors wanted by any life insurance company.

However, while that sounds all good, how do pilots obtain the best and lowest life insurance for their situation?
The answer is underwriting. We discuss this important process next.
---
Pilots Obtain The Best & Lowest Life Insurance Through Underwriting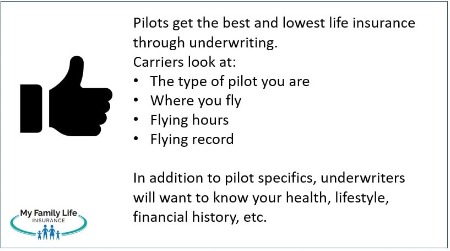 The best and lowest life insurance options available to pilots start and end at underwriting. Underwriting is the process of analyzing an application (in this case, a life insurance application), analyzing the risk, and deciding to accept the risk or decline the risk.
Life insurance underwriters conduct this process.
Specifically for pilots, the underwriting process includes:
the type of pilot certificate held? (student, private, commercial, ATR, IFR)
if you are a member of the military?
type of aircraft flown?
purpose of flying?
total flying hours?
do you fly within the US or elsewhere?
have you ever been:

grounded?
in an accident?
fined/reprimanded?

ever failed an FAA medical exam?
do you have any operational limitations on your medical certificate?
any other aviation activities like ballooning, helicopter, etc?
The answers to these all matter to life insurance underwriters.
However, underwriting for pilots doesn't stop at the specifics of your flying. Underwriters will also want to know:
any health conditions you have
bankruptcy/credit history
felony / criminal history
anything else material to your life insurance application
They do this by:
reviewing your MIB report
reviewing your prescription drug history
conducting a medical exam with blood/urine sample
review your medical history through your doctor records
having a phone interview with you (rarely, but can happen)
reviewing public databases and any additional information that is material to your application
As you can see, the underwriting and application process is a thorough one for pilots!
After analyzing all this information, underwriters make a decision on your application. This is how pilots get the best and lowest-cost life insurance for their situation.
We discuss this process in more detail next.
Life Insurance Classifications, Tables, And Ratings For Pilots
Depending on all the information and risk factors above, underwriters determine if they will accept your application or decline it. (Note, though, we at My Family Life Insurance don't let our pilot clients get denied as we pre-qualify pilots before they fill out an application.)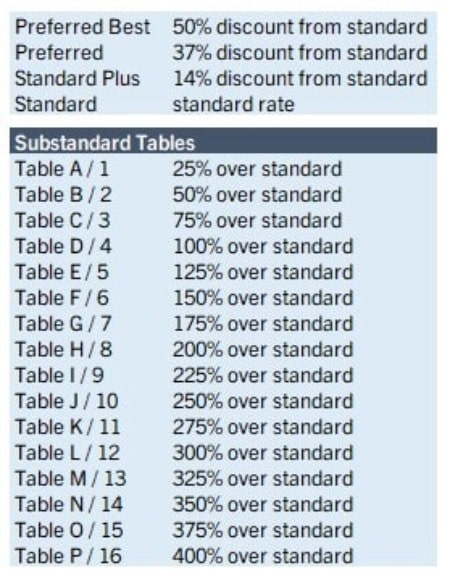 Years ago, it was standard procedure for life insurance companies to charge a high premium for pilots. Carriers apply higher premiums to offset the increased risk of the flying occupation.
As I mentioned, not anymore, usually.
Nowadays, pilots can get the best rates available. The best life insurance rates for pilots include:
preferred best (lowest rate possible)
preferred rate
standard plus rate
standard rate (i.e. average health)
Many of our pilot clients end up with a policy with these best rates.
However, sometimes pilots are charged a higher rate. They are charged a higher rate because the underwriter determined an increased risk, either due to health, flying details (part-time ballooning, for example), license type, or something else.
In these cases, underwriters will charge a table rating, a flat extra fee, or both.

A table rating increases your overall base premiums. Sixteen tables exist, ranging from Table 1 (or A) to Table 16 (or Table P), but most carriers will only accept applications up to Table 8 or Table 12. The higher the table, the higher your premium.
Carriers apply flat extra fees proportional to your death benefit in terms of $1,000 of death benefit coverage. For example, if you applied for a $500,000 face amount, and the carrier has a flat extra fee of $2, you have to pay an additional $1,000 annually. Flat extras can exist for the life of the policy.
Let's revisit the types of life insurance policies available to pilots.
---
Life Insurance Options Available To Pilots
Let's revisit the types of life insurance products available to pilots.
(Please note, as an independent broker, My Family Life Insurance has access to many types of life insurance plans. Other agents or other brokers may only have 1 or 2 types available.)
Life insurance options for pilots include:
term life insurance
permanent life insurance like whole life or universal life including indexed universal life
simplified issue life insurance including simplified issue term and simplified issue whole life
Other life insurance options exist; the aforementioned products are the most common types of life insurance.

Let's change gears a little bit. Remember at the beginning of the underwriting section, one of the underwriting factors is the type of pilot certificate you have?
We discuss how the type of pilot certificate you have affects your rates next.
---
Life Insurance For Commercial Pilots
Professional pilots who operate and fly for commercial airlines have the best, and subsequently the lowest, life insurance rates available to them.
The reason is that commercial pilots must follow strict FAA guidelines when it comes to training, medical exams, health, etc.

Just about all of the major life insurance carriers will offer "preferred best" class, which is the best and lowest rate class available for pilots.
Of course, your final rates depend on other underwriting factors that we described earlier.
---
Life Insurance For Private Pilots
Life insurance options for private pilots are plentiful! However, the class ratings are all across the board because they depend on:
your current age at the time of application
if you have your IFR or ATR
minimum hours you have flown
minimum/maximum hours you fly each year
Generally speaking, rate classes from preferred rates to standard rates are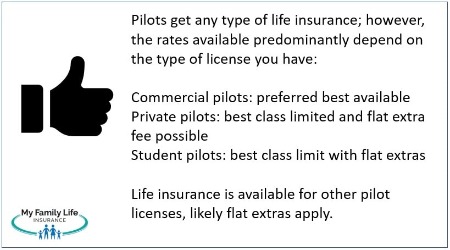 available for private pilots.

These aren't bad rates, either.
Additionally, if you don't meet the carrier requirements, carriers will generally apply a flat extra fee to your policy.
Remember that the flat extra fee applies either applies to the lifetime of your policy or a specified number of years. The insurance carrier and underwriter decide, based on your specific situation.
---
Life Insurance For Student Pilots
Life underwriters classify student pilots as a riskier occupation compared to commercial and private pilots.
The reasons are obvious. Student pilots are students. As such, life insurance underwriters view them as a higher risk.
So, there are good news and bad news here for student pilots. The good news is that life insurance options are plentiful for student pilots!
However, the bad news: student pilots will have to pay a flat extra fee.

Only a couple of life insurance companies don't apply flat extras for student pilots. However, student pilots have to qualify for these companies in other ways.
In other words, student pilots have to meet the carrier's underwriting guidelines in other ways, such as health, financial, lifestyle, etc.
Nevertheless, if you are a student pilot, we at My Family Life Insurance can get you the life insurance you need.
---
The Best Life Insurance Carriers For Pilots
Many websites display the "best" life insurance carriers for pilots.
However, the "best" is the only one that:
fits your specific needs and situation and
offers the lowest rate given your needs and situation
Feel free to check the estimated rates on the quoter below for term life insurance quotes. Just about all the carriers here will insure pilots. However, they all have different underwriting requirements. It is best to then contact us so we can go over your options.


Currently, only Protective and Zurich offer life insurance with no flat extras for student pilots. However, remember, that you still have to qualify for them in other ways such as health, lifestyle, etc.
---
What About Pilot Association Life Insurance Plans?
Many pilot associations offer life insurance for their members. Are these life insurance plans good?
I'd be remiss to not discuss them here. As a CFP® Professional, I have duty of care and best interests to inform you of other options. Moreover, if those options are better, I have to let you know (and, I do).
My recommendation is to check out these other options. Will they fit your situation? Maybe…maybe not…
Let's go over the life insurance programs through one popular association, the AOPA.
Life Insurance Through The AOPA
The AOPA (Aircraft Owners and Pilots Association) offers many insurance options. They specifically offer the following life insurance products:
a guaranteed level term, 10-yr and 20-yr terms
a step-up rate term that increases as you age (5-year age bands), terminates at age 80
a simplified issue whole life insurance policy (outside the scope of this article, but we offer this product for pilots as well)
Let's focus on the term life options.
Pilots can purchase up to $1,000,000 of life insurance.
The insurance carrier underwriting the plan is MetLife, so a quality carrier.
Both term plans offer living benefits, but only for a terminal illness. The carriers we work with offer living benefits for not only terminal illness, but also critical illness like cancer and chronic care like nursing home care.
The best health class is the preferred rate while we have preferred best rate options, depending on your situation.
In terms of cost, how do these carriers compare to our life insurance options?
Here you can see the life insurance rates for a 40-yr old man, assuming standard rate class.



They are rather expensive. These are indeed the rates available.
Even a preferred rate comparison shows our options at more affordable rates.
Definitely check them out and other pilot associations you belong to.
Contact us if you have any questions.
---
Should I Take The Aviation Exclusion Rider (AER)?
Some life insurance companies offer an aviation exclusion rider on their policies. Basically, by accepting the rider, your beneficiaries won't receive a death benefit if you pass away from an airline accident. In other words, the carriers exclude death from an airline accident. They won't pay the death benefit to your loved ones and beneficiaries if this situation happens.

Is this what you want?
Sure, the probability of dying in an airplane accident is low, thankfully.
But, do you want full life insurance coverage that pays a benefit for any type of situation?
If you take the exclusion, carriers will offer a better health classification like preferred best. You still have to qualify for the life insurance in other ways such as health, lifestyle, etc.

However, I am a proponent of having "complete" life insurance coverage no matter the situation.
My recommendation is to not take the exclusion rider even though the possibility of dying in a plane crash is very low.
The ultimate decision is yours and your family's. Contact us if you have any questions.
---
Frequently Asked Questions About Life Insurance And Pilots?
Here are some frequently asked questions about life insurance and pilots.
Does The Type Of Pilot License Matter To Carriers?
Yes. Commercial pilots have the best life insurance options available to them. Although student pilots have many life insurance options available to them, they will pay a flat extra fee because of their student status.
Contact us if you have any questions about your license type.
What About Other License Types?
Sure. Here is a general breakdown of how carriers underwrite other types of pilot licenses. Contact us if you have specific questions.
helicopter pilots: best class available depending on the situation
crop dusting: standard rate + flat extra fee $5
firefighting: flat extra $3.50 to $5
ultralight pilots: flat extra fee $2.50 to $5
blimps: no flat extras, usually
hot-air balloon: no flat extras (tethered); free flight ($1.25 to $5 depending on travel)
foreign commercial airline pilot: contact us
I Am A Military Pilot. Can I Obtain Life Insurance?
Yes, depending on your situation, life insurance is available.
As long as you are not in a war zone, some carriers will insure you.
Carriers will apply a flat extra fee.
Moreover, availability depends on everything we discussed as well as:
your current age
type of aircraft
shored base or sea base (aircraft carrier)
branch of service
Does Life Insurance Cost More For Pilots?
Your life insurance cost depends on your license type and specific situation. As we discussed, available rates for commercial pilots are the best available. Student pilots and other types such as crop dusting face limited health classifications and are subject to flat extra fees.
Moreover, pilots still have to qualify via health, lifestyle, financial, etc.
What Happens If I Get Sick Or Hurt? Does The Life Insurance Pay Anything?
No, the life insurance plan won't pay anything unless you have living benefits on the life insurance. Even then, the advancement of the death benefit depends if you have a covered critical illness (like cancer) or need assisted living care.

Having life insurance with living benefits is worth the extra money. However, a better policy exists. You may be thinking about "loss of license" insurance which is a type of disability insurance plan designed specifically for pilots.
We are one of the few brokers that help pilots protect their wealth and income with loss of license insurance. Feel free to contact us with any questions.
---
Now You Know How Pilots Can Obtain The Best And Lowest Life Insurance Rates
We hope you learned that pilots can obtain life insurance. The best and lowest cost life insurance option really depends on your specific situation including your license type, health information, lifestyle, etc.
However, as we have shown, in many cases, pilots can obtain the best health class available.
In other situations, pilots may have to pay a flat extra fee.
Do you have any questions? Feel free to contact us or use the form below.
We would enjoy helping you and help you understand your life insurance options.
Unlike other brokers or agents, we only work in your best interest. That means we put you and your family's needs first, not our own.
There is no risk of contacting us. If we can't help you out, we will point you in the right direction as best we can and part as friends. You can always reach out to us at any time if your situation changes.
Learn More
Are you interested in learning more about the information in this article? Please fill out the form below, and we will email you additional information or give you a call. We always work in your best interest. By entering your information, you are providing your express consent that My Family Life Insurance may contact you via e-mails, SMS, phone calls, or prerecorded messages at any phone number(s) that you provide, even if the number is a wireless number or on any federal or state do-not-call list. Additionally, you understand that calls may be placed using automated technology, and that consent is not a requirement for purchase. Your information will NOT be sold and will remain private. However, you may opt out at any time. We respect your privacy first and foremost. By contacting us, you agree to receive text messages from our number (800) 645-9841. If you no longer wish to receive text messages, you may opt out at any time by replying "STOP".