3 Life Insurance Options Approved For Felonies And Criminal Records | Availability Depends On The Type And Severity Of Your Situation
Updated: June 22, 2022 at 2:54 pm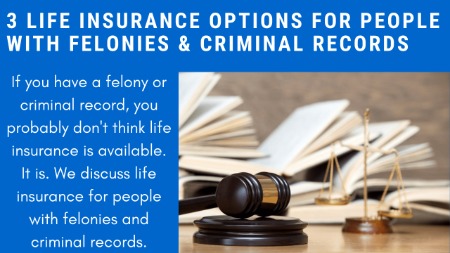 If you have any felonies or criminal records in your background, you probably think you can't obtain life insurance.
That is not true, however.
People with felonies and criminal records can obtain life insurance!
No way, John, you say. I've been trying for a while unsuccessfully…
Sure, there are cases where carriers won't insure you. We discuss those situations.
However, there are many situations that won't affect your life insurance eligibility.
We discuss all this here. Additionally, we provide some real-life case examples.

Here is what we will discuss:
Let's jump in and discuss how life insurance carriers view someone with a felony or criminal record.
---
The Types Of Felonies And Crimes Matter To Life Insurance Carriers
As we said earlier, if you have a felony or a criminal record, you can obtain life insurance.
The type of felony or crime, however, matters to carriers.
Some felonies or crimes aren't eligible for traditional life insurance.
Why? It's all about underwriting.
Now is a good time to discuss the underwriting process.
When you apply for life insurance, carriers start the underwriting process. They examine your application. They will then look up your medical claim history through the MIB. Also, they look up your prescription drug history.
They want to know all about you.
Additionally, they see your driving records and any public records. They can do this through adaptive risk solution providers like Lexis Nexis® and its risk classifier score.
They compile all this information and then make an offer based on your situation and circumstances.
As mentioned, they review public records. This includes any court records and criminal records.
These records play a major role in the underwriting decision. Now is a good time to discuss the specifics.
Life Insurance Underwriting Questions About Your Felony, Crime, Or Misdemeanor
As we discussed, carriers look at an applicant's whole situation when deciding to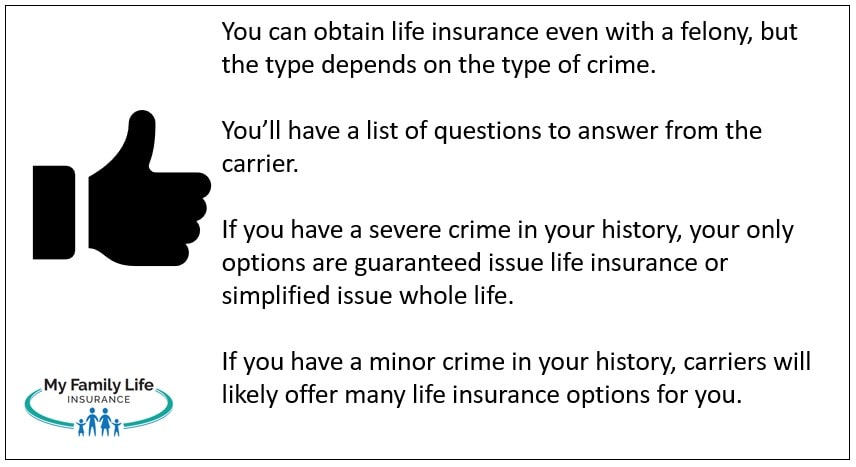 approve a life insurance application.
This process includes any criminal history.
Regarding your felony, crime, or misdemeanor, underwriters will want to know answers to the following:
Date of the incident
What type of crime or felony?
What type of class? (Class A, B, C, or D)
Date of conviction and outcome of conviction
If there was jail time?
If so, how long?
When were you released?
Were you on parole or probation?
Date of completion of parole or probation?
Are you completely discharged from all court proceedings?
Are you currently working in gainful employment?
If so, what is your occupation?
Do you have a history of alcohol and drug use/abuse?
Do you have a serious motor vehicle or reckless driving violations?
These are just some of the questions carrier underwriting departments ask. They probably will ask many more.
Additionally, they may require a phone interview with you.
Carriers take criminal history and felonies seriously. Now is a good time to discuss how the type of crime affects a life insurance decision.
Severe, Violent Crimes Versus Non-Violent & Minor Infractions
We are honest and transparent here.
Severe and violent crimes and felonies aren't eligible for traditional life insurance like term life insurance or indexed universal life insurance.
If you have a minor crime or infraction, and time has passed since, then carriers should offer term, whole life, and other types of life insurance.
This brings us to an important point. Please be honest with your background. We at My Family Life Insurance are here to help. Lying on an insurance application is fraud. You don't want to do that. The carriers will find out about your situation anyway through public records. So, just be honest.
Additionally, we at My Family Life Insurance don't judge. We know you are a changed person. Otherwise, you wouldn't be contacting us.

Remember that if you've been declined for life insurance before, we can likely get you some level of coverage. (Subject to age and state availability.)
Additionally, remember your overall situation matters, too. For example, let's say you have a felony in your history as well as a health condition like cardiomyopathy. Those factors will play a part in the underwriting decision as well as your criminal record.
Let's now discuss the specific types of life insurance available for people with felonies or criminal records.
---
Types Of Life Insurance Coverage For People With Felonies, Misdemeanors, Or Criminal Records
Now, you know how underwriting departments view felonies and criminal records.
The type of life insurance available really depends on your situation.
However, let's give you a general breakdown of your life insurance options.
You can see in the chart below a general underwriting guide we put together.

Let's discuss these situations in a little more detail.
Life Insurance For Someone Currently On Parole Or Probation
If you are currently on parole or probation, then carriers limit your life insurance options. For instance, traditional term life insurance, whole life, and other types usually aren't available until 12 to 24 months after your probation ends. Additionally, that's assuming a non-violent crime. More on that in a minute.
(Note: this timeframe is subject to underwriting. Some carriers may have a longer timeframe. Depending on the crime, some carriers may not even accept an application. Contact us to learn more.)
The only options available include:
Guaranteed issue whole life insurance
Guaranteed issue term life insurance
A simplified whole life insurance policy
Guaranteed issue policies are just how they sound. They are guaranteed issue,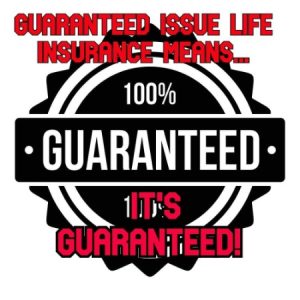 meaning no underwriting. Carriers won't ask you about your health history and certainly won't ask about your criminal record or look you up in databases,
Guaranteed issue whole life insurance is the most common. We also work with a guaranteed issue whole life plan for people under the age of 40.
Depending on your age and state availability, you can even purchase up to $100,000 of guaranteed issue life insurance.
If you'd like to get a sense of cost/premiums, feel free to review quotes on the quoter below. Just select "Poor Health" in the health classification.

Note that we work with more guaranteed issue whole life carriers than what is shown on the quote.
Guaranteed Issue Term & Simplified Issue Whole Life
Less common is guaranteed issue term life. We are one of the few agencies that do offer a guaranteed issue term life insurance plan through an association (Wellness Association of America). You can apply here. The premiums step up (i.e. increase) every 5 years as you enter new age bands.
All guaranteed issue life insurance plans contain a 2-year waiting period on the death benefit. If you pass away during this 2-year timeframe, your beneficiary receives the premiums paid + interest. The carrier pays on accidental immediately, including during the 2-year waiting period.
Alternatively, we work with a couple of carriers that do not check criminal backgrounds. These carriers offer simplified issue whole life plans.
You just answer some questions about your health and background. They then look up your information in the MIB and prescription drug database. You can purchase up to $50,000 of whole life insurance, assuming the rest of your health and lifestyle situation are in check.
Life Insurance For Someone With Non-Violent Crimes Or Minor Infractions
If you have a non-violent crime or minor infraction, then life insurance options will be more plentiful.
Of course, courts must clear you of any probation or parole first.
As we said before, carriers accept applications about 24 months from the date your probation ended. Contact us for more information.
Nevertheless, you'll have term life and other types available.
There's no limit to the death benefit, other than what's governed by your earned income and assets. That's typical in the underwriting process.
Depending on the carrier, you may have a table rating. Table ratings are common in these situations.
You may receive a table rating of 2 or 4, for example.
Don't worry these are still good rates.
Why, John, you ask? My crime was years ago and a minor one at that. Additionally, I am a changed person.
I know. That's obviously an increase in risk. Carriers compensate for increased risk by increasing the premiums for a table rating.
As we said, though, the premiums probably won't be much more.
Feel free to get an idea of the costs on the term life insurance quoter below. Just select "standard" for the health class.
Nevertheless, we always strive to help you obtain the lowest premium cost for your situation. The 3 real cases below attest to our success and assistance.
Life Insurance For Someone With Violent Crimes Or Felonies
If you were convicted of a serious, violent crime or felony, your life insurance options are limited. You'll only have guaranteed issue life insurance or simplified whole life insurance available.
The same options as those available to someone on parole or probation.
You can always check with us first to see if there are other options. Just contact us or use the form at the end of the article.
But John, other websites say I can a lot of life insurance with a felony?
Be careful what you read elsewhere on the internet. There's a lot of sameness with websites, and some of them imply you can. While the most common life insurance carrier that insures someone with felonies and criminal records is Prudential, we work with many other carriers.
Additionally, we have helped felons obtain life insurance with carriers other than Prudential.

Ultimately, the carrier that accepts you is on a case-by-case basis. However, people with felonies or serious crimes will likely only have guaranteed issue or a simplified whole life plan available.
The best thing to do is contact us. We are independent brokers and will always place your best interests first. If we can't, we will point you in the right direction as best we can.
Let's show you three situations where felons successfully obtained life insurance.
---
Cases Where People With Felonies Obtained Life Insurance
Here are 3 cases where felons or those with a criminal record obtained life insurance.
Your case is different. However, the below should give you an idea of what to expect.
In all cases, the insureds had no other significant health or lifestyle situation. The main concern was the past criminal history.
Additionally, these 3 cases are not guaranteed issue life insurance situations. These are plans with immediate death benefits. In fact, we've been successful helping felons obtain immediate benefit life insurance.
Case #1 – Illegal Gaming
Male, age 52. He is a non-smoker and healthy in every other way.
Many years ago, he was convicted of gaming chickens (fighting chickens in a ring).
This was a felony charge, and he served jail time.
He obtained $250,000 death benefit, 30-year term at standard rates.
(You see, although he served jail time, he obtained life insurance at a standard rate.)
Case #2 – Illegal Carry Of A Firearm
Male, age 39. He is a non-tobacco user and in good health.
A court convicted him of carrying a weapon across state lines. That is a felony charge.
He was on probation for 10 years. As we discussed, the only life insurance options for someone on probation or parole are a guaranteed issue plan or simplified whole life.
He was looking for a $500,000 term policy. He obtained $500,000, 20-year term at standard + table 2 rating.
(Although Case #1 is also a felony charge, you can see the illegal carry deemed more serious and a higher rating, all things being equal.)
Case #3 – Currently On Probation
Female, age 61. Non-smoker and no other serious health or lifestyle conditions.
Convicted of a felony and served 2 months in jail. She is currently on probation.
She obtained $50,000 of whole life insurance with an immediate death benefit.

As we discussed, guaranteed issue whole life insurance or guaranteed issue term life with the 2-year waiting period was also available.
We hope this gives you an idea of the life insurance options available to people with felonies and criminal records.
---
Now You Know How People With Felonies Or Criminal Records Obtain Life Insurance
We hope you now understand that people with felonies or criminal records can obtain life insurance.
As we described in our article, however, the type and amount of death benefit really depend on the situation.
We listed those situations and gave 3 real-life cases where people with felonies obtained life insurance.
Do you have any questions? We are happy to help. Feel free to contact us or use the form below.
We won't judge. We know you are a different person now than you once were.
Contact us or use the form below. We can give you an idea of what life insurance options are available.
There's no risk in contacting us. As we said before, we only work in your best interests only, not our own. If we can't help you, we will point you in the right direction as best we can. You can always reach out to us if your situation changes.
Learn More
Are you interested in learning more about the information in this article? Please fill out the form below, and we will email you additional information or give you a call. We always work in your best interest. By entering your information, you are providing your express consent that My Family Life Insurance may contact you via e-mails, SMS, phone calls, or prerecorded messages at any phone number(s) that you provide, even if the number is a wireless number or on any federal or state do-not-call list. Additionally, you understand that calls may be placed using automated technology, and that consent is not a requirement for purchase. Your information will NOT be sold and will remain private. However, you may opt out at any time. We respect your privacy first and foremost. By contacting us, you agree to receive text messages from our number (800) 645-9841. If you no longer wish to receive text messages, you may opt out at any time by replying "STOP".