Updated On: by Laura
Recently, we have had several clients approach us if they should purchase an annuity or life insurance policy, specifically a single premium life insurance policy (SPL). The decision to purchase an annuity versus life insurance policy depends on the answer to one question. We will get to that question in a minute. In this article, we will discuss the characteristics of an annuity versus life insurance policy. The life insurance we will specifically talk about is single premium life insurance. It is just like any permanent, whole life policy except requiring a single premium to be in force. Which is better in your situation? Read on to find out. 
First, you may not know what an annuity is. There are many types of annuities. The true definition of an annuity is a sum of money received at regular intervals, like monthly or annually. However, now there are many types of annuities. Some are deferred, accumulation annuities and others meet the true definition of an annuity. These are known as income annuities or immediate annuities. It is important to note that the annuity we are talking about in this article is a deferred, accumulation annuity.  We aren't talking about SPIAs, DIAs, or QLACs as these types of annuities offer an income stream.
The One Question
The one question that needs to be answered in the annuity versus life insurance decision:
Do you need the money to live on?
Pretty simple question. If the answer is  "yes," then a deferred annuity is most likely appropriate. If the answer is "no," then a single premium life insurance policy (or any life insurance policy, really) could be the best choice.
It doesn't get much simpler than that, does it?
There you have it. The annuity versus life insurance debate is settled by answering one question. Next, we will go into the similarities and differences of an annuity versus life insurance. Again, we will use a single premium life insurance policy as an example. The characteristics of each should make this decision much more clear.
Characteristics Of An Annuity Versus Life Insurance
We will go through several characteristics of both an annuity and life insurance (single premium). Here they are in no particular order, subject to state requirements and regulations (meaning, not all characteristics may exist in all states):
Characteristics
suitability – no suitability requirements for single premium life (or any life insurance), but there are suitability requirements for an annuity.
decision turnaround time – about one week for single premium life insurance. Single premium life insurance is usually simplified issue. Annuities usually about a week or less.
return of premiums – exist for both annuities and single premium life insurance.
premium bonus – yes, on both single premium life insurance and annuities. Don't know what a premium bonus is? It is a bonus, usually based on contirbution, that the carrier offers as an inducement to buy. Usually, the premium bonus ranges from 5% to 10% or more of contribution. We would never suggest purchasing any product for simply the bonus.
guaranteed interest rate – yes on both. Generally speaking, up to 3% guaranteed interest rate on SPL insurance and 1% on annuities
paramedical/physical exam – no on both. SPL generally requires a telephone interview and MIB/prescription drug check.
free withdrawal period – yes, generally both allow a 10% free withdrawal on your cash value/account value.
loans – are available on both.
accelerated benefits – yes, most SPL and annuities allowed accelerated benefits for terminal illness, nursing home / home health, and critical illness. These are subject to state regulations.
issue ages – there are some carriers that allow up to age 95 for SPL. For an annuity, some carriers allow up to age 90.
surrender charges – both SPL and annuities can have surrender charges.
income tax-free at death – while the cash value in SPL and the account value in an annuity grows tax-deferred, what happens at death is different. The death benefit for SPL is income tax-free whereas the account value for the annuity is not. It is taxable to your heirs.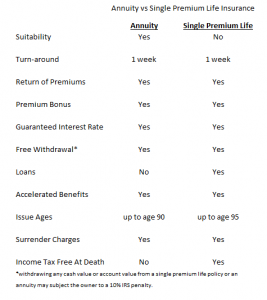 You Might Want A Single Premium Life Insurance Policy If you…
There are many reasons why you may want a single premium life insurance policy rather than an annuity. The reasons are:
(1) are looking to leverage your contributions and maximize/enhance your estate. As we discussed many times in our blog, it is no secret that life insurance can provide an income tax-free death benefit to your heirs, sometimes 3X to 4X your contribution. What does this mean? Let's say you contributed $50,000 to an SPL policy. That might mean a death benefit between $150,000 to $200,000 depending on other factors. This increase happens on day one on your policy, excluding increases due to cash value or dividend paid-up additions. With an annuity, it could take years for your contribution to triple or quadruple, and it is taxable to your heirs at death!
(2) have assets you will not draw an income from
(3) have annuities beyond your surrender period – you may be able to enhance your estate if you don't need the annuity anymore
(4) have RMDs you don't need
(5) have an inheritance that you would like to enhance / legacy to a future generation
(6) have CDs that just are not earning enough. An SPL policy could work well if you don't need the income to live off
Underwriting for Single Premium Life Insurance
Underwriting is usually simplified issue, which means all that is required is an application, MIB check, prescription drug check, and an interview with an underwriter. Approval is usually within 48 hours. Most carriers insure many health conditions and rate up to table 8 (which includes some significant health complications).
Conclusion
We hope you learned the similarities and differences of an annuity versus a life insurance policy. Deciding on which really depends if you will live off the money or not. An SPL policy could work if you don't need the asset to live off. If you do need to live off the asset, then an annuity could work.
If you feel you need an annuity, contact us, and we can put you in touch with our trusted network of professionals who share the same client duty of care as we do.
Remember: the largest advantages of a single premium life policy are the income tax-free death benefit and the estate enhancement. Annuities are useful if you need your money to grow at a conservative rate and potentially needing to live off the income earned by the annuity. Both generally offer living benefits such as a critical illness or long-term care riders.
If you feel single premium life insurance will better meet your needs, contact us and we can help. As you know by now, we work for you and understand you worked hard for your money. We will only recommend a solution that enhances or improves your unique situation only.