Updated On: by My Family Life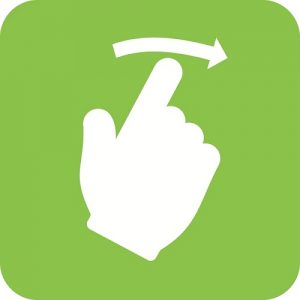 Do you know what "swiping right" means? This is the action you typically do on your smartphone when you want to delete unwanted emails (hopefully not from us J ), voicemails, and just anything you want to delete. Add life insurance as a retirement plan in the group to swipe right. In fact, if someone tells you that you need purchase life insurance as a retirement plan, don't just swipe right – run, don't walk, away. And, fast, too.
What Makes Life Insurance As A Retirement Plan Attractive? The Mirage!
Life insurance agents (and keep in mind we are one) like to espouse the cash value of permanent life insurance as though it is the best thing since sliced bread, sunny days, and a Keurig machine. In all seriousness, there is a lot of flexibility with the cash value in a permanent life insurance policy. We are advocates of permanent life insurance, too – in the right situations! (We believe term life insurance  is appropriate coverage in most cases).
Benefits of Cash Value Life Insurance
Here are some of the benefits of cash value life insurance. The benefits will make more sense as you read on throughout this article:
The cash value grows tax-deferred. Keep in mind other comparable alternatives, like a CD or bank account, are taxable. Additionally, you will generally receive a higher interest rate compared to that on a CD or bank account for the same amount of principal investment risk, which is zero (0).
Although there is a test that limits the maximum amount that can be contributed each year to a life insurance policy, this limit is usually pretty high. Moreover, life insurance does not fall under ERISA rules. What are these? In layman's terms, these are the rules that employers must follow to ensure employee benefits, including retirement plans, meet certain Federal standards. They are designed to protect you and the employer. These rules govern retirement plan contribution maximums and withdrawals as well. There is no ERISA retirement plan rules to cash value life insurance. This means a policy owner can contribute a higher level of premiums into a life insurance policy, up to this maximum limit (called a 7-pay test which is outside scope of this article) and withdraw the cash value at any time, with no Federal tax penalty. Note: the carrier may implement its own penalties for withdrawing the cash value too early.
If structured right, you can borrow the cash value are receive the cash value income-tax free. This can be a significant benefit for the right person or situation.
There are more, but these tend to be the most significant.
Why Is It A Mirage?
Some agents hastily think these 3 conditions illustrate the point to use life insurance as a retirement plan. These agents support their reasoning that with the large federal deficit, taxes can only go up. Why give any more taxes, your hard-earned money, to the government? they say. They also say that the cash value in life insurance operates similarly to a Roth IRA. The cash value can be withdrawn income-tax free like a Roth IRA. They then suggest to suspend your pre-tax contributions to your company's 401k and redirect those contributions into life insurance. Remember the 7 pay test governs the maximum contributions into life insurance.
There are additional benefits: because these dollars are non-countable and income-tax free, they have no effect on social security taxation or Medicare premiums. That can be a benefit for the right person.
Although this concept can help some people (we will go into detail who), it is oversold in our opinion. Like a person walking in the desert, thirsty, you start to see mirages of water. When hearing about the virtues of life insurance as a retirement plan, you start to see things that aren't really there. It's a mirage. The closer you move towards these seemingly benefits, the more you realize some of the drawbacks. We will discuss those next.
The Drawbacks Of Using Life Insurance As A Retirement Plan
There are many drawbacks, especially compared to a simple investing strategy as we illustrate below.
(1) there can be high fees and costs with permanent policies. Fee drag can be up to 4% of contribution or more. For instance, most index universal life policies – just like the one you have if you have one – charge a monthly fee. Think we are joking? See the image taken from a popular IUL policy brochure. (Yes, that is our"wow" in the first picture on the right.)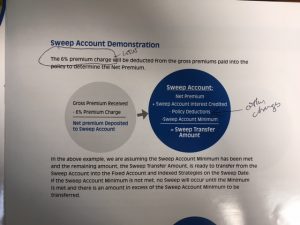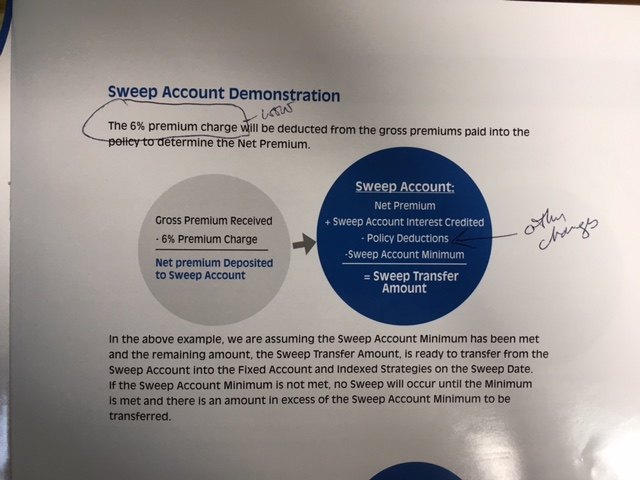 Talk about a drag! Wait! There's more! Then, there is the cost of insurance, administrative fees, and more. Yes, mutual funds have costs, too – called an expense ratio, but we don't know many that costs as much as an IUL policy.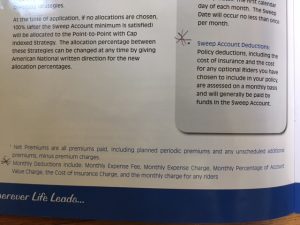 Sure, these agents will say an investment strategy or an investment advisor has fees – and they are right – but we don't know many that costs that much. Possibly, a complex strategy for the affluent family warrants that kind of fee structure. However, for the typical family, no.
We are not saying a fixed index insurance policy is "bad." Like anything else, it works in the right situation. An IUL can work favorably in the right situations. An IUL can indeed shelter income from income taxation.
(2) It can take years to see the cash value build up, especially with whole life and universal life policies. Like a typical investing strategy, a long-term mindset is required. However, you may be discouraged to see that it can take a long time to generate adequate cash.
Illustration
For the illustration below, we assumed no costs (except for the universal life policy, which was taken from an insurance carrier). We assume the Roth and taxable accounts invest in the S&P 500. We looked at the last 27 years of S&P 500 returns and project those forward 27 years. Is it perfect? No. Does it provide a close approximation and educational perspective? Absolutely yes.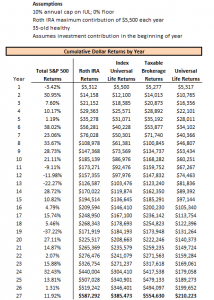 (3) one misstep can unravel this entire process, causing taxation of the cash value. It is everything you wanted to NOT do.
Looking at the above illustration, if you invested in a Roth, you could come out ahead on an after-tax basis compared to the IUL and the universal life policy. The taxable brokerage account could have an equivalent after-tax amount of $473,000, after considering a gain $406,000 at 20% tax.
Looking at the above-estimated values, which would you choose? Yes, we don't know what taxes will be like in the future. True, money invested in the stock market is subject to stock market risk. We did, however, look at the last 27 years of S&P 500 returns and apply those returns in our illustration.  An investment in a Roth or taxable account still came out ahead. Again, the illustration is for your understanding only. We would have to apply specific fees to obtain a true value. Those fees can be rather high in an IUL or other life insurance policy.
Is Using Life Insurance As A Retirement Plan Good For Anyone?
You probably wonder now why would anyone use life insurance as a retirement plan. If you are thinking this, we did our job: it is not a fruitful strategy for most people. Most people are better off investing in a Roth IRA (if they qualify) or through their employer-sponsored retirement plan. However, there is a section of people who could use life insurance as a retirement plan. They include:
(1) those who have maxed out their retirement contributions. Keep in mind, even holding tax-advantaged stock could be a better option. Tax-advantaged stock includes those that offer qualified dividends and held over a year. See our illustration above.
(2) the affluent who can use these types of policies. They will face high taxes, and this could mitigate the tax impact.
If you feel life insurance as a retirement plan can work in your situation, we suggest using those policies that can generate above-average cash value balanced with costs and fees. We can help you determine those.
Final Word
Ultimately, we suggest using life insurance for its intention – to provide a death benefit upon death. Using life insurance as a retirement plan can have benefits. Be aware of the drawbacks. It can take a long time to see the benefits of this strategy. In fact, this strategy does not work for a majority of us. See our illustration above, meant to enhance your understanding of this strategy and options you have.
If you want to find out more, contact us. There are certain carriers which specialize in this strategy, and we work with them. First and foremost, though, we will determine if this strategy is right for you. If it is, we will walk you through all of the drawbacks. The last thing we want is for you to put your hard-working money into something that does not perform to your expectations.