Updated On: by My Family Life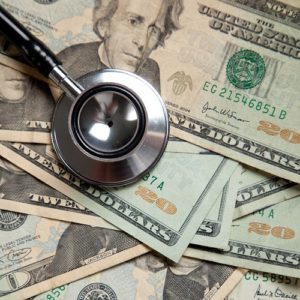 Here is a quick quiz. What is the top reason people enter bankruptcy?
credit card debt
hospital and medical bills
student loan debt
other debt, such as housing, auto, etc.
If you said number "2", you are right. Families are going bankrupt from unpaid medical bills. CNBC and numerous other media outlets have reported this reason. It is a sad situation, really. One enters the hospital unexpectedly and leaves with a potentially overwhelming bill. If the condition is chronic and forces a disability, the financial stress can be magnified. You might think that those people who are struggling with medical bills do not have health insurance. Think again. A Kaiser Family Foundation study revealed most people who struggle to pay medical bills have health insurance.
In this article, we will address the ways people can mitigate the cost of unforeseen and high medical bills.
Establish An Emergency Fund
This answer might sound strange coming from an insurance agency. If you have followed our articles and what we are about, we take a different approach to solutions. (Remember, we were planners, too.) We believe the easiest way to battle medical costs is to have some money in the bank earmarked for emergencies. It is really that simple. (But, we know it is hard; read on.)
When working with an individual or family, we make it a point to determine their level of emergency savings. Additionally, we try to understand their ability to save. Most planners recommend 6 months of annual salary reserved for emergencies. While that is a nice goal, we are well aware that most Americans just have the inability to do so – whether because of other financial constraints such as retirement or simply immaturity when it comes to saving. A recent article from Forbes illustrates that 63% of Americans can't cover a $500 emergency.  We know it is hard. Not as easy as it sounds.
We generally recommend that a family keep in the bank the amount of the health insurance deductible and another $5,000 to $10,000 for additional out-of-pocket costs. This amount is a little less daunting than striving for 6 months of emergency savings right off the bat.
There Isn't A "Right" Amount
Although the "right" amount depends on you, a family should try to keep $10,000 to $15,000 in the bank for these kinds of emergencies. They also need make it a point to replenish immediately upon withdrawal.
All heath insurances have out-of-pocket limits, and we try to have the family aim for that out-of-pocket number as a goal. Additionally, if they are covered by a HDHP (High Deductible Health Plan) at work, we always suggest they start adding to a health savings account as contributions are tax deductible and withdrawals are tax free if used for qualified medical expenses. Moreover, companies may also contribute to the HSA on your behalf – a nice feature as that contribution is free money.
If the individual or family can keep this money and replenish it, we suspect, based on our experience, the availability of this money will mitigate most medical bill impacts. There is a positive, psychological effect, too. Knowing you have this money "just in case" should make those conversations with hospitals and third-party bill collectors much easier (see below).
Available Insurances To Protect Your Family
However, although establishing an emergency savings account would be the easiest solution, actually saving  this amount is easier said than done. Chronic illnesses and some injuries can also pose a long-term financial problem and strain. It can be difficult to replenish this savings amount if a spouse or primary breadwinner cannot work. Depending on the condition, the services and treatment can also wipe out their savings. While most financial planners recommend and tell their clients the following policies are a waste of money, one only needs to look at the rising medical cost and debt to see these policies can be useful.
Insurances That Can Help
We recommend reviewing the following insurances while the family establishes an emergency savings fund:
critical illness policy – these policies will pay a benefit upon diagnosis of a critical illness, the most common being cancer, stroke, or heart attack. Some policies will cover additional conditions such as MS, ALS, Alzheimer's, Parkinson's, and end stage renal disease. Some family plans will cover type 1 diabetes for children. Policies will typically pay a lump sum upon diagnosis and an annual wellness benefit. Benefit amounts can be up to $100,000.  We recommend policies that offer more coverage for other conditions. In addition, the policy should offer ongoing, longer-term benefits. Why? Because chronic conditions require more spending, probably for life.  If there is family history of health conditions, this type of policy could be beneficial and should be considered.
hospital indemnity plans – these policies can help pay for costs attributed to a hospital stay. These plans have a similar benefit structure to that of a critical illness policy: they will pay a lump sum benefit for an ER visit, inpatient/outpatient services, ambulance services, etc. Just like the critical illness policy, these policies will pay in addition to your health insurance coverage. It is important to state these policies are NOT health insurance.
Finally, accident insurance plans could be beneficial. Like hospital indemnity plans, they will pay a benefit upon a covered accident. Let's say your son was playing soccer and broke his ankle. The medical services attributed would be a covered accident with many carriers. We recommend policies that offer extensive coverage including death and dismemberment and family coverage. Moreover, we recommend policies that offer 24 hour coverage with no limitation on profession
Cost Of These Policies
The above policies may cost anywhere from $25 to $50 per month or more, depending on the benefits, carrier, and family dynamics. Applications are usually simplified with one or two health questions. Some carriers will review your application against the MIB database. If you do take a benefit from these policies, the benefit could be used to replenish the emergency fund. We do not recommend these polices if a family does not have adequate health insurance.
The Most Often Overlooked Insurance That Can Really Help
Although the above policies generate disagreement among many planners, there is one type of insurance that most planners agree is needed: the disability income insurance policy. These policies will pay a benefit upon ongoing, long-term disability. Think it won't happen to you? LIMRA and other orgainzations routinely show that 1 out of 3 working adults will have a long-term disability in their lifetime.
Sure, you are right: most people do have coverage through their employer. Most people do not realize, however, that their employer-sponsored disability benefits are taxable, creating a potential, significant financial constraint when a family needs money. For example, let's say you receive a $3,000 monthly disability benefit through your employer's plan. Depending on your tax rate, you may receive net only $2,000!  What do you do now?
We recommend the purchase of an individual disability insurance policy as well since these benefits are not taxable. Since the benefits are not taxable, an individual policy can bridge the income gap between the employer-sponsored plan and your everyday needs. train to pay also lessesne
Get Ahead Of The Bills Before You Have To Pay
While we have addressed savings and insurances so far, there are ways individuals and families can get ahead of any potential medical bills. The emergency savings fund comes in really handy at these steps. Here are suggestions for your review:
First, know your insurance plan. We can't stress this enough! Most families are unaware what services are covered, what are not, what is the deductible, etc. Receiving a medical bill without understanding your policy is like This is one of the most important steps a family can take. If a family is confused, we recommend hiring someone for a nominal fee to walk them through the insurance details.
Second, understand what services are in or out of network. If you are having a procedure, it is important to know that, while the hospital services might be in-network, the anesthesiologist might not be and neither the surgeon. You can expect a huge out-of-network bill, which, in our experience, has been one of the reasons people struggle to pay medical bills. You can utilize pre-authorization services. Ask questions. You can ask for an itinerary of steps and who will be administering. You can then contact each provider to see if they fall under your network. Sounds like a lot of work. Is it worth it to ensure no surprises and negotiate (see next)?
Finally, if you have services that are not covered, you can and should negotiate the bill – even after the procedure is done. Providers want to be paid something. While you can't low-ball an offer, your offer should commensurate with the work performed. Some providers will offer a payment plan. Others may offer a discount. In our personal experience, many providers offer a discount for a quick pay. This makes having the emergency fund and insurance ideal.
Final Thoughts
If this all seems daunting; it is not. You have a true partner in us. We hope you found this article to be educational and valuable. We at My Family Life Insurance can help you with your situation. The last thing we want is to see families struggling to pay medical bills, which can compound into other areas of a family's situation. The effects can be stressful and devastating. Feel free to contact us to learn more. We only work with you with your best interests first and foremost.