Is Hospital Indemnity Insurance Worth It?
Updated: January 4, 2019 at 3:02 am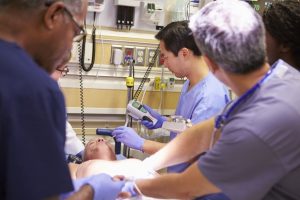 In recent years, hospital indemnity insurance has made strides. This type of insurance has been around for awhile. However, not until the rapidly increasing deductibles, coinsurance, and copays with health insurance plans under the Affordable Care Act, has hospital indemnity insurance been in the spotlight. In light of increasingly higher out of pocket expenses, people are turning to hospital indemnity insurance for cost assistance and peace of mind. Is hospital indemnity insurance worth the money? In this article, we describe hospital indemnity insurance and if it is worth the money or not.
What Is Hospital Indemnity Insurance?
Hospital Indemnity Insurance is a policy that will pay you directly for going to the hospital, for any reason really, including, but not limited to:
(1) an in-patient situation such as an illness or severe injury
(2) an out-patient surgery
(3) doctors visits (for anything)
(4) wellness and preventative services
(5) prescription drugs
(6) other services
Many hospital indemnity insurance plans pay based on a fixed benefit. For example, you are admitted to the hospital for a sickness. The plan may pay, for example:
(1) $250 for the emergency room
(2) $1,000 for the hospital admittance
(3) $9,000 for being in the hospital for 3 days
So, the plan pays you $10,250 directly (which we recommend). You can use the money to pay for:
(1) deductibles,
(2) copays,
(3) coinsurance, or
(4) anything else – everyday bills or expenses while you are out of work
Be honest…that sounds ideal, doesn't it? Let's say you get into an accident and have to go to the emergency room. The accident is simply a fall off the ladder while cleaning gutters. You are still in your health insurance's deductible stage. This means you are faced with a potentially huge medical and hospital bill.
This type of insurance plan will help pay those costs.
Wait, John, you say. Won't this hospital indemnity insurance have to coordinate with my primary health insurance?
We receive that question a lot. The answer is "no".
Hospital indemnity insurance is not traditional health insurance. It does not coordinate with your primary health insurance.
Note: you may receive a medical card because some hospital indemnity insurance plans can act as primary health insurance. In your case, however, you won't need that card since you have primary health insurance.
What Does A Hospital Indemnity Plan Cover?
Every carrier has a nuance or two when it comes to a hospital indemnity plan. But, they all generally have the following attributes and characteristics:
(1) hospital confinement lump sum – payable on the first day when you are confined in a hospital for 23 hours or more for a covered accident or illness
(2) hospital outpatient – pays for hospital, observation unit, or surgical facility for stays less than 23 hours
(3) emergency room – for treatment in the emergency room or urgent care
(4) rehabilitation – pays for rehab at a qualified facility under doctor's order
(5) waiver of premium – you won't have to pay a premium if you are in the hospital for X amount of days, usually 30, but depends on the carrier
(6) physician care – pays for doctor office visits for covered accidents and illnesses
(7) preventative care – pays for procedures defined under the Affordable Care Act
(8) labs, x-rays, imaging, diagnostics – pays for these services when connected to a covered illness or accident
(9) ambulance – for travel in a ground or air ambulance
Many plans offer additional or optional benefits (for a fee) such as ICU confinement, outpatient surgery, etc.
Why Is Hospital Indemnity Insurance Worth It?
You are living under a rock if you haven't noticed that medical costs are increasing at an alarming rate. I am sure you are feeling the financial constraint, even with employer-sponsored health insurance.
How do you adjust your financial situation? Well, there are many ways. You could cut expenses elsewhere such as cutting your cable bill. You can do a full financial "diagnostic" exam on your situation, seeing if there are ways to cut expenses.
One way people cut is the health insurance itself. Many simply drop coverage or lower their coverage, thereby increasing the potential for out-of-pocket costs. Sure, you have a lower premium, but a potentially higher out-of-pocket cost. How does that help you out? When you need health insurance the most, you'll face a larger bill. This is why we think hospital indemnity insurance is worth the money.
Additionally, you can simply save the deductible and the out of pocket maximum on your plan. In other words, you can establish an emergency savings account and hold an appropriate amount of money for health care expenses. Let's be honest, can you really do that? Most Americans won't even able to cover a $1,000 emergency. Moreover, did you know that medical debt is the #1 reason for personal bankruptcies here in the US? That is right. And, these are from people who HAVE health insurance.
What we said is not to scare you. We don't believe in scare tactics. However, these situations point that your primary health insurance won't totally cover you. You need additional assistance. This is why we feel hospital indemnity insurance is worth the money spent. We discuss below how much money you can expect to pay on premiums.
Benefits Of A Hospital Indemnity Insurance Plan
We have discussed a lot about a hospital indemnity insurance plan. Here are the benefits as we see them. There could be others based on your situation.
(1) save money – could save on your overall health insurance premiums  – more on that next
(2) flexibility – you receive the benefits from hospital indemnity insurance. (Unless you assign them to the doctor or hospital, which we generally don't recommend.) You can use the money for whatever you want; however, most people use them to defray the high out-of-pocket costs associated with their primary health insurance plan
(3) portability – changing jobs? Moving to a different state? Going on Medicare? Your policy stays with you during these events. It is yours for as long as you want it
(4) premiums stay the same – your health insurance premiums rocketing like a spaceship in outer space? Generally speaking, your premiums stay the same with hospital indemnity insurance. (Unless  your State's insurance commission approves and allows the carrier to increase the rates on ALL policies of the same type.)
(5) guaranteed renewable – as long as you pay the premiums on time, the carrier can't cancel the policy
(6) financial protection – limits your out-of-pocket cost exposure and potentially a difficult financial situation
(7) many plans include free telemedicine "visits" (most traditional health insurance plans charge a copay for this) as well the very important bill negotiator. Have a problem with a billing department or something billed out-of-network? It has happened to all of us. These departments will negotiate on your behalf.
These are some of the benefits we feel a hospital indemnity insurance policy brings.
How Much Does Hospital Indemnity Insurance Cost?
The premium cost of a hospital indemnity insurance plan varies. These are the variables that play a part:
(1) state you reside in
(2) tobacco use status
(3) your age
(4) include family members
(5) underwriting status – discussed next
Here's an example using a 40-year-old single, male living in Illinois. A hospital indemnity insurance plan might cost between $130 and $170 per month depending on the plan. You may be saying yourself, "John, forget it. I would rather just save the $170."
Well, let's test that, and see if the status quo (doing nothing) is feasible. Remember, a majority of Americans can't even pay for a large medical bill…
Looking at available options, a Blue Cross Blue Shield "Gold" plan costs $500 per month and has an out-of-pocket maximum of $7,900. It has a $500 deductible and 20% coinsurance. Coinsurance is your share of the costs after you pay the deductible.
In total, your out-of-pocket exposure is $13,900 ($6,000 annual premium + $7,900). Can we do better with a hospital indemnity plan?
There is a Bronze plan available, for $380 per month. It has a $6,000 deductible and a $7,900 out-of-pocket maximum with 40% coinsurance.
If you wanted to stay at the $500 budget, you could select the $130 per month hospital indemnity insurance plan. The hospital indemnity insurance plan nearly wipes out, or wipes out all, of your out-of-pocket costs including the deductible for $10 more per month over your budget.
Example
For example, let's say you are in a bad car accident and break your leg. You have surgery and admitted to the hospital for 2 days. The hospital charges $10,000. Your Gold plan pays $7,600 and you need to pay $2,400 ($500 deductible + $9,500 X 20%). You don't have that kind of cash lying around.
Alternatively, your Bronze plan pays $2,400 and you pay $7,600 ($6,000 + $4,000 X 40%). But, you have a hospital indemnity plan which pays:
(1) $2,000 for the hospital admittance
(2) $6,000 for the 2 days in the hospital
(3) $1,000 for surgery costs
(4) $100 for the x-ray
(5) $250 for the ER visit
(6) $100 for the ambulance
Total paid: $9,550.
You receive a check for $9,550. You pay off the $7,600 bill from Blue Cross Blue Shield and use the difference to pay for other costs related to the injury.
Note: you won't have a surplus everytime (this is insurance) but hospital indemnity insurance will help pay for those out-of-pocket expenses.
This is a simple example which shows why we feel hospital indemnity insurance is worth the money.
Underwriting of Hospital Indemnity Insurance
You do have to go through underwriting. Underwriting consists of the carrier analyzing your background and health status, ensuring that you meet the requirements. Underwriting for hospital indemnity insurance usually consists of answering a health questionnaire on the application. Then possibly having a phone conversation with an underwriter about your application and background.
Carriers will look at any pre-existing conditions. Severe pre-existing conditions, such as cancer or stroke likely proceed as a decline. This means you can't obtain hospital indemnity insurance. Of course, if you develop these conditions after obtaining hospital indemnity insurance, the policy will pay.
Carriers look up your application history in the MIB and your prescription drug history.
As we always say, best to be honest on these applications.
Below is an excerpt of an actual health underwriting questionnaire from a carrier.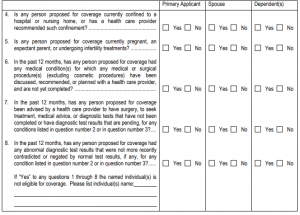 Alternative Types Of Hospital Indemnity Insurance
"Skinny" hospital indemnity insurance plans (as we call them) exist. They may not include all of the benefits we described above, but they provide coverage for out-of-pocket medical costs at a lower premium.
One type is simply a reduced-benefit version of the hospital indemnity insurance plan we described in this article.
This plan will cover hospital admission, confinement, surgical procedures, etc, but for half the cost. For example, a plan might cost $64 per month for the same 40-year-old man living in Illinois.
Another popular plan is a gap health insurance plan that will pay up to your annual out-of-pocket maximum and nothing more. The benefits are obvious. Have a $3,000 out-of-pocket bill from a hospital stay, the plan pays $3,000. The downside? You receive nothing more, but the premium is again ½ the cost. You just need to select a "bucket of money" that represents your total maximum out-of-pocket on your primary health insurance for the year. The $8,000 out-of-pocket maximum for the 40 year old Illinois resident costs around $77 per month.
Finally, there are indemnity plans for a specific situation. For example, accident insurance is a popular indemnity plan. These plans are very affordable, but will pay only on a covered accident. Same with a critical illness or a cancer plan. These plans will pay you money based on a diagnosis and/or treatment of a critical illness such as heart disease, cancer, or some other illness such as ALS.  These plans are usually affordable as well.
New Way To Think About Health Insurance
We hear it all the time. "John, this sounds good, but it is too expensive."
You can't think about hospital indemnity insurance as an "extra". You have to change your way of thinking. These hospital indemnity plans need to be added as part of your total health insurance protection plan. We described an example above that illustrates this.
Would you rather spend a relatively lower amount now for extra coverage or a higher amount that you potentially have a hard time paying? In other words, would you spend that extra $70 to $170 per month ($900 to $2,000 annually) or the $8,000? We honestly choose the first option. Moreover, if you can't afford out of pocket medical costs, you really need to rethink your health insurance plan.
While these plans will pay, don't expect to make a "profit". This isn't how insurance works. Insurance protects you from a catastrophic event. Not having $3,000 to pay a medical bill is a catastrophic event for many families. You could go 5 years paying these premiums, only receiving benefits for basic services like doctor visits or lab work. But, that one time you need it, you will be glad you have it.
And, it is true: you really don't need a hospital indemnity insurance plan IF you have the money saved up to pay the maximum on your out-of-pocket on your health insurance. If you have that amount saved up in an emergency fund, and can replenish the money, then you likely do not need hospital indemnity insurance.
However, we know that most families don't and hospital indemnity insurance is a great way to create that safety net.
Conclusion
We hope you found this article informative. We feel that hospital indemnity insurance is worth the money. In our opinion, it is a "safety net", preventing you from experiencing potentially high out-of-pocket costs with your health care. Sure, you may need to spend a little more each month, but knowing that your health care deductibles, copays, and coinsurance are completely, or nearly covered, should give you peace of mind.
Don't know what to do next? Contact us or use the form below. We would be happy to help you out in any way we can with finding the right hospital indemnity insurance for you. As with anything we do, we operate with your best interests first and foremost. What does this mean? Although we work with many hospital indemnity insurance carriers, we will tell you if there is another carrier that is a better fit for you and your situation. This is the only way we know how to work with our clients.
Learn More
Interested in learning more about the information in this article? Fill out the form below and we will email you additional customer literature, explaining these options in more detail. We are here to help and work only in your best interest.