Is Accident Insurance Worth The Money?
Updated: June 7, 2020 at 8:54 am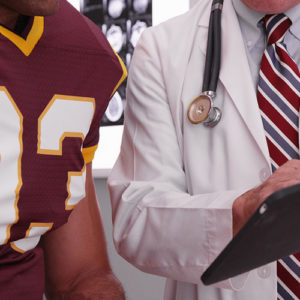 Some say yes, others say no. We at My Family Life Insurance say that accident insurance is worth the money; however, as we always have said, the decision depends on your unique situation. Is accident insurance worth the money for you? Read on to find out more. In today's health care and insurance environment, chances are, it is.
We first discuss what is an accident insurance policy.  Then, we describe the different policies themselves and the corresponding costs. We then describe how accident insurance is worth the money for many individuals and families.
---
What Is An Accident Insurance Policy?
An accident insurance policy will pay you a tax-free benefit upon injury from an accident, which means a sudden, unexpected, and unforeseen event. The plan typically pays via fixed benefit indemnity, which means a lump sum per a set payment schedule. However, some plans coordinate with your primary health insurance coverage. More on benefit options in a minute.
These plans will cover injuries from:
On-the-job and off-the-job accidents
Playing sports (some policies will not)
Recreational injuries
Just about any situation that involves an accident (there are exclusions, like the typical Acts of War, being incarcerated, etc.)
An accident insurance policy will cover:
Yourself
Your spouse
Your children
That means if your kids play sports and get hurt (provided that is covered), the injury and associated costs will be covered. If your spouse dislocates his shoulder while doing yard work, the injury and associated costs will be covered. If you slip on the bathroom floor while getting out of the shower and injure yourself, that injury and associated costs are covered.
I think you see what I mean.
Accident insurance will generally cover nearly all injuries and costs associated with an accident (as mentioned, there are exclusions). Some policies will even cover accidental death and dismemberment. In other words, there is a life insurance component if you were to die from accidental injuries.
Recently, other carriers have issued other types of accident insurance. As we mentioned, these types pay up to your health insurance's out-of-pocket costs for any accident. In other words, they coordinate with your health insurance.
Some Exclusions
To recap, this insurance pays a benefit to you upon an accidental injury. It does not pay gradual "wear and tear" or other degenerative conditions.
If you are hurt committing a crime, that's not covered. (Obviously.)
It's important to review the limitations and exclusions of your policy. Nearly all insurance carriers have similar exclusions and limitations, although there are nuances.
Accident insurance also, generally, does not cover an accidental sickness. See our article on the best accident insurance policies which outlines some policies that cover accidental sickness (such as that from an accidental ingestion of poison, for instance.)
---
How Much Do I Receive?
It depends. The amount of benefit you receive depends on the injury and associated costs.
For example, you go to the ER for an injury. An accident policy might pay $300 for the ambulance, $500 for the ER visit, $1,200 for the surgery, $1,500 for the hospital admittance, and $50 for a physician follow up.
It doesn't matter what other insurances you have; it will pay upon covered accidents and the corresponding treatments. The money goes directly to you. With deductibles, copays, coinsurance, and premiums seemingly increasing higher and higher, these accident policies can offset the cost and leave you a cushion.
Or, you can use the money however you want. Benefits are also income tax-free.
Good plans also cover accidental death and dismemberment. In other words, there is a life insurance component if you die from an accidental injury. Most plans will pay up to $100,000 for common carrier accidental death, $75,000 for car vehicle accidental death, etc.
As we mentioned, some plans pay up to the out-of-pocket maximum of your health insurance. For example, let's say you broke your leg ice skating. Your bill is $2,430 dollars because you are in your insurance's deductible phase. Your plan pays the $2,430.
With these "lump sum" plans, you have to select a "bucket of money" for the year. When the money runs out for the year, it runs out. The "bucket" replenishes every year.
Families with children will want accident plans that cover recreational and organized sports. Make sure your plan covers this.
---
How Much Does Accident Insurance Cost?
Thankfully, accident policies are usually affordable. Why are they affordable? Well, the probability of getting hurt from an accident is low.
However…
When it does happen (and let's be honest, we have all had an accidental injury), the ensuing medical bills can be costly. A trip to the ER alone costs your insurance thousands. And, if you are in the deductible stage of your health insurance, you are paying for the entire bill.
So, for an individual, most accident insurance premiums cost between $20 and $30 per month, depending on the plan.
For a family, of course, it will be a little more. Maybe $50 per month or more.
Want to see the best personal accident insurance policies we like? Go ahead. We break it all down for you and did the dirt work so you would not have to.
---
Who Can Benefit From These Policies?
These policies can nearly help everyone. In fact, according to the National Safety Council, nearly 39 million Americans receive medical attention for non-fatal injuries each year. You might benefit from these policies if you:
have an active family, playing sports, etc.
have a hazardous job (some jobs are excluded, but most policies cover seemingly hazardous jobs like fishing, tree cutting, etc.)
enjoy hazardous hobbies like motorcycle riding, deep water scuba diving (hang gliding and rock climbing are typically excluded from policies)
want an accidental death and dismemberment benefit on your life insurance policy – we have found that, in most cases, the stand-alone accident plan cost less and offered more benefits than an accidental death and dismemberment rider on the life insurance policy
You drive long distances for work: tractor-trailer driver, a consultant, etc.
You want to offset the high out-of-pocket costs associated with your underlying health insurance plan
The last bullet point is the most common. Many individuals and families are facing higher premiums with their underlying health insurance. One way to offset that is to increase the deductible and therefore lower the premium. The accident insurance can then be purchased to fill the gap and pay for any deductible or out-of-pocket costs. In this case, we feel accident insurance is worth the money.
---
Who Should Not Purchase Accident Insurance?
Accidents can occur anywhere and anytime. That's why we believe everyone should have some level of accident coverage; however, there are some people who should not purchase these policies. They include people and families who do not have a:
life insurance policy
disability income insurance policy
health insurance policy
If you do not have the above, you need to purchase those first before thinking about an accident insurance policy. Moreover, if you have enough emergency savings to cover the costs associated with an unexpected accident, you may not need an accident insurance policy.
These policies tend to have limits on ages. If you are age 70 or older, chances are an accident policy isn't available. In that case, we recommend a hospital indemnity plan, which operates similarly as an accident plan. These plans cover hospital services and are useful in tandem with Medicare plans.
---
Now You Know That Accident Insurance Is Worth The Money
We at My Family Life Insurance believe the low monthly premiums combined with the extensive coverage benefits make accident insurance worth the money. It is only beneficial, however, if you have the aforementioned insurance already established.
Accident insurance policies pay a benefit upon a covered accidental injury. Moreover, they can act as accidental life insurance. In other words, if you die from an accidental injury, the policy pays a death benefit similar to that of life insurance.
We hope this article gave you a better understanding of accident plans. Do you think you and your family needs one? We at My Family Life Insurance can help you determine that. We always place your best interests first. If we feel you don't need one, then we will tell you that. Feel free to call, text, or email us. Or, use the form below. We will be happy to speak with you.
Learn More
Are you interested in learning more about the information in this article? Please fill out the form below, and we will email you additional information or give you a call. We always work in your best interest. By entering your information, you are providing your express consent that My Family Life Insurance may contact you via e-mails, SMS, phone calls, or prerecorded messages at any phone number(s) that you provide, even if the number is a wireless number or on any federal or state do-not-call list. Additionally, you understand that calls may be placed using automated technology, and that consent is not a requirement for purchase. Your information will NOT be sold and will remain private. However, you may opt out at any time. We respect your privacy first and foremost.