Chew? How To Get Approved Cheap Non-Smoker Life Insurance [We Explain All The Details To Save You Money]
Updated: December 26, 2020 at 5:04 pm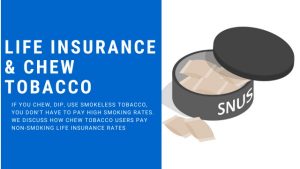 If you chew, dip, use smokeless tobacco then you probably think you are ineligible for life insurance at non-smoker rates.
I mean, chew tobacco contains nicotine. Nicotine is bad, right?
So, that means you are a smoker or tobacco user and pay higher rates, right?
Well, not so true…
We are here to tell you that if you chew, dip, or use smokeless tobacco, you can obtain life insurance easily.
Moreover, at cheap, non-smoker life insurance rates.
Get the @#$! out, you say!
No, we are serious.
If you chew, you can obtain life insurance at non-smoker life insurance rates.
In this article, we discuss how chew tobacco users obtain life insurance on the cheap, at non-smoker rates.
Yes, and we explain everything.

We will talk about:
Let's start by describing why life insurance carriers lump tobacco chew and dip users into the smoking rates category.
---
I Don't Smoke. Why Do I Pay High Life Insurance Rates?!
At first glance, chewing tobacco and dipping doesn't seem as harmful as smoking cigarettes. You aren't ingesting or breathing smoke and nicotine into your lungs and blood system.

However, chewing tobacco and dipping does pose life-long health and mortality risks. These risks include, but are not limited to:
Harmful nicotine in your blood system
Potential, increased heart disease risk
Typically, a higher level of dependence
Oral and esophageal cancer common as well
The Mayo Clinic has a great article on these ailments resulting from smokeless tobacco use.
So, life insurance carriers are completely aware of this. Instead of applying a "smoker" rating, they'll classify you as a "tobacco" user. Therefore, if you use chewing tobacco, you'll pay the same, higher rates as a cigarette smoker.
Comparison of Smoker and Non-Smoker Rates
Generally speaking, smokers and tobacco users will pay a much higher price than non-smokers. We are talking 2 times to 5 times as more, depending on your age.
Check out the price yourself. Just enter your information and select tobacco and a non-tobacco classification. Entering your information is permission to contact you. We might say hello, give you a call and/or send an email or text. We respect your privacy and don't call you a zillion times per day.
Many carriers lump chew tobacco users with smoker/tobacco users.
Check out this underwriting excerpt. You'll see what I mean:

That stinks, doesn't it? That's why, generally, if you smoke or use tobacco, and need life insurance, you'll pay higher rates. If you use any type of nicotine, this includes using chew and dip, you'll be classified as a smoker. In other words, you will have to pay tobacco rates.
Ugh!
You can see that if you use any type of nicotine, this includes using chew and dip, you'll be classified as a non-smoker. In other words, you will have to pay tobacco rates.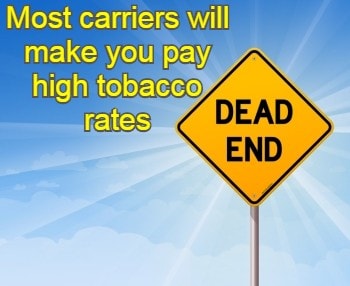 With many carriers, this is the result. It is like a dead end.
And, if you use an inexperienced broker or an employee agent, then you'll face paying these high premiums.
However, this is why you use an independent broker like My Family Life Insurance. Do you think we let our clients who chew pay smoker or tobacco rates? No! There are no dead-ends with us. We routinely provide solutions – economical solutions – for our clients, including people who chew.
---
How Do Chew Users Get Life Insurance At Cheap, Non-Smoker Rates 
It's possible for chew users to obtain life insurance at non-smoker rates.
How, John?
Simple. There are thousands of life insurance carriers in the US. All of them underwrite health conditions differently. Underwriting includes cigarette and tobacco use.
It would take you years for you to contact every single one and ask their underwriting policy for chew, dip, and smokeless tobacco.
Or, as we said before, you can contact us. We are independent and have done all the work for you already.
Let's be more specific to show you what we mean.
Process For Chew Users Obtain Life Insurance At Non-Smoking Rates
First, if you smoke cigarettes AND chew/dip, it's unlikely you'll qualify for non-smoker rates. You are better off reviewing the best carriers that will insure smokers.
However, if you chew only, you can get life insurance at non-smoker rates. Carriers that insure chew tobacco users look at:
Your chew tobacco use
Your urine sample results (we will discuss what this means in a minute)
Typically, in order for a carrier to allow non-smoker life insurance rates, you'll have to admit to tobacco use and that you chew. You may also need to describe the frequency (i.e. 1 can a month, let's say).
However, that isn't necessarily the big, deciding factor.
The deciding factor on whether or not you'll obtain non-smoker rates is the urine test.

The carrier will likely require a paramedical exam along with a urine test. The urine test will show if you have cotinine in your body.  What's cotinine?  Your body creates cotinine when nicotine enters your blood. Urine samples test nicotine, but most tests look at cotinine presence. The reason is cotinine remains in your blood and urine for much, much longer.
So, how does this affect us? Well, we know the carriers you want to stay away from and those that are friendly for chew tobacco users. We list those carriers next.
---
Chew "Friendly" Life Insurance Carriers That Will Offer Non-Smoker Rates
There are about 8 to 10 carriers that will insure people who chew at non-smoker life insurance rates.
All of them are different in one way or another. Remember, too, that your overall health profile matters. So, if you are overweight or have additional health conditions, you'll likely pay a higher amount.
Let's go through the carriers that will offer non-smoking life insurance rates to chew tobacco users.
American National
American National will offer non-smoking rates provided you disclose chew use, your usage is 2 X month or less, and your urine test for cotinine is negative.
They are a nice carrier. They offer living benefits on all of their products, integrated automatically and at very competitive rates.
Additionally, they have a long-standing guaranteed universal life product. If you are looking for permanent insurance, but don't want to pay "permanent" prices, their GUL product might be a good fit for you. Their GUL works very well for cheaper burial insurance options. Just think: if all you do is dip, and healthy every other way with some minor health conditions, other burial insurance carriers WILL categorize you as a smoker. Not American National.
Brighthouse Financial
In 2017, MetLife separated its individual life and annuity business, which created Brighthouse Financial. While Brighthouse is independent of MetLife, MetLife is Brighthouse's largest shareholder.
With Brighthouse, it's OK to chew. You need to disclose that on the application and have a negative cotinine test.
Brighthouse uses internal, employee agents. As such, we can't offer them. Since we are independent and work for you and not a company, they are not an option for us. Are they right for you? Maybe? Remember, when all you have is a hammer (i.e. one product), everything looks like a nail.
Cincinnati Life
Cincinnati Life is another carrier that will insure chew and dip users. Like many other carriers, your urine sample must show negative cotinine. If it does, they allow Standard Plus, which is a nice health classification. Of course, you have to be healthy every other way to qualify for Standard Plus.
John Hancock
Here's a household name: John Hancock. Like most of the other carriers, you need to disclose your tobacco chewing and dipping use. Additionally, the urine sample must show negative. However, they offer Standard Plus as well. That's great news as John Hancock has some of the more unique and competitive products on the market.
Lincoln Financial
Like many other carriers, you need to disclose your tobacco chewing use. However, that's where the similarities end.
Lincoln National does allow a positive cotinine test. That's great.
If you qualify, Lincoln Financial will offer a Standard non-smoker class.
Prudential
Everyone knows Prudential. They have some of the more liberal underwriting processes in the industry. Underwriting for chewing tobacco and dipping use is no exception. Like Lincoln Financial, they allow a positive cotinine test. However, they will insure you at Standard Plus.

Apples-to-apples, though, they tend to have some of the higher life insurance rates in the industry.
Minnesota Life / Securian
Minnesota Life has one of the most liberal underwriting for smokers, including people who smoke cigarettes.
However, what keeps them from being a "go-to" carrier is their usage requirements. If you use chewing tobacco 12 or fewer times in year, then they will offer you Preferred Select. If you use more than 12, but less than 24, then you qualify for Standard health rates.
---
One Carrier Stands Above The Rest
All the other agents will quote and tell you about Prudential and Lincoln Financial. Why? Because they allow a positive cotinine test.
We like them, too. They are both quality carriers.
This is what separates us from other agents and agencies. We look beyond the common ones and see what else is available.
Turns out there is a carrier that many agents and agencies overlook.
This carrier doesn't care about tests or usage. In fact, they won't even ask.
They even won't ask you for a paramedical exam! (Up to $400,000 death benefit.)
So, what do they require?
We discuss that, next.
One Question They Require
All you need to answer is this:

Yep, as long as you don't smoke, you don't have to worry about paramedical exams or cotinine tests. You'll have life insurance at standard health class, just like predominantly all the other carriers.
Moreover, is a simplified issue, non-medical underwriting. You'll get an answer on approval in a couple of days, at most. Likely within the same day!
How great is that?!
Sounds good, John, but what about costs?
Sure, assume $250,000, 20-year term for a 40-year-old male chew tobacco user.
Prudential $38.50 at non-smoker standard plus
Lincoln Financial $48.54 per month at standard rates
Our carrier….well, it's about $72 for the same amount…
What, John, that is nuts! I am not going to pay this amount…
Well, hear me out. It's important to compare apples to apples.
Underwriting And Policy Flexibility
First thing, with Prudential and Lincoln, while they have liberal underwriting, they still have stringent requirements.
For example, their BMI is rather limited. A person who is 6'0 has a standard weight limit of about 240. Our carrier goes up to almost 310 pounds for the same height/weight!
Our carrier will also cover type 1 diabetes, lenient with rheumatoid arthritis, COPS, Lupus, gastric bypass surgery (I yr removed from surgery), and a host of other conditions.
Remember, if you just chew, you are a non-smoker. You don't need to disclose. You just say "no".
Prudential and Lincoln will cover you. However, if you have additional health issues, you are looking at much higher rates than the rates I illustrated.
So, the cost comparison is likely about the same.
Moreover, our carrier utilizes simplified, non-medical underwriting. So no urine sample required. You just answer the health questions. Then, the carrier analyzes your information through the MIB, motor vehicle records, and prescription drug history.

And, finally, it contains two additional, value-added benefits:
Important living benefits, and
Additional death benefit if death caused by a common-carrier accident
What are living benefits? This option allows you to advance the death benefit early for any covered illness (such as cancer) or chronic care. Chronic care is like long-term care insurance.
Living benefits add flexibility to your policy. That alone is worth another $20 to $30 per month. Many stand-alone critical illness plans cost much more than that.
---
Other Favorable Carriers That Insure Chew Users At Non-Smoker Life Insurance Rates
We work with a slew of other carriers that are favorable to chew tobacco users.

Many are the smaller, burial insurance type policies. Some don't even care if you smoke or not.
For example, if you use chew tobacco, you'll generally have to pay $80 per month for a $15,000 burial insurance policy. Many carriers categorize chew use as smoking/tobacco use.
However, one carrier we work with, you can purchase $15,000 burial insurance for $54, at non-smoking rates.
We at My Family Life Insurance have you covered if you chew tobacco.
---
Now You Know That Chew Users Can Obtain Life Insurance At Cheaper, Non-Smoker Rates
If you chew, you don't need to pay high, smoker or tobacco life insurance rates. Non-smoking rates are available.
We outlined many life insurance carriers that will insure you at cheaper, non-smoker rates if you chew only. If you smoke cigarettes, then that's a different story.
We've also outlined other carriers from the typical ones that will insure you as well.
What are we saying here: we've got your back, and you can trust to work with us.
Do you need assistance or have questions? Contact us or use the form below. We would be happy to answer your questions and discuss your options.
As we always say, there's no risk of contacting us. At the very least, you'll learn a little more. If we can't help you, we will part as friends. I hope we can work together, because due to our fiduciary duty, we have your best interest always.
Learn More
Are you interested in learning more about the information in this article? Please fill out the form below, and we will email you additional information or give you a call. We always work in your best interest. By entering your information, you are providing your express consent that My Family Life Insurance may contact you via e-mails, SMS, phone calls, or prerecorded messages at any phone number(s) that you provide, even if the number is a wireless number or on any federal or state do-not-call list. Additionally, you understand that calls may be placed using automated technology, and that consent is not a requirement for purchase. Your information will NOT be sold and will remain private. However, you may opt out at any time. We respect your privacy first and foremost.