Health Insurance Options For Canadians In The USA
Updated: April 18, 2021 at 12:59 pm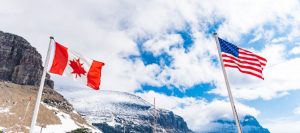 Canadians living here in the USA need health insurance. You probably realized by now that health insurance operates much differently here than in Canada.

The type of health insurance available depends on how and why you are here in the United States.
The good news is that health insurance is available for Canadians in the USA.
In this article, we discuss the following subjects. Feel free to jump around based on your situation.
Let's discuss the health insurance available if you are just visiting the US.
---
Health Insurance For Canadians On A Travel VISA In The USA
If you are just visiting the United States, say for vacation or visiting a relative, your options are pretty simple. You'll want to obtain travel medical insurance. Sometimes, this insurance is known as temporary health insurance or visitor's health or medical insurance.
It all means the same thing. We'll use these terms interchangeably.
Additionally, if you are visiting the US temporarily on business, and then heading back to Canada, these visitors medical insurance or temporary medical insurance works very well.
What's travel medical insurance? All it is temporary medical insurance. If you have an unexpected illness or accident in the country you visit, this type of policy will pay.
Twist and break your ankle walking around Disney World? The plan pays.
Get food poisoning and must go to the ER? This plan pays.
Need to go to a doctor because of a checkup of your high blood pressure? This plan DOES NOT pay.
"Why, John?", you ask.
Well. Think about it. You are just visiting the US for business or pleasure. You intend to go back to Canada. Hopefully, you have your own doctor and healthcare established there. Thus, there is no need to seek preventative care or anything else here in the US.
These plans only cover unexpected illnesses and accidents. If you are visiting the US, then that's all you need. You don't need preventative care or follow up for any pre-existing conditions because you will be returning home to Canada.
Additionally, this means any pre-existing conditions are not covered. Why? Because the carrier expects you to take care of pre-existing conditions back in Canada.
"But, John. What happens if I have a reaction or something and my pre-existing condition acts up?"
Let's talk about that next.
 How Travel Medical Insurance Covers Pre-Existing Conditions?
As we mentioned, these plans don't cover pre-existing conditions.
However, they do cover an "acute onset" of a pre-existing condition, up to a certain dollar limit.
What's an acute onset of a pre-existing condition?
This is common coverage with every travel medical insurance. An acute onset of a pre-existing condition means a sudden or unexpected outbreak of a pre-existing condition without warning or symptoms. It usually requires immediate attention.
Here is one carrier's definition. Other carriers offer a similar definition.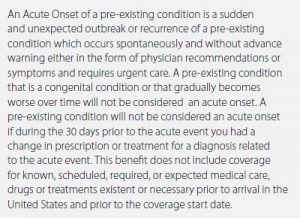 So, let's say your high blood pressure, controlled for many years, suddenly spikes while you are visiting your brother here in the US. You go to urgent care. Everything before this has been normal. Likely, the carrier covers you for this unexpected event.
However, let's say you are going to urgent care for a checkup or a vaccination. No, the plan usually won't pay.
It's important that you know and understand this.
Let's talk about the characteristics of travel medical insurance next.
Characteristics Of Travel Medical Insurance
Travel medical insurance is unique. Although we have discussed health coverage, it covers much more than medical or health issues.
Canadians who visit the USA will typically have the following coverage in addition to health insurance:
Home health care
Coma benefit
Coverage if you return to your home country for an incidental trip
Emergency medical evacuation
Return of children to your home country with an escort
Return of your mortal remains should you die in the US
Burial funds
Natural disaster evacuation
Political evacuation
Lost baggage
Accidental death
Trip interruption
This is just a shortlist of what is typically included in a travel medical insurance policy.

Various carriers offer additional coverages, such as hazardous activity coverage.
Many carriers offer travel medical insurance. While that sounds good, limitations exist. For example, most plans exclude dental coverage unless due to an accident.
We will always select the option that makes sense for you and your family when you visit the USA. We can provide quotes and outlines of coverage for your review. Just contact us.
---
Health Insurance For Canadians On A Working Or Fiancée VISA Here In The USA
Travel medical or health insurance is an option for Canadians working here in the USA. It is also available for a Canadian marrying a US citizen.
However, visitor health insurance sounds what it is. It is really intended for people visiting. If you are here for a longer-term, there are other options that may be more complete.
First, if you are on a work VISA like H-1B, J VISA, or Work Authorization, check your employer for health insurance coverage. Your employer may have health insurance that will cover people with work VISAs or legal authorization. Note: some employers cover and some don't, so just ask the HR department.
If you can't obtain health insurance through your employer, you have another option that I'll discuss next.
Additionally, if you are on a fiancée VISA, the temporary / travel medical insurance is an option. But, there is another option that I feel is more ideal for Canadians who are living in the US long term.
Short-term medical insurance, or short-term health insurance, is the other option.
These are more common nowadays in the United States.
As with anything, there are advantages and disadvantages to short-term medical insurance plans. We discuss short-term medical insurance next as well as the advantages and disadvantages.
What Is Short-Term Medical Insurance
Short-term medical is health insurance for short-term periods.
Unexpected illnesses and accidents are covered.
They are also less expensive than major medical health insurance.
These health insurance plans are good for Canadians here in the USA, provided Canadians are intending to live here long-term. More on that in a minute.
However, they are not without disadvantages. Short-term medical plans typically do not cover:
Preventative care / wellness visits – another plan covers that
Prescription drug medication – in some cases, but they offer a discount card which can work well
Pregnancy
Pre-existing conditions – limited in many cases. We'll talk about that more in a minute
The length of coverage depends on the state you live in. Some states only allow a term for up to  3 months while other states allow terms up to 3 years! After the term ends, you will have to reapply and go through the underwriting process again.
So, these plans are beneficial for Canadians going through the permanent residency or citizenship process. Why?
Because of the pre-existing condition clause. You see, many of these plans (like the travel medical insurance) limit pre-existing conditions. Let's talk about pre-existing condition clause and short-term medical in more detail.
Short-Term Medical And Pre-Existing Conditions
Short-term medical plans provide limited coverage for pre-existing conditions. Generally, these plans look back 12 months for any medical diagnosis or treatments. A pre-existing condition is anything that was diagnosed or treated during the last 12 months. The plan does not cover that condition 12 months forward from the start date of the policy.
What does this mean?
That means, if you have the policy for longer than a year, then the carrier covers your pre-existing condition on the 13th month going forward.
For example, you have high blood pressure. Your doctor visits won't be covered until the 13th month of the policy.
However, the carrier reserves the right to decline your application based on serious health conditions. They reserve the right.

Moreover, carriers underwrite your application. Underwriting is a simple "yes or no" questionnaire. See one from a carrier below.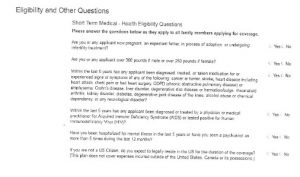 A big factor with short-term medical insurance is the benefit period. This is governed by state law. Some states do not allow short-term medical while others allow coverage for 3 months for up to 3 years.
What does this mean for health conditions and pre-existing conditions?
Let's say you develop cancer during the coverage. The plan covers your cancer treatment.  However, when the coverage ends, you'll need to reapply. If you develop something serious, that condition is now pre-existing. The plan won't pay. Or, it will decline you altogether.
While it may seem like a short-term medical plan is not viable, it certainly can be. Adding a preventative care plan and supplemental coverage can help, and we describe these options later in the article.
Let's discuss if you are working on your green card or citizenship next.
---
Health Insurance For Canadians Going Through The Green Card / Citizenship Process
If you are a Canadian, here in the United States, and intending to stay permanently, then a short-term medical plan is likely the best option for you.
A short-term medical plan can offer the services needed for coverage while you wait for processing your green card or citizenship. Upon approval, you can then pivot to a major medical plan or purchase a plan off the health exchange.

Additionally, you can add supplemental coverage. Supplemental coverage does not have the same pre-existing condition limitation as short-term medical insurance. Sure, it usually has the "12-month look-back/12-month look forward" provision. But there is no renewal period as with short-term medical insurance.
Why not travel medical insurance?
Technically, you are not a visitor, right? You are intending to stay long-term. I am always leery when Canadians select travel medical coverage or visitor health insurance when their intention is to stay in the USA long-term.  I feel that gives the carrier a reason to deny a claim.
---
Canadians Living In The US Undocumented
If you are here in the US undocumented (i.e. not lawfully present in the US on a VISA or another legal document), your choices are limited.

You won't be eligible for travel medical / visitor medical insurance because you need to be lawfully present in the US. That means having a valid VISA.
Many short-term carriers allow health insurance for undocumented immigrants, including Canadians, living here in the USA.
Again, short-term medical is not perfect, but it will protect you from the cost of unexpected illnesses and accidents.
Moreover, adding supplemental coverage gives peace-of-mind. We discuss this next.
---
Supplemental Health Insurance For Canadians In The USA
The lack of coverage for pre-existing conditions is a major drawback for travel medical insurance and short-term medical insurance.
Both visitor insurance and short-term medical insurance leave you exposed to other gaps in service. For example, neither insurance covers preventative care like a physical exam or immunizations like flu shots.
Thankfully, there is supplemental health insurance that will cover these gaps.
FYI – if you are here in the US, just visiting, you probably don't need any of the insurances we are going to present.
However, if you are a Canadian here in the USA with the intention of living here long-term, then these supplemental health insurances will prove invaluable and worth the cost.
Remember, short-term medical has the pre-existing condition clause. So do many of these insurances. However, after the 12 month "waiting period", the plan covers pre-existing conditions going forward. They don't "renew" like short-term medical insurance.
Additionally, they don't coordinate with your short-term medical insurance. That means they pay separately.
These insurances can prove invaluable for deductible, copays, coinsurance and long-term protection.
Here are some supplemental health insurances. Note: availability depends on state law and carrier requirements.
Types Of Supplemental Health Insurance
Supplemental health insurance might exist. The options available depend upon your state and if the carrier accepts non-US citizens. Some do and some don't.
However, we work with a handful that does. Some may require an ITIN, which is a tax identification number.
Preventative care / wellness – will cover vaccinations and physical checkups among other things
Fixed Benefit – pays a fixed amount of money, per a set schedule, based on the service provided

Hospital Indemnity – similar to a fixed benefit, these plans will pay a benefit upon hospitalization. Some plans also offer additional benefits and operate similar to a fixed benefit plan
Accident – these plans pay a benefit upon an accidental injury. This includes ER visits, x-rays, etc.
Cancer / Critical Illness – this plan pays upon diagnosis of cancer or another critical illness. You could receive up to $75,000 or $100,000 to use for your treatment or anything else.
Again, availability depends on the state you live in.
---
Now You Know Canadians Can Obtain Health Insurance Here In The USA
Canadians living here in the USA can obtain health insurance. The type and kind just really depends on your situation.
Need our help or would you like to learn more? Contact us or use the form below. We would be happy to answer your questions and help you the best we can.
Learn More
Are you interested in learning more about the information in this article? Please fill out the form below, and we will email you additional information or give you a call. We always work in your best interest. By entering your information, you are providing your express consent that My Family Life Insurance may contact you via e-mails, SMS, phone calls, or prerecorded messages at any phone number(s) that you provide, even if the number is a wireless number or on any federal or state do-not-call list. Additionally, you understand that calls may be placed using automated technology, and that consent is not a requirement for purchase. Your information will NOT be sold and will remain private. However, you may opt out at any time. We respect your privacy first and foremost.