How To Get Approved For Senior Care Options In Massachusetts [We Describe The Process And Details]
Updated: August 18, 2020 at 10:20 pm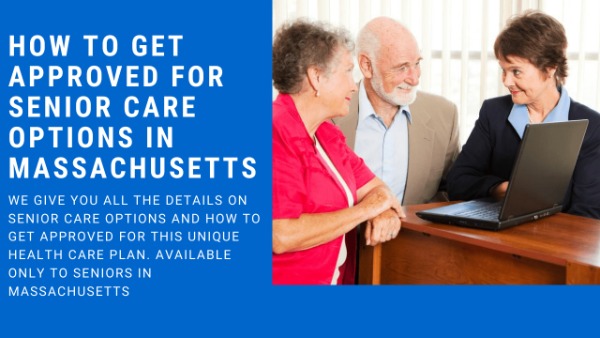 There's a health care plan called senior care options for Massachusetts seniors. However, these plans aren't your typical Medicare plan. While not all Massachusetts seniors qualify, some do. It's worth the review to see if you qualify. Why? Well, we will get more to that in a minute. However, to give you an idea, these health care plans offer robust services at $0 out-of-pocket cost in most cases.
Sounds good? Yes, at $0 out-of-pocket costs, we certainly got your attention.
In this article, we introduce senior care options. We then discuss how Massachusetts seniors qualify and approved for senior care options.
Let's get into why you should care about Senior Care Options.
---
Why Should You Care About Senior Care Options?
You might think senior care options are just the same as any other Medicare plans.
That's not the case.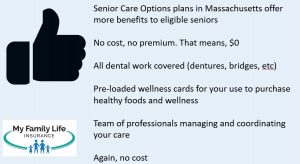 There are a number of advantages senior care options provide to Massachusetts seniors.
Do you like $0 premiums? Of course!
How about no copay or out-of-pocket costs on your prescription drugs?
Who hates paying for dental care? Right! Preventative services are covered, but also implants, bridges, root canals, and more. They are covered 100%. (Yes, no out-of-pocket costs for you!)
$0 spent on gym/fitness memberships.
Money towards healthy food purchases.
$0 out-of-pocket costs on your hospitalizations, doctor offices, labs, etc.
Money for over-the-counter medication and other necessities
Respite care for caregivers (i.e. your son, daughter, or other loved one taking care of you)
Long-term services
And, a lot more. Essentially, there are no or minimal out-of-pocket costs in regards to your health insurance.

How does this all sound? Great, right!
It sounds great, John, you say. But, what is the catch?
Well, as we said before, not all Massachusetts seniors qualify for senior care options. First, let's go into detail on what senior care options are. Next, we will discuss the eligibility. Finally, we discuss the approval process.
---
What Are Senior Care Options in Massachusetts?
Senior Care Options (or, SCO plans) are comprehensive health insurance plans available to MassHealth members. MassHealth is Massachusetts's Medicaid program.
These Senior Care Options combine the elements MassHealth and Medicare services for low-income seniors in Massachusetts. It is a Special Needs Plan (commonly referred to as D-SNP in Medicare terms).
The SCO plan coordinates your care. You will have a plan manager and a team of specialists helping and assisting with your care.

You may wonder, why? Well, it is no secret that it costs the state a lot of money to care for people on MassHealth.
These SCO plans help keep you out of the hospital while establishing a healthy lifestyle.
Of course, not every Massachusetts resident qualifies for Senior Care Options. Let's discuss eligibility and the approval process.
---
How Massachusetts Residents Get Approved For Senior Care Options
In order to qualify and approved for Senior Care Options, seniors must:
Reside in Massachusetts and the service area the plan operates
Be age 65 or older
Have MassHealth Standard Plan
Additionally, the application process is relatively simple. There's no underwriting or anything like that, other than MassHealth Standard verification and a few other things.
So, the middle class here in Massachusetts won't qualify for senior care options, you say.
That's right. These Senior Care Options plans are really for low-income seniors living in Massachusetts.
Did you notice that, unlike other states, Medicare is not a qualifying factor? (If you have Medicare, the SCO plan pays for your Part B premium).
However, MassHealth Standard is a qualifying factor.
Let's look into MassHealth and MassHealth Standard in a little more detail.
What Are The MassHealth Types?
There are six types of coverage under the Massachusetts Medicaid program, MassHealth, for eligible residents. They are:
Standard
CommonHealth
Limited
Premium Assistance
Family Assistance
CarePlus
We are only going to discuss the qualification of MassHealth Standard as that is one of the main requirements for SCO approval.
What Is MassHealth Standard And How To Qualify?
MassHealth Standard offers the most comprehensive services for Massachusetts residents. It will cover:
hospitalization
doctor visits
lab tests
doctor visits
long-term services
and more
Qualification for the MassHealth Standard program depends on your income against the federal poverty level. Depending on your demographic and family size, you can not earn more than 100% to 150% of the federal poverty level.
For example, a single person age 66 cannot receive more than $1,061 per month. As you can tell, that is not a lot of money.
So, Massachusetts seniors qualify for senior care options if they qualify for MassHealth Standard.
Why Don't I Just Remain On MassHealth Standard?
You may be thinking, "John. I like everything with MassHealth Standard. Why do I need a SCO plan?"
Well, the choice is ultimately up to you. However, the senior care options plans contain enhanced benefits.
There is no cost to you.
You still have to go to your doctors, so it is very important your providers are in the plan. We will check for you.
You receive additional benefits to maintain a healthy lifestyle
The SCO plan assigns a case management team to help with your medical care and needs
And, a lot more
It's no cost. So, just enroll in a plan in your service area.
---
What If I Don't Qualify For Senior Care Options Here In Massachusetts?
If you don't qualify for any of the senior care options available in Massachusetts, there is one other option.

That option is called Prescription Advantage. It is the state's pharmaceutical assistance program.
There are different guidelines when it comes to Prescription Advantage. We have helped many middle-class Massachusetts residents enroll in Prescription Advantage. The good news is when you enroll, you generally have an election period where you can enroll in a different prescription drug plan, should your needs change.
---
Summary Of How To Get Approved For Senior Care Options In Massachusetts
Here's a quick summary of what we discussed.
Comprehensive health insurance, called senior care options, exists for a certain class on seniors here in Massachusetts.
In order to qualify, you must:
Be 65 or older
Live in the service area
Have MassHealth Standard
We went over some of the benefits of MassHealth Standard. It makes sense to enroll in the SCO plan as well. Why? Because you receive additional benefits over and above what MassHealth Standard provides.

If you don't qualify for MassHealth Standard, and therefore senior care options, we can look into other options. Another option, sometimes overlooked, is the state's Prescription Advantage program. This program has higher income limits and no resource (asset) test. You might receive some help with your prescription drugs. Hey, some help is better than no help.
---
Now You Know The Approval Process For Senior Care Options In Massachusetts
Now you know how to get approved for the senior care options here in Massachusetts. Would you like to learn more? I am happy to discuss with you. If you are calling on behalf of a parent or relative, we are happy to discuss and even have a joint video conference. You can contact us or use the form below. You can also set up an appointment right on my calendar.
We can explain how the application and enrollment process works and answer any questions you have.
We are a different agency compared to others. As a CFP® Professional, I have to have your best interests. Always. And, we do. Additionally, there's no risk of contacting us. At the very least, if we can't help you, you'll learn something new, and we will part as friends. I am serious about that. We will even help you the best we can.
Learn More
Are you interested in learning more about the information in this article? Please fill out the form below, and we will email you additional information or give you a call. We always work in your best interest. By entering your information, you are providing your express consent that My Family Life Insurance may contact you via e-mails, SMS, phone calls, or prerecorded messages at any phone number(s) that you provide, even if the number is a wireless number or on any federal or state do-not-call list. Additionally, you understand that calls may be placed using automated technology, and that consent is not a requirement for purchase. Your information will NOT be sold and will remain private. However, you may opt out at any time. We respect your privacy first and foremost.