3 Health Insurance Options For People Without A Social Security Number | Here's How & Options
Updated: October 31, 2023 at 11:05 am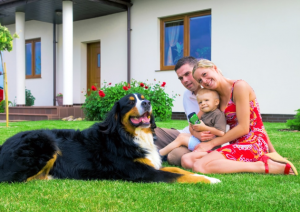 You know how important health insurance is. Having no health insurance exposes you to potentially significant hospital and doctor costs. If you don't have a social security number, you may believe that you can't obtain health insurance. That is not necessarily true. Health insurance is available. It will cover you in case of illness, accident, or a trip to the hospital. In this article, we discuss 3 health insurance options for people without a social security number.
That is correct, people without a social security number can obtain health insurance.
However, your health coverage options are limited. We discuss more in the article.
Please be aware that we no longer take requests for the undocumented immigrant market. We discuss this further in the article. If you are undocumented, please reach out to one of the options on this page.  
Please also read this article in its entirety as health insurance is much different than the country you are coming from.
Because health insurance and immigration law is an ever-evolving situation, this article may contain unintentional, outdated information.
Let's level set and begin this discussion with the Affordable Care Act.
---
What Is The Affordable Care Act (ACA)?
You likely have heard of the Affordable Care Act (ACA). Written into federal law in March of 2010, the ACA contains 3 goals:
Make health insurance more available to consumers (one way is through tax credits)
Expand the Medicaid system
Create lower-cost modes of health care delivery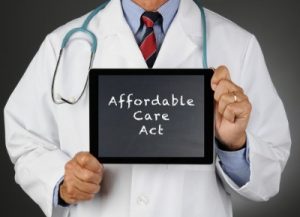 It also created a set of required provisions. If a carrier wants to market and sell an ACA plan to consumers, the carrier must cover:
pre-existing conditions
pregnancy and childbirth services
pediatric dentistry
The ACA contains additional provisions as well.
Not everyone qualifies for an ACA plan. Eligibility requirements include:
Must reside in the US
Are lawfully presented
Are not incarcerated
The states created online health exchanges for qualified individuals to purchase a plan. In order to purchase an ACA health insurance policy, you must have a lawful presence. This means you are a:
1 – U.S.citizen,
2 – U.S. National, or
3 – Lawfully present immigrant (on VISA or some other accepted form),
4 – Lawful permanent residents like green card holders, or
5 – Specific, protected immigrants such as refugees from identified countries

You can find out about immigration status and forms on the healthcare.gov website. Undocumented immigrants are not eligible to buy an ACA health insurance policy.
Who Manages The Affordable Care Act?
The Affordable Care Act is managed at the federal level by the Department of Health and Human Services. However, it is the states that determine what types of health insurance coverage are available to residents. It is the state level that really determines the options available.
---
What If I Am Not Lawfully Present?
Lawfully present status is a key component of ACA plan eligibility. Generally speaking, if you are not considered lawfully present, then you cannot purchase an ACA health insurance policy. In other words, you are undocumented. However, that does not mean, in our opinion, that you cannot purchase health insurance for yourself and your family. You can. You just can't purchase an ACA health insurance plan.
Having a valid social security number is not necessarily a requirement, but the federal government uses it to determine your lawful status. If you don't have a social security number, then it will be hard for you to obtain an ACA plan.

Even if you are an immigrant with a social security number, you may not be lawfully present. This can occur if you were lawfully present at one point, then for one reason or another, you overstayed your VISA or work authorization. Although you have a social security number, you are not lawfully present and ineligible for an ACA plan.
However, as we discussed, health insurance is available. The options just don't follow the ACA guidelines.
Note that, as of this writing, Washington state and Colorado have allowed undocumented immigrants to apply for health insurance on their state exchanges.
---
Can I Purchase Health Insurance If I Am A U.S. Citizen, Lawfully Present, But I Don't Have A Social Security Number? 
We receive a few phone calls every year from Americans who were born in the United States, but for one reason or another, they do not have a social security number. They ask if they can purchase health insurance.

Unfortunately, I do not have a defined answer. As I said to these people, because you are a US citizen, not having a social should not preclude you from an ACA plan. You are lawfully present; you just don't have a social for your own reasons.
As I tell these people, you should contact your state's health insurance marketplace to find out more.
However, the plans we describe below are available to you. As you will read, however, these plans do not possess the ACA protections. They are still solid options, but they just don't have the same requirements or protections as the ACA has.
---
3 Health Insurance Options For People Without A Social Security Number
Here are the health insurance options if you do not have a social security number.
Some options might be better than others.
The good news is that you can typically enroll in these plans anytime. No open enrollment period exists for these plans.
Before we get into the options, it is important to note the following. This is extremely important.
These plans typically:
Don't have prescription insurance, but utilize a prescription discount card. These seem to work just fine for generic drugs. You can also utilize the Clever Rx discount card, which I use for my own family and like a lot.
Don't cover pregnancy or childbirth. So, pregnant women will have to find another way to pay for childbirth
Have limited coverage for pre-existing conditions. Many won't cover a pre-existing medical condition until after 12 months of being on the plan.
May have waiting periods for certain situations like tonsil surgery
May exclude certain situations as well
Have limited preventative care benefits
It is important to read the exclusions and limitations of the plan.
Please also note that not every state allows these alternative health plans sold to their residents. These states include, but are not limited to:
Vermont
New Hampshire
Connecticut
Maine
Massachusetts
Rhode Island
New Jersey
New York
California
Washington state
Oregon
Colorado
Minnesota
New Mexico
Hawaii
Delaware
Idaho
Pennsylvania
These states usually do not allow alternative health insurance. However, Maine, California, Minnesota, New Mexico, and Pennsylvania offer indemnity insurance, which we discuss next. This list is always subject to change. Of course, you can always reach out to us if you have any questions.
First Option – Indemnity Plan
The first option is an indemnity insurance plan. What is an indemnity insurance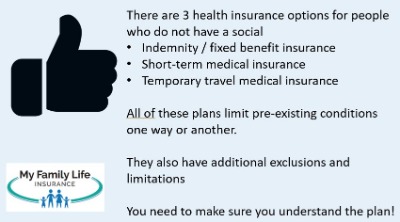 plan?
It is insurance that pays you a fixed dollar benefit for a given service. For example, if you go to the doctor for a checkup, the indemnity plan might pay $100 towards that visit and nothing more.
Like any insurance, there are advantages and disadvantages.
With indemnity insurance, you can go to any doctor you like. Although the carriers we work with have networks which will save you more money, you have the freedom to choose.
They also don't usually have deductibles. The deductible is a major source of "pain" (no pun intended) for many families. The deductible is the amount of money you have to pay out of pocket BEFORE the insurance pays its share. With indemnity plans, you have first-dollar benefits.
A disadvantage is what the plan dollar benefit pays, that is what the provider gets. The provider can charge you more, which you will have to pay out of pocket. Think of the dollar benefit as a "budget". If you know the plan will pay, say $200 for a service, what should you do? Well, you should negotiate with the provider or find a cheaper place to bring your business.
Thankfully, the carriers we work with all have value-added services that help you manage that. However, you need to know that you yourself will be the "negotiator" for your health insurance costs.
All of these plans cover doctor visits and hospital stays. The more benefits you want – which I would recommend because this protects you against any significant health care costs – the higher the premium.
Requirements To Apply For An Indemnity Plan
Indemnity insurance plans do not coordinate with other insurance. So, you can "stack" additional insurances to develop a complete plan.
You do need a tax identification number, also known as an Individual Taxpayer Identification Number (ITIN) to apply. We have discussed this before if you need life insurance and don't have a social security number. If you have an ITIN, you can get health insurance with most indemnity carriers.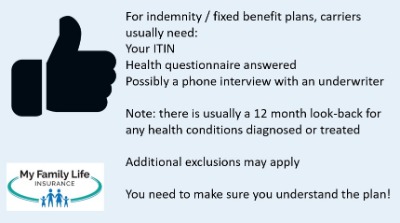 The application process includes answering a health questionnaire and including your personal information like home address and date of birth. Usually, these carriers do not cover pre-existing conditions for 12 months. On the 13th month, however, the condition is then covered.
Additionally, if you have a moderate-to-severe health condition, the carrier may not cover the condition at all or decline your application.
The premiums on these plans are usually 50% less than that of an ACA/exchange plan. They work well for those people who want more control of their healthcare options, expenses, and cost management.
Over time, these plans can save you money. As an aside, many US citizens are gravitating towards this type of insurance as health insurance out-of-pocket costs continue to skyrocket.
If you are interested in this type of insurance, it does require education to understand.
Second Option – Short-Term Health Insurance
You have another option. You can apply for a short-term medical policy or short-term health insurance. What is a short-term health insurance policy? It is a policy designed to last less than 12 months, although, depending on your state, many states allow up to 3 years of coverage.
These plans generally exclude pre-existing conditions. Obviously, any health conditions diagnosed or treated during the term ARE covered.
What happens at the end of the term? That is a great question.
You have to reapply. That means if you are diagnosed with a major illness or accident during this timeframe, you probably won't be covered in the future. This is an important consideration you must understand.
You may be thinking you will be subject to underwriting and pre-existing conditions when you reapply. Generally, that is the case.
What do these short-term medical plans cover? Well, just about everything, including:
(1) Doctor visits and hospital stays
(2) ER visits, emergency services, and ambulance service
(3) Laboratory work, imaging
(4) Diagnostic testing, cancer screening
(5) Much more
Some services are not covered. We discuss those below.
Premiums are about 20% less than comparative major medical policies and about 50% less out-of-pocket costs (i.e. deductibles, copays, coinsurance).
Again, these policies do not meet the requirements of the ACA.
Short-term medical plans usually do not require an ITIN. Usually, the only requirement is that you reside in the United States. This is a health insurance plan that doesn't require people to have a social security number.
These plans work well if you are marrying a non-US citizen. When your spouse receives his or her green card, he or she can then pivot to an ACA plan.
Requirements To Apply For A Short-Term Medical Plan
The requirements are similar to that of an indemnity plan.
However, usually, no ITIN or social is required on the health insurance application.
Additionally, some carriers have a minimum residency requirement of 12 months. In other words, you have to have lived in the US for 12 months continuously to apply. Other carriers don't have this requirement.
Finally, there is a health questionnaire to answer as well. As we stated, if you have any chronic or severe health condition, carriers likely will decline your application.
Services Not Covered – IMPORTANT
Since these plans do not follow ACA guidelines, there are some services which are not covered. We have addressed these situations before in the article, but they bear repeating. These services include, but are not limited to: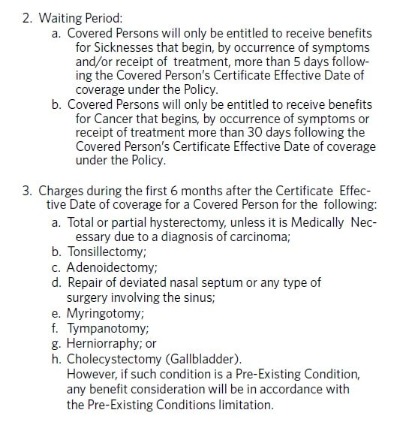 (1) prescription drugs – we offer a separate prescription drug insurance plan or a discount prescription drug plan
(2) normal pregnancy – so if you are looking for pregnancy or childbirth coverage, this policy WON'T pay
(3) pre-existing conditions – usually a 12-month lookback period for any health conditions. As we said, on the 13th month, conditions are covered unless the carrier specifically says they don't or specifically exclude them from coverage.
Each option has specific exclusions as well. (Note: for transparency, we go over these exclusions.)
Underwriting is a requirement with these options. Usually, the underwriting process is a health questionnaire.
Please be aware that you will have out-of-pocket costs with either plan – all health insurance plans have some type of cost-sharing.
Third Option – Temporary Travel Medical Insurance
If you have a VISA or will soon obtain a VISA, temporary travel medical insurance works as well. There are options for every state. However, this is available for people with VISAs. Why? If you submit a claim, your VISA is supporting documentation and proves your lawful presence in the US.

However, travel medical insurance is temporary. Moreover, carriers explicitly state they do not cover chronic or pre-existing medical conditions.
---
An Agency That Can Help
Although we do not work in the health insurance space, we partnered with Agile Health Insurance to provide you with the options you need.
They can provide you with options. When you click on the link above, you will be able to see their offerings. You can then select, for example, short-term medical, enter your zip code, and quote.
---
FAQs About Health Insurance For People Without A Social Security Number
We answer some common questions about health insurance for people without a social security number.
Do You Need A Social Security Number To Purchase An ACA Health Insurance Plan?
A social security number isn't necessarily a requirement to purchase an ACA plan. The government uses the SSN to determine who you are, your eligibility, and your lawful presence in the US. You can have a social security number and still be ineligible for an ACA plan.
If I am A New Immigrant To The US With No Social Security Number, Can I Obtain Health Insurance?
That depends on your situation. Present immigrants and immigrant families may be able to purchase an ACA plan if they have a lawful and legal presence here in the US. If you don't, then the other options we discussed could be available.
Can My Entire Family Apply?
Yes, you can and any household members apply for health insurance.
How Do I Know What Health Insurance Options I Have?
The best thing to do is contact your state's health insurance exchange and see what is available. As we discussed, depending on where you live, other health insurance options may exist.
​I Currently Have A Medical Condition. Will That Be Covered?
​An ACA Plan covers pre-existing conditions. That is a major advantage of the Affordable Care Act. However, if you are ineligible for an ACA plan, then the health insurance options we described earlier typically will not cover pre-existing conditions until after a year of being on the insurance plan.
I Just Need Prescription Coverage. What Can I Do?
If you just need prescription drug coverage, we have a couple of options. No social required.
We work with several prescription drug discount cards. My favorite one is Clever Rx. You can enroll here, if you wish: Digital Card | Clever RX
Prescription drug discount cards are not insurance.
If you want an insurance-type program, we do offer a prescription program that doesn't require a social security number to join. It is RxCare America. It is a membership-type program and works very well for generic medication, diabetes medication etc. You can learn more and enroll here: RxCare America
​Do I Contact The Social Security Administration About My Eligibility?
The Social Security Administration does not manage the Affordable Care Act or health insurance. Neither does the Internal Revenue Service. These are common misconceptions.
It is the Department of Health and Human Services that manages the ACA. You will want to contact them about your eligibility.
---
Final Thoughts For Health Insurance For People Without A Social Security Number
We hope that you now know you can get health insurance even if you don't have a social security number.
As we discussed, the options include:
Indemnity plan
Short-term medical insurance
Temporary travel medical insurance
As we mentioned, contact your state health insurance exchange to see what is available.
Although we do not currently help people without social security numbers obtain health insurance, we can help you with dental insurance.