The Best Personal Accident Insurance We Like For Individuals And Families [Affordable And Great Value]
Updated: October 22, 2020 at 10:10 am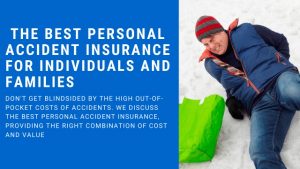 I think you'll agree with me having a strong, affordable personal accident insurance policy gives you peace of mind.
There are few things that can be worse than going to the ER or urgent care, right? ER and urgent care visits dampen any day. I mean, most people don't wake up and say, "Honey, let's spend 5 hours at the ER today!"
Ask the 40 million people who visited the ER last year for non-fatal accidental injuries (not including urgent care). That's a lot of people. Did you know they spent, on average, $1,400 per visit?
That's a lot of money! Talk about adding insult to injury! (No pun intended.)
You know that your underlying health insurance won't cover these accidents well, especially if you are still within the deductible range of your health insurance.
That means a huge bill that's hard to pay, considering most Americans don't have $1,000 saved for an emergency.
That's where accident insurance comes in. Accident insurance will help pay these deductibles and out-of-pocket costs so you no longer have to worry. There are so many accident insurance policies, what do you choose? We reviewed several, so you don't have to do the legwork.

In this article, we discuss the best personal accident insurance policies for individuals and families. We look at affordability and value as well.
Feel free to click on a link and jump around. Let's dive in (not literally!) with a discussion on the types of accident policies.
---
The Types Of Personal Accident Insurance Policies
When someone says, "accident insurance", most people conjure up the wrong image. We aren't talking about accident insurance for your car or truck. That is completely different.
We are talking about accident insurance in case you fall off the later and hurt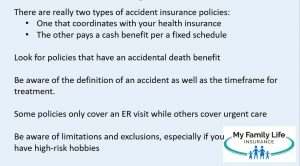 your back. Or, if you are making dinner and slice your finger. Or, if you are moving furniture and you accidentally let go, whereupon the object breaks your spouse's foot (umm…I plead the 5th 🙂 ).
Also, if you unexpectedly die from an accident. Accident life insurance is a component of accident insurance.
By now, you know that a personal accident insurance plan helps pay for your out-of-pocket costs attributed to your primary health insurance.
There are really two types of accident insurance policies:
One that coordinates with your underlying health insurance, and
Those that pay a fixed benefit based on the service or procedure
Next, we discuss these two options in greater detail.
Accident Insurance That Coordinates With Your Health Insurance
All coordination means is that the accident insurance pays any remaining out-of-pocket costs after your health insurance pays.
The best way to describe this is through an example.
Let's say you are painting the side of your house, and you fall off the ladder. You are hurt. Your spouse calls the ambulance. It takes you to the emergency room. You have some x-rays done and an MRI. Thankfully, your back is OK. Nothing looks out of place, but sore. But, you did break your shoulder. They set the break and place you in a shoulder cast. You have a follow up with an orthopedic doctor.
After your health insurance pays, you receive a bill for $2,347 for all the services.
If you have accident insurance that coordinates, the accident insurance pays the $2,347. How great is that!
The personal accident insurance will also pay any remaining out-of-pocket costs in relation to your injury.
How does the other type compare? Let's see.
Fixed Benefit Accident insurance
Accident insurance that pays a fixed benefit pays off of a schedule, like the one below: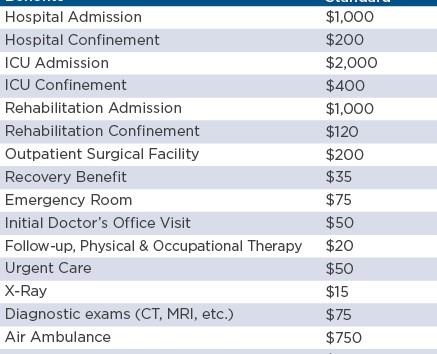 So, using the example above, you might receive:
$250 for the ER visit
$50 for the X-ray
$200 for the MRI
$500 for the ambulance ride
$2,000 for the broken shoulder
This all adds up to $3,000.
The carrier pays the $3,000. You use part of the $3,000 to pay the $2,347 bill.
Great, you say. What do I do with the remaining $653?
You keep it.

That is how indemnity insurance works. It pays on a fixed schedule. You can use the $653 fo other needs. Moreover, your follow up visit with the orthopedic doctor will reimburse $100 towards that visit. If you can negotiate with the doctor's office to lower the cost to $100, you just got yourself a free visit.
It's important to note that indemnity insurance leaves you short as well. If your out of pocket cost was $4,123, then you would have to pay the remaining $1,123 out of your pocket. (But, it is nice to know you won't have to pay the full $4,123!)
---
The Makings Of  Good Personal Accident Insurance Policy
There are a million accident insurance policies available. OK. I'm exaggerating, but there is a lot.
How do you separate the best personal accident insurance policies from the not-so-good ones?
Well, here's a list that we like to see in our policies:
includes 24-hour coverage
liberal definition of an accident
includes accidental death and dismemberment
liberal time between the accident incident and seen
includes urgent care visits when possible
A solid accident insurance policy pays for the following:
Hospitalization
Ambulance Riders
CT Scans/X-Rays
Doctor Visits
ER Visits
Drugs
Specialty visits
Surgeries
Durable Medical Equipment
And much more.
A good policy is one that balances premiums with value. Would you spend $75 for a $75 benefit? No! So, we also considered the value the plan offers to individuals and families.

Although not imperative, a policy containing an accidental death benefit is beneficial. We like those policies containing accidental death, too.
Having said all this, we now list the best accident insurance policies we feel can protect you and your family from the costs of unexpected emergencies.
---
The Best Accident Insurance For Individuals And Families
Here we list the best accident insurance policies for individuals and families. These are in no particular order. I selected these because what I feel is the best combination of cost versus value.
LifeSecure
LifeSecure is a great carrier, and they are actually part of the Michigan BCBS. Don't worry, though. You don't need to purchase BCBS health insurance!
LifeSecure has the "coordination" plan. Its benefit payments coordinate with your out-of-pocket expenses.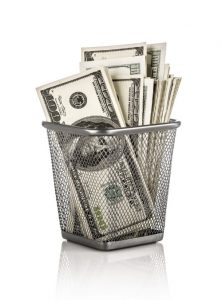 They conduct their accident plan with a bucket of money. You have a bucket of money available for accidental injuries. Ideally, you want the bucket of money to match your annual, maximum out-of-pocket expenses.
I find they have one of the more flexible plans. They do, however, have an excess coverage clause in their contract.
They have an accidental death benefit available in most states.
Application ages: 18-74, depending on the state.
Guaranteed Renewable For Life: No, ends at 75, depending on the state.
72 hours to have your accident looked at. After that, it is not coverable.
24 hour of coverage: Yes
Will pay for coverage: Received in a Hospital, including an Emergency Room, Urgent Care Center, or Physician's office
Definition of Accident: results in bodily injury, after the effective date and while in force, is INDEPENDENT of any disease, bodily or mental infirmity, illness, (except infections which result from an Accidental Injury or infections which result from an accidental, involuntary, or unintentional ingestion of a contaminated substance), or any other physical condition
Claims process: submit claim form, with EOB, and proof of loss like a bill.
Other benefits: a disappearing deductible if you don't make a claim and accidental death and dismemberment in some states.
Manhattan Life
Manhattan Life's accident insurance is called PAID (Personal Accident Indemnity Delivery). It is an indemnity, fixed schedule benefit as we described earlier.
Manhattan plan includes many benefits including a physical therapy payment.
Application ages: 18 to 64, depending on the state.
Guaranteed renewable to age 70. After that, the policy expires.
The definition of an accident is a sudden and unexpected bodily injury.
Different treatment timeframes exist for the type of accident or means. I suggest you review your policy to see these timeframes or contact us. Nevertheless, if you feel hurt or something is bothering you, go to the ER.
Urgent care services are covered but limited in payment.
Other benefits: Optional wellness benefit ($60 reimbursement per person for doctor visits). Note: this is usually worth the extra cost. A family of 4 will get $240 back just for going to the doctor, dentist, a physical, etc. Also, an accident-only disability income rider is available.
The policy contains an accidental death benefit.
UCT
UCT is United Commerical Travelers.  You likely have never heard of them. Their plan is not in every state.  They are a fraternal organization. However, we included them here because they have a nice plan.
Their plan is a "bucket of money" plan which is "refilled" every calendar year. You can select:
$1,000
$2,500
$5,000
$10,000
It is 24-hour coverage.
One of the great things about the plan is the 30 day initial treatment period. Wow! That means you get hurt on June 1, for instance, you have until June 30 to get checked out and the accident approved.

Application ages: 18 to 70.
Guaranteed renewable for life: Yes! We like this a lot.
The definition of an accident is any sudden and unexpected injury.
There are no additional options. The timeframe of 30 days and guaranteed for life make it a compelling choice for any family.
I included UCT because of the ability to have the policy for life. Remember, as people age, mobility becomes limited. Seniors become more susceptible to falls and injuries.
As we mentioned, the policy is not available in every state. It is in AZ, CO, GA, IL, IN, MI, NE, NV, NC, OH, OK, SC, TX, WY

---
Premium Cost Of Accident Insurance
You should expect to pay anywhere from $20 to $30 per month for individual coverage and $50 or a tad more per month for family coverage.
You may think this is cheap. It is. The reason is that while accidental injuries happen, the probability is low. You may think, like other financial planners and people, that accident insurance is a waste of money. It's not. The primary reason is that accidents do happen. Additionally, the out-of-pocket cost of health insurance rockets into the atmosphere with no end in sight. Accident insurance is an affordable way to protect yourself and family from this rising cost.
---
Now You Know The Best Personal Accident Insurance For Individuals And Families
Thank you for reading this article. Now you know the personal accident insurance plans we feel are the best. We do work with other plans, but we feel these personal accident insurance plans are the best. Why? They all offer something unique for individuals and families.
How can we help you out? We can review your situation and help you determine the best course for you and your family.
Afraid or not sure what to do next? You don't need to worry about us. We are required to have your best interests first. Other agencies or agents can't say that. Contact us or use the form below. If we can't help you, you've learned something new, and we'll part as friends.
Learn More
Are you interested in learning more about the information in this article? Please fill out the form below, and we will email you additional information or give you a call. We always work in your best interest. By entering your information, you are providing your express consent that My Family Life Insurance may contact you via e-mails, SMS, phone calls, or prerecorded messages at any phone number(s) that you provide, even if the number is a wireless number or on any federal or state do-not-call list. Additionally, you understand that calls may be placed using automated technology, and that consent is not a requirement for purchase. Your information will NOT be sold and will remain private. However, you may opt out at any time. We respect your privacy first and foremost.