The 2 Most Important Insurance Policies For Newlyweds | I Bet You Don't Have Enough Of These
Updated: March 30, 2020 at 8:05 pm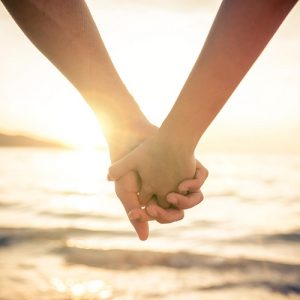 Insurance policies for newlyweds? "Ha!", you think. "Do you know what we have been doing?", you ask.
No doubt this is a busy time for you. You went from cake-tasting and registry selection to writing thank-you notes and getting adjusted to married life. We at My Family Life Insurance say congratulations! Enjoy this time in your life. Have fun together. You are forming one life; enjoy it. Can you imagine your life without the other? No. We know you can't. Once your life settles down a bit, a serious discussion needs to be had. Yes, about insurance.
In this article, we discuss the two most important insurance policies for newlyweds.
I can see you are looking at me sideways. "What discussion is there that my spouse and I haven't already talked about?" you ask.
"Well, it deals with love and insurance," I say.
"Love AND insurance? Ha! Come on, John, you can do better than that!" you respond.
There is more to love than walks on the beach and a candlelit dinner for two.  There is solidifying a future together.
In this article, we discuss the two most important insurance policies for newlyweds. By the time you are finished, you should have a solid understanding why you need these insurances. You already said your "I do's". These are "must-do's."
And, truthfully speaking, if you don't take action, I question how much you love your spouse and family. It is a tough statement; however, you will see what I mean after reading this article.
---
Nothing Says I Love You Like…
I'm sure you have seen the commercials and ads. Nothing says I love you like…
            chocolate chip cookies
            diamonds
            saying "I Love You"
            vanilla ice cream and espresso
            (insert your favorite here)
With all due respect, these choices are all wrong.
Insurance is the correct choice. Yes, that is right, but not just any insurance.
There are two types, in our opinion, that are the most important insurance policies for newlyweds out of all of them. Do you know which ones?
Car insurance? No. Homeowners? Nope.
You do need car and homeowners insurance. However, these aren't the two most important insurance policies for newlyweds.
Health insurance, you say. You are getting close. It is important, and you do need it. However, we find that nearly everyone has health insurance, and nowadays, thanks to the ACA (i.e. Obamacare), it's no longer a choice. Thus, we don't consider it as one of the most important insurance policies, either.
The two most important insurance policies are life insurance and disability insurance.
"What?" you say. "Come on, John."
Read on to find out why. Don't worry. I'll include some real-life examples that will drive the point home.
---
Why Life Insurance Is One Of The Most Important Insurance Policies For Newlyweds
Here's a little background on life insurance. If you die with an in-force policy (that means, it is current and has not expired for any reason), your spouse will receive a death benefit income-tax free. How is the insurance company able to do this? The insurance company takes the premium and invests it. Your policy is one of thousands. The carrier is able to spread its risk (that it WILL have to pay a death benefit) among different classes of insureds, including you. It is able to guarantee your death benefit by spreading this risk out to thousands of other policy holders while investing it to ensure the death benefit is there.
Insurance is a form of risk transfer. You pay a small premium. In return, the insurance company pays a death benefit (sometimes very large) in case you die.
The best way to describe why life insurance is one of the most important insurance policies newlyweds can have is through a real-life example.
Example Of The Benefits Of Life Insurance
Here is a true story of a couple who worked with a colleague of mine. We will call them Jack and Deborah. They each purchased adequate term life insurance through my friend. They had one small child, and they did recently purchase a home. The death benefit included money for the surviving spouse to live on, pay off the mortgage, and establish a college fund for their child and a future child (they wanted at least 2 kids).
Jack liked to run. He was running on his treadmill at home when he had a heart attack and died. He was very young. An autopsy showed that he had a congenital heart defect that, unfortunately, went undetected for many years.
This has to be one of the saddest stories. Fortunately, Jack had the life insurance in which Deborah was able to maintain her standard of living for herself and her child. Life insurance secured Deborah's and her child's future. No worry about money, the home, or college. She could grieve in freedom without worrying about money.
Can you imagine if that happened to you? What concerns you the most if your spouse were to unexpectedly pass away without adequate life insurance for you, your future, and your family to continue on?
What would you do if that happened?
Here is what life insurance really means. Having life insurance on your own life says, "(Insert your spouse's name here), I love you so much that in case the unexpected were to happen, I want your future to be secured and set financially. I don't want you to worry." It says, "I can't be here for you, but I can ensure your and our family's future is safe."
I Have Life Insurance Through Work…
"That is a sad story, John," you say. "But, I have life insurance through work."
That is great to hear. How much life insurance do you have through work? Is it 1X or 2X salary? I would be surprised if your company allows anything more than 3X salary.
Why?
Insurance companies want to keep their risk low and limit the amount of death benefit coverage for group underwriting. They know unhealthy people look to company group insurance as an affordable option for life insurance.
Stated another way, if you make $75,000 per year, 2X salary coverage is only $150,000. How long do you think that would last?
"Maybe a year or two?", you say.
Well, you are right. It won't last long at all. That is why you need individual coverage. Chances are, if you are healthy, you will pay less for your individual coverage than you are for your group coverage.
It is something to think about. $100,000, $150,000, or $200,000 won't last very long, especially if there are medical bills and other debt that requires payment.
Types Of Life Insurance For Newlyweds
There are many types of life insurance. Whole Life, Universal Life, and even non-medical types. As a newlywed, you should consider term life insurance. Term life is the cheapest. I am sure you'll need to save money and there's no better way to do that, than with term life insurance.
With term life insurance, you select a term (we suggest a 20-year term or greater, depending on your age) and a death benefit. Don't know how much you need? We have an easy life insurance worksheet you can use.
The aforementioned example isn't to scare you. It is intended to show that unexpected death can happen. However, with adequate life insurance, your surviving spouse and family can live on without money worries. That's what you would want, right?
Feel free to fill out the information in the quoting tool below if you want to see how much a simple term life insurance policy can cost you. Just input the pertinent information. Chances are, it is cheaper than you think.
---
Why Disability Insurance Is One Of The Most Important Insurance Policies For Newlyweds
It's easy to take your life for granted. While life insurance protects future income, disability insurance essentially covers your paycheck. Think of disability insurance as a spare tire or AAA.
Huh?
Well, just like the spare tire or AAA helps you get back on the road to your destination, a disability insurance policy can help your income "get back on the road" should you become disabled.
As a newlywed, you and your spouse surely have dreams and goals. What if one of you were to get sick and become disabled? What concerns you the most if your spouse had to have significant medical procedures because of a disabling condition? How would you pay for all of this?
This is what disability insurance does: it provides an income in case of long-term disability. (There is another kind, short-term disability insurance, which covers you for up to 90 or 120 days, depending on the policy. This type of policy is common with group insurance plans. We won't talk about it here, but contact us if you have any questions about short-term disability insurance.)
"Well, John, I am young," you say. "I'm not looking to become disabled."
Sure, you are young. And, no one is looking to become disabled. Disability, like death, doesn't discriminate. Young, old, unhealthy, or healthy, it can and does happen. It happens to the healthy of us.  A few years ago, the CDC published that 1 in 5 adults have a disability. The Social Security Administration estimates that 1 in 4 20 year-olds will have a long-term disability before the age of 65. The SSA also states that 1 in 3 Americans between the ages of 35 and 65 will have a disability lasting beyond 90 days. Let's hope not, but a long-term disability could be in your future.
I Have Disability Insurance Through Work…
"Disability insurance sounds great, John, but I already have some through work."
Again, that is great to hear.  Nearly all of us have some foundational coverage through work. Notice I use the word "foundational." Just like with group life insurance, group disability insurance is good, but not great. Why?
Your group disability insurance is typically paid pre-tax out of your salary. This means if you became disabled, the income benefit would be taxable. In other words, you would have to include the benefits in your income for the IRS and pay taxes on it.
"I didn't know that!" you exclaim. Not many do. As far as we know, your HR department is not required to tell you, either.
That means you could actually receive 30% to 40% of your gross earnings instead of the normal 60% to 70%. Can you and your spouse live off of 40% of your gross earnings? Most can't. That's why an individual disability insurance policy is useful. These policies are paid with after-tax money, but the benefit is income tax-free.
Disability Insurance Details
While we won't go into great detail on the in's and out's of disability insurance in this article, you want to make sure you have the right balance of coverage, premium, and benefit term. You also want to make sure your policy has the right definition of disability.
Now, can you see why disability insurance is one of the most important insurance policies a newlywed couple can have?
"Well, John, you make a good point, but I have so many other insurances like car and homeowners insurance," you say. "I'll be insurance poor."
We are talking about your life here, and love for your spouse and family. We aren't talking about tangible objects like a car or home which, let's admit to it, are replaceable.
Here is an example that will drive this importance of disability insurance and its cost home.
Example On The Importance Of Disability Insurance
It takes perspective to understand the need for disability insurance. How much do you spend on your homeowners and auto insurance? Let's say you spend $1,800 on auto insurance annually, $500 on homeowners insurance, and $350 for an excess liability umbrella policy. I know the values can be different based on location, driver history, type of home, etc. However, the below estimates are not extravagant, and they are completely plausible.
Here's what it could look like: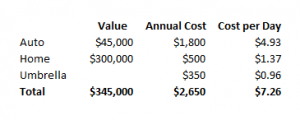 Let's take a look at YOU. Let's say you are 25, healthy, with a good office job. You make $75,000 gross annually or $6,250 monthly. 70% of your gross monthly earnings is $4,378. This $4,378 is payable to you income tax-free upon a long-term disability. In other words, you are protecting $4,378 per month. Let's again say you want to protect this amount until your retirement until age 67, and this monthly income benefit will adjust annually with inflation.
Now, let's look at YOU again in the chart.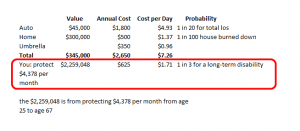 We looked at several carriers and took the average disability insurance premium. Compare the probability of loss (we found varying ranges and took an estimate of the probability for the auto total loss and your home burning down), the cost per day, with the total value protected. Does it surprise you that you could earn over $2.2 million in your lifetime, yet not protect it for such a small premium, compared to the other insurances?
We aren't saying auto and homeowners insurance are not important. They are. I'm saying you need to change your perspective on YOU. After all, the car and home are replaceable. You are not.
If you need some assistance in determining your benefit needs, we created an easy disability insurance worksheet to help you out.
---
Now You Know The 2 Important Insurance Policies For Newlyweds
Life doesn't get any sweeter when you can spend it with the rest of your life with someone you love. And, it is for this reason why life insurance and disability insurance are the 2 most important insurance policies for newlyweds. They directly affect you, your spouse, and your family. You don't "love" your car or your home. You love your spouse and your family. Sure, a car is nice, but can be replaced. And, we don't want anything to happen to our home, either. You and your spouse and family can't be replaced.
We know there is a lot of content here. Feel free to reach out to us for a quote or just to talk about your situation. We have helped many newlyweds obtain the right coverage so that they can live life together without worry and with peace-of-mind.
Learn More
Are you interested in learning more about the information in this article? Please fill out the form below, and we will email you additional information or give you a call. We always work in your best interest. By entering your information, you are providing your express consent that My Family Life Insurance may contact you via e-mails, SMS, phone calls, or prerecorded messages at any phone number(s) that you provide, even if the number is a wireless number or on any federal or state do-not-call list. Additionally, you understand that calls may be placed using automated technology, and that consent is not a requirement for purchase. Your information will NOT be sold and will remain private. However, you may opt out at any time. We respect your privacy first and foremost.