How To Save More Money With The Clever Rx Discount Card [Potentially Save More Money Compared To Other Discount Cards]
Updated: August 4, 2020 at 7:59 pm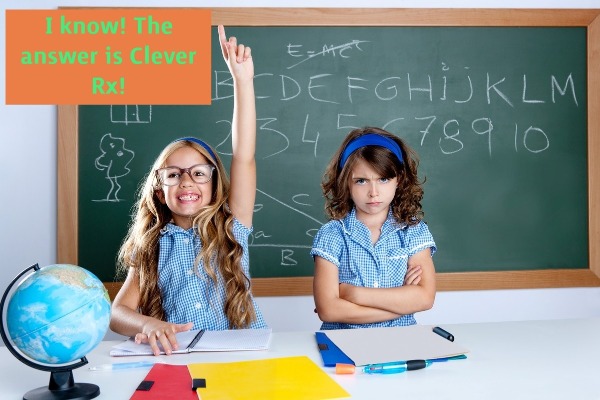 I know there are a billion prescription pharmacy discount cards, but one that stands out to us is Clever Rx. Here's why.
You simply, on average, save much more money on prescriptions compared to other prescription discount cards.
It's true, on average. That means, not every time, but most times.
Additionally, the pricing is guaranteed to be the same on the phone app, and in the pharmacy, and are often lower than the copays of your own insurance.
Of course, it is free, too.
Let's get into the details on this great card and how it can save you money on your prescriptions (including for your pets!)
---
Why Clever Rx?
I know there are a million prescription discount cards available, the most popular, arguably, being GoodRx.
Being the most popular doesn't mean it's right for you, though. Have you heard of Clever Rx?
No, I bet you have not.
Did you know Clever Rx not only saves you (on average depending on the drug) 80% off the retail cost of most drugs, but also beats many of the other cards themselves?
Yes. Including GoodRx and some of these other popular ones.
That's right. Not every time, but most times.
How? Well, we discussed in another article how these prescription discount cards work. Clever Rx is no different.
---
How Does It Work?
Simple. You just sign up through our partner portal (we have it, too). Make sure you download the app. Clever Rx guarantees the price on the app matches the actual price you'll pay in the pharmacy.
When you are ready to get a prescription filled, you can look up the lowest-priced pharmacy in your area.
How cool is that?
You can direct your doctor or provider to send the prescription there. You can then print out the voucher form, print out your card (laminate it and keep it in your wallet or purse), or use the app. Nearly all people use the app nowadays. The clerk will scan the card on the app, and you will receive the prescription for the price you see on the app.
Simple.
---
Clever Rx Prescription Drug Price Comparison
I know what matters to you. Cost. It matters to me, too.
I said before that the Clever Rx price often beats out other cards.
The key here is the word, "often".
In other words, not every single time.
But, let's check and see, and I think you will be surprised.
Let's go over some of the commonly prescribed prescription drugs and then more expensive ones.[/vc_column_text][/vc_column][/vc_row]
---
Prescription Drug Cost On Commonly Used Drugs
OK. So, you are probably thinking, "Show me some pricing that proves Clever Rx competes with these other prescription discount cards."
Sure.
Before we get started with that, please keep the following in mind:
costs from membership warehouses (like Costco) excluded
arbitrarily search prescription drugs for zip code 64503, (St. Joseph, MO)
these costs can change anytime
quantity of 30
exclude pharmacies outside 10 miles (why drive that far unless you have to and the savings extreme)
exclude Walmart as outside of mile range, but they (generally) have the $4 generics available on all of these cards, including Clever Rx
We compared with the following popular cards: GoodRx and WellRx/Scriptsave.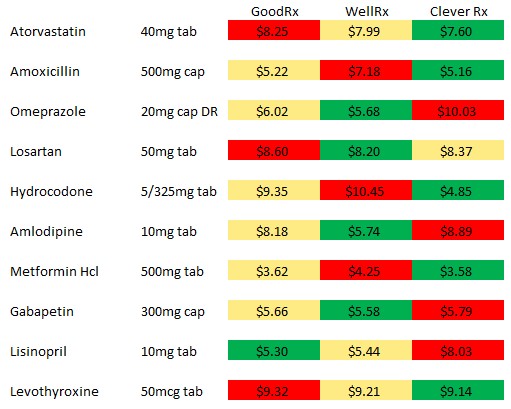 What do you think? You might be asking, "John, you said this would beat other cards?"
Clever Rx does, and look closer. With the exception of the Omeprazole and the blood pressure drugs, Clever Rx is competitive on 7 of the most prescribed and competitive drugs in the United States.  (As an aside, we also work with Well Rx/Scriptsave.)
Remember, too, being the most popular doesn't mean it is right for you. Moreover, and we must continue to address this: these prices are subject to change anytime.
Ok, John. What about some of these really expensive drugs? How do they compare?
Let's show those as well.
---
Clever Rx Price Comparison On Other And Higher Cost Prescription Drugs
Let's look at some other drugs. Same thing here as above. We look at prescription drugs across Well Rx, GoodRx, and Clever Rx.
Best Prescription Discount Card For Suboxone: Clever Rx
Suboxone is used to treat drug dependence, such as opioid dependence. For 14 sublingual tablets, 8mg-2mg, the Clever Rx price for Suboxone is $24.36.
Compare this to the Well Rx and GoodRx price of $27.66 and $28.83, respectively.
Best Prescription Discount Card For Adderall: Well Rx
It looks like Well Rx currently provides the better price for Adderall (30 quantity, 30mg) at $14.44.
As we always say, it's important to confirm these prices with the other discount cards.
However, you don't have to worry about Clever Rx's prices. They guarantee what you see in the app is what you pay. Clever Rx's price for Adderall is $16.51. Finally, GoodRx is $18.34.
As an aside, we do provide Well Rx as well.
Best Prescription Discount Card For Buproprion: Clever Rx
Buproprion treats depression. Clever Rx's price is $11.17 for 30mg, 150 tablets.
Well Rx and Good Rx prices are $14.59 and $15.30, respectively.
Best Prescription Discount Card For Lidoderm Patch (Lidocaine): Clever Rx
You probably know lidocaine / lidoderm treats pain, usually in tube or patch. Clever Rx's price for Lidocaine / Lidoderm patch (5%, 30 quantity) is $56.41.
Compare this to Well Rx. Their price is $66.70. Additionally, GoodRx's is $68.12.
I think you'll find many prescription drugs competitive with the Clever Rx app.
---
---
Frequently Asked Questions About Prescription Discount Cards And Clever Rx
I am sure you have several questions about the Clever Rx discount card. We address them here.
Can I Use A Prescription Discount Card With Insurance?
No. You can't. You have to use either a prescription discount card or insurance, but you can't use both for the same purchase.
However, you can compare your prescription insurance price versus your discount price, and then pay the lower amount.
For example, I have a $10 copay on prescription fill for amoxicillin through my insurance. However, I paid $5.16 through the Clever Rx app and saved myself about $4.84.
Who Can Use These Cards?
Anyone. I have prescription insurance, and I use the Clever Rx card whenever I pay less than what I would pay if I used my insurance. It's free and offers great flexibility.
A prescription discount card is useful if you:
want to save money
have insurance and want to compare (My family and I use Clever Rx and always pick the cheapest option)
are on Medicare and need a secondary prescription option
missed Part D enrollment and need something
have pets
Can I Use This Card For My Pets?
Yes. The Clever Rx card allows prescription medication for your pets. Your veterinarian just needs to place the fill at the pharmacy of your choice.
---
Now You Know You Can Save Money On Your Prescription Drug Costs With Clever Rx!
What do you think? Yes, you can save money on your prescription drugs using Clever Rx. Moreover, as we illustrated, the card beats out most competitors.
Would you like to learn more? There's no risk. Remember, it is free! You can click on the link above or contact us. Additionally, you can use the form below to contact us.
We would be happy to discuss further and answer any questions you have. Feel free to reach out to us or sign up through our link.
Learn More
Are you interested in learning more about the information in this article? Please fill out the form below, and we will email you additional information or give you a call. We always work in your best interest. By entering your information, you are providing your express consent that My Family Life Insurance may contact you via e-mails, SMS, phone calls, or prerecorded messages at any phone number(s) that you provide, even if the number is a wireless number or on any federal or state do-not-call list. Additionally, you understand that calls may be placed using automated technology, and that consent is not a requirement for purchase. Your information will NOT be sold and will remain private. However, you may opt out at any time. We respect your privacy first and foremost.