Dental Insurance For Teeth Grinding
Updated: December 9, 2018 at 7:37 am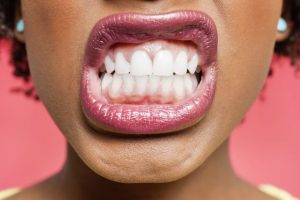 Teeth grinding, also known as bruxism, affects between 8% and 31% of the US population, children included. This condition causes additional stress including, but not limited to headaches, tooth wear, jaw stress, and dental damage. You may have heard that dental insurance does not cover teeth grinding, including the night guard. That is partially a true statement. However, this situation isn't entirely true. Some insurance cover teeth grinding. In this article, we discuss dental insurance for teeth grinding.
What Is Teeth Grinding (Bruxism)?
Bruxism is excessive teeth grinding and/or jaw clenching. There are a couple of types of bruxism: sleep bruxism and awake bruxism. Sleep bruxism is the more common condition and the one we will talk about here.
Although the causes are unknown, doctors believe Bruxism related to physical, psychological, and genetic factors including age, stress, and personality.
Teeth grinding, jaw/teeth clenching is easily treated by a dentist. There are a few different types of treatments, including night-time mouth guards or mouth splints. Other treatments include medication and even botox (for severe situations).
However, mouthguards and splints are usually common remedies.
Does Dental Insurance Cover Teeth Grinding?
We receive many inquiries from people dealing with grinding teeth. They want to know if their dental insurance covers teeth grinding. The answer is: sometimes. It really depends on your plan. Some plans cover it and other plans do not. If you are unsure, it is best to check your outline of coverage or call your plan to find out.
If your insurance does cover teeth grinding, the coverage is likely a major service. This means your cost sharing is typically higher than compared to teeth cleaning or a filling. This is why we recommend always using an in-network dentist when it comes to dental insurance. If your dentist does not accept insurance, we have options, too.
Additionally, major services usually have a 12-month waiting period. This waiting period is very common with dental insurance carriers. What does this mean? As we wrote before, if you want to receive an immediate benefit from your dental insurance for teeth grinding, you should purchase the policy 12-months in advance, long before you think you will need it.
The Best Dental Insurance For Teeth Grinding
Luckily, we work with many dental insurance carriers. There are two carriers we like who cover teeth grinding.
One carrier is very economical and an easy plan to work with. It is available in most states and has a robust dental network. Like other covered carriers, teeth grinding is a major service. However, like most plans, coverage for teeth grinding is at a 12-month waiting period. This means you really need to buy the policy 12-months in advance or just wait it out.
Another carrier we like is also very economical. (Can you see a trend…we want you to save money.) They have solid premiums for the benefits. Moreover, they offer day 1 coverage for conditions like teeth grinding. Although, you will have a higher cost sharing for day 1 coverage than if you waited for 12-months.
For example, let's say your dentist recommends a night mouth guard for teeth grinding. Let's assume the dentist is in-network (we always recommend) and the costs are $500 per the insurance contract. If you went to the dentist immediately and utilized day 1 coverage, you would have to pay 85% of this cost or $425. The insurance carrier picks up the balance of $75.
However, let's say you wait a year. Your cost sharing is now 50%. Your cost is $250. Much better, right?
Conclusion
There is dental insurance for teeth grinding. Does your insurance cover this condition? If not, we can help. We work with many carriers and can find the right one for you. As always, we work with your best interests at all times. This means if there is another carrier that works better for you which we don't support, we will let you know. Contact us or use the form below to let us know how we can help.
Learn More
Are you interested in learning more about the information in this article? Please fill out the form below, and we will email you additional information or give you a call. We always work in your best interest. By entering your information, you are providing your express consent that My Family Life Insurance may contact you via e-mails, SMS, phone calls, or prerecorded messages at any phone number(s) that you provide, even if the number is a wireless number or on any federal or state do-not-call list. Additionally, you understand that calls may be placed using automated technology, and that consent is not a requirement for purchase. Your information will NOT be sold and will remain private. However, you may opt out at any time. We respect your privacy first and foremost. By contacting us, you agree to receive text messages from our number (800) 645-9841. If you no longer wish to receive text messages, you may opt out at any time by replying "STOP".