How To Get Approved For Term Life Insurance Wicked Fast | No Medical Exam! No Agent! Instant Approval!
Updated: November 11, 2020 at 10:23 pm
You've heard the saying, "sometimes, it is too good to be true…" Well, that is not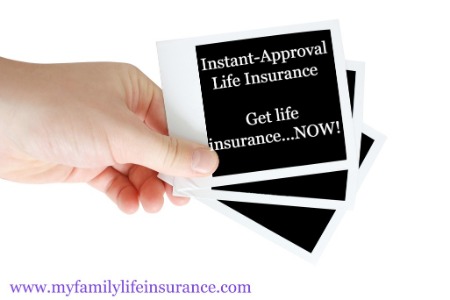 the case in getting term life insurance with instant approval nowadays.
You see, the life insurance industry has come a long way with issuing life insurance policies. Before, even as far back as 5 or 10 years ago, you'd have to speak to a life insurance agent. And, you had to go through a paramedical exam. The carrier could also order your doctor records as well.
All told, the whole process could take 8 weeks, or more, depending on the applicant's situation.
Not anymore!
Now, you can get term life insurance wicked fast. With no medical exam. Moreover, you'll get a decision instantly. Additionally, you don't even need to speak to an agent in nearly all cases!
How great is that?!
Most importantly,  the approval decision with this type of life insurance is usually instant or near-instant! That means, within the same day or a few days later, you will have coverage. The life insurance industry calls this instant-decision or instant-approval term life insurance.

In this article, we discuss the following:
Let's start by addressing the importance of getting life insurance fast with instant approval.
---
Why Instant-Approval Term Life Insurance Matters Today!
There are two main reasons as we see it.
For the same reason you go on Amazon for next-day delivery. Nowadays, we expect things to come quicker. The same goes for life insurance. With today's technology, there is really no reason for the life insurance process to take weeks and weeks. (But, there are cases that do, which we describe further in the article.)
Unfortunately, until recently, the length of time for life insurance approval was similar to that of receiving a letter via the pony express. (You "youngin's" likely won't learn that in history.)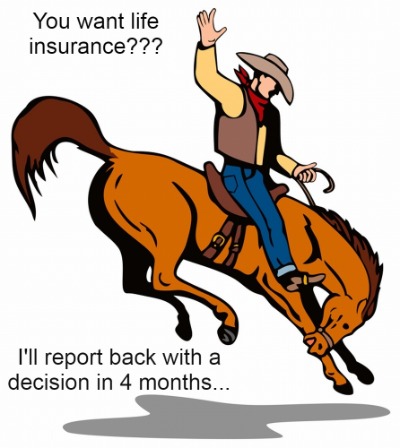 If you wanted life insurance, you had to:
Call an agent (ugh, right!),
Who would then offer you insurance (who knows if it was the right fit),
Then you would have to go through a paramedical exam, and
Wait.
You'd have to wait for up to 8 weeks or longer for a decision.
What a pain.
Not anymore.
Many carriers nowadays have gotten with the times. You can get life insurance easily now, without even speaking to an agent. Additionally, you can get an instant approval.
If you are considering life insurance, it's important that you try to obtain instant-approval term life insurance.
Why?
Contrary to what other agents say, there's no material reason to not if you qualify. The costs are minimally higher (and we will get to that in a moment). Moreover, you receive your approval and policy much quicker, which is the way the process should be now.
Additionally, many people put off the purchase of life insurance because they think the process is time-consuming. It is not (unless you have some moderate health conditions or special situations).
You can then be on with your life, take the life insurance coverage off the back burner, and place it into the "done" file.
We Are Not Talking About Burial Insurance
You probably think this sounds a lot like burial insurance. Burial insurance underwriting is extremely simple.
However, instant-approval term life insurance is not burial insurance.
Several big differences include:
low face amounts
need to speak to an agent in all cases
whole life insurance, usually
sometimes an instant-decision and sometimes takes time
probably have to go through a phone interview with an underwriter as well
We are talking about term life insurance in which you receive instant approval or near-instant.
As we have said, burial insurance requires you to speak to an agent. It is really designed for burial, funeral needs upon your death. In other words, when you die.

Term life insurance, on the contrary, pays a benefit to your family upon your unexpected death.
Additionally, you can purchase a much larger death benefit for your money. The reason, as we mentioned, is that the carrier pays a death benefit IF you die within the term period.
As we said earlier, as little as 5 years ago, instant-approval term life insurance was unheard of. Now, it's easy.
Let's discuss how instant-decision term life insurance works.
---
How Does Instant-Approval Term Life Insurance Works
It is simple.
You input your personal information on a secured application link. This includes your health history.
Then, the carrier looks up your history through available and private databases.
These databases include the:
MIB (Medical Information Bureau),
McMillian Intelliscript to check your prescription drug history,
Your Driving records,
Your credit history
Other public databases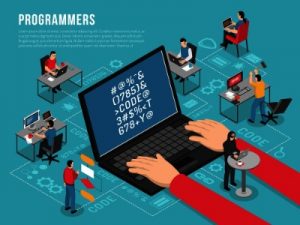 They take the information from these databases, use artificial intelligence, and apply algorithms to underwrite your policy.
The industry calls this process accelerated or predictive underwriting. Through this process, the underwriters determine your probability of unexpected death.
If your information fits with their predictive algorithms, you are approved! On the spot in most cases!
OK, but what if I am not approved?

That depends on the carrier. You are either automatically declined or your application goes to an underwriter for review. When this happens, the traditional approach to underwriting takes place. This approach could include a paramedical exam and/or ordering your physician records.
Please note: if you are declined, we can likely secure life insurance for you.
This brings us to an important point. Not everyone can simply apply and qualify for instant-approval term life insurance. We discuss those qualifications next.
---
Qualifications For Instant-Approval Term Life Insurance
Not everyone qualifies for instant-approval term life insurance.
But, don't worry. If declined, or if you don't fit the parameters, contact us. We can help.
Remember, you have to fit in the carrier's algorithm for predictive underwriting. We outline those qualifications below and in the next several sections.
Application Qualifications For Instant-Decision Term Life Insurance
This is general information and may be different across carriers
Up to $1,000,000 approval – some carriers cover less and some carriers more.

You generally need to be healthy…at most, low maintenance health conditions such as high blood pressure or cholesterol. Moreover, these conditions must be controlled.
Usually, application ages up to age 55, but some go to 60.
Some carriers limit the term to 10 or 20 years.
For you, though, you need to be generally healthy with low-maintenance health conditions.
---
Carriers We Like For Instant-Approval Term Life Insurance
There are many carriers who participate in accelerated and predictive underwriting.
In most cases, however, you need to speak with an agent with the following carriers:
Americo
Foresters
National Life Group
Mutual of Omaha
SBLI
AIG
Assurity
Manhattan Life
Additionally, you may not be approved right away. If there is information in your MIB, for example, the decision might take a few additional days.
Nevertheless, there is one carrier we like because you:
don't need to speak to an agent (if you don't want to), and
have a decision right away
We discuss this carrier next.
The Carrier We Like For Instant-Decision Term Life Insurance
We at My Family Life Insurance work with nearly all the life insurance carriers…and then some. I mean, we work with a ton. No matter your situation, we take pride in knowing we can find you some level of life insurance coverage at any age and health condition.
We have a good grasp of who will approve you quickly and who will not.
If you don't want to work with an agent, want a decision now (like today), and apply directly, Bestow (underwritten by North American Life Insurance Company) is really good.
Of course, I can't say they are "the best"; however, they have awesome rates compared to other instant-approval carriers:
Price Comparison Of Popular Instant-Approval Term Life Insurance Carriers
Assume 35 year-old healthy, non-tobacco applicant
Bestow
Underwritten by North American Life Insurance Company
Male Rates: $27.50 per month
Female Rates: $22.50 per month
WINNER!!!
Fabric
Underwritten by Vantis Life Insurance Company
Male Rates: $28.74 per month
Female Rates: $25.40 per month
Higher than Bestow!
Ethos
Underwritten by Banner Life Insurance Company
Male Rates: $35.00 per month
Female Rates: $30.00 per month
Higher than Bestow!
Haven Life
Underwritten by Mass Mutual Life Insurance Company
Male Rates: $41.42 per month
Female Rates: $35.40 per month
Higher than Bestow!
What do you think? Generally speaking, Bestow will be more competitive compared to other instant-decision carriers. Not all the time, but most of the time.
Additionally, you don't need to speak to an agent like me (honestly, though, people say I am extremely helpful. But, I "get it" when people don't want to be on the phone.)

Moreover, you will have instant approval. That means, no:
Paramedical exam
Blood work
Urine sample
APS doctor records
You will have none of that!
Interested? We discuss the simple application process next.
---
What You Need To Do To Apply With Bestow Life Insurance
Bestow says it wants to make purchasing life insurance easier. Amen to that. This is all you need to do:
Click on the link below (yes, this is our partner link. If you apply and approved through our link, we will receive a commission. Here is a fact. No matter where you go, the price is always the same price. That is the law. Someone will always earn a commission. If you apply through us, you will have peace-of-mind knowing we are here to help you every step of the way. Moreover, we won't bother you with phone call after phone call, either. Promise.)
Enter some information about yourself including your zip code and height/weight.
If you like the price, you can move on towards the application.
On the application, you will enter personal information through a secured, encrypted link.
Again, I need to stress the qualifications and parameters. We discuss those qualifications again.
Application Qualifications With Bestow
As we mentioned earlier, Bestow and North American (like all carriers who operate in the accelerated, instant-approval space) follow an algorithm for instant approval.
That means, if you are outside these parameters, your policy won't be approved.
Unlike other carriers in the accelerated underwriting space, you are either approved or you are not. Your application does not go to an underwriter. Artificial intelligence and algorithms determine your premium rate. If these algorithms determine you are outside their boundaries, they decline your application. (But, don't worry. We can find you life insurance if that happens.)
Here are the parameters to qualify and get approved for term life insurance fast with Bestow.
10 year term: anyone between the ages of 21 and 55
20 year term: depends. Women and non-tobacco use men between ages of 21 and 45. If men use tobacco, the age range drops between 21 and 43
US Citizen or Green Card Holder
Those with VISA: H1-B, L-1, or TN-1 can apply with a minimum 2-year residency living in the US
Preferred, Standard, or low substandard risks. (Related: see our article on table ratings which we discuss that these mean.)
No adverse financial or credit histories
No felonies, criminal history, DWI/DUIs
In other words, Bestow is just looking for young, working adults with good health and credit history.
No one is perfect. We all have "bumps and bruises". Moreover, most of us take medication.

Many people ask us if they take people with anxiety or depression. They do. However, there are parameters: no hospitalizations, the condition is mild, and you are taking a first-line medication treatment.
People with ADHD and obsessive-compulsive disorder can apply as long as mild and under first-line medication treatment.
Bestow and North American Life Insurance insures many low-substandard health conditions.
---
Cost Comparison Of Bestow With Other Carriers
I know what you are thinking.
John, this all sounds good, but it is going to cost a lot. It is going to be really expensive.
The answer is "no". It won't.
Will it cost more than a traditional underwritten policy, all things being equal? Yes, but not by much.
Remember we said that Bestow's algorithm will accept people in the preferred to low substandard rating.
That means if you are an elite or preferred best health class, you'll pay more for this insurance.
Is that going to stop you?
Look in the mirror? Are you really preferred best?
Likely not. I looked at the hundreds of people I've insured in the last 3 years. Only a handful qualifies as preferred best, like 3% to 5% of applicants.
So, the range of preferred to a low substandard rating will work for 95% of all of the population,
The question becomes, is Bestow life insurance competitive against similar, apples-to-apples policies?
The answer is, yes.
Feel free to quote yourself on our quoting tool. See for yourself. Remember, these carriers you see aren't instant-decision term carriers. If you decide to quote, remember we can give you a call, text, or other means. We aren't these typical agents who call you 1,000 times per day. We respect your privacy and don't sell your information.
You will pay more for instant-approval term life insurance, but not as much as you think. Check it out:

---
Who Is It Not Good For?
Not everyone will qualify for Bestow. If you don't, it is important that you contact us so we can determine the best life insurance option for your situation.
Bestow won't consider people with moderate to severe health conditions, like multiple sclerosis, bi-polar or schizophrenia, severe rheumatoid arthritis to name a few.
Additionally, being on disability, needing help with activities of daily living, or confinement to a wheelchair causes a decline with Bestow.

Again, if you have any moderate to severe health conditions, it is best to contact us. We have helped many people with disabilities and moderate/severe health conditions secure the life insurance they need.
Additionally, Bestow life insurance is a traditional term life insurance policy. It does not contain any living benefits. I am a big proponent of life insurance with living benefits. However, if this is not a concern for you, then Bestow life insurance will work just fine.
---
Now You Know You Can Easily Obtain Instant-Approval Term Life Insurance
You can easily obtain instant-approval term life insurance. It is simple. All you need to do is click on the button below and then follow the prompts:
You just need to follow the parameters we discussed and qualifications. If you do, you can easily obtain life insurance through Bestow.
Have any questions? You can always contact us or use the form below. If you don't think you fit in the parameters, let us know. We are happy to discuss your situation and offer our help.
As we always say, even if we can't help you, you've learned a little more. We'll part as friends. You see, we at My Family Life Insurance always operate with your best interest first. That means we put you first, not our own interests. That's the only way we know how to work with our clients.
Learn More
Are you interested in learning more about the information in this article? Please fill out the form below, and we will email you additional information or give you a call. We always work in your best interest. By entering your information, you are providing your express consent that My Family Life Insurance may contact you via e-mails, SMS, phone calls, or prerecorded messages at any phone number(s) that you provide, even if the number is a wireless number or on any federal or state do-not-call list. Additionally, you understand that calls may be placed using automated technology, and that consent is not a requirement for purchase. Your information will NOT be sold and will remain private. However, you may opt out at any time. We respect your privacy first and foremost.