How Do Prescription Discount Cards Work? [Behind The Scenes Insight]
Updated: December 31, 2020 at 5:54 pm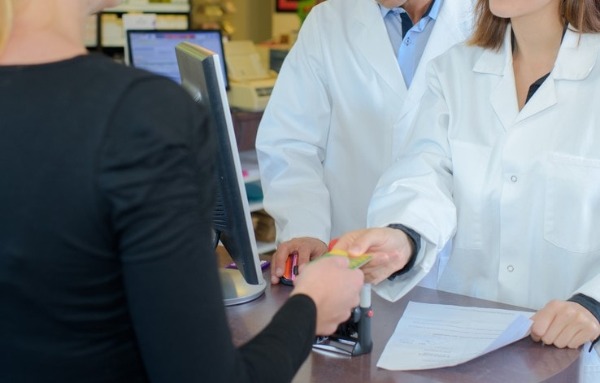 I know you've seen the advertisements. Everywhere. If you are like me, you wonder how these prescription discount cards work.
Many of them are "free". How is that possible?
Moreover, many cards state they offer significant discounts. Is that right?
In this article, I am going to give you an education on how prescription discount cards work and how they work behind the scenes.
After reading this article, you'll have a better understanding on how these card programs work. Moreover, you'll know why they are "free" and who benefits (well…everyone does…)

We'll talk about:
Let's get right into it and describe a prescription discount card.
---
What Is A Prescription Discount Card?
All a prescription discount card is a card that allows you to receive a discount off of the retail price of a drug. It's that simple. It's like a Costco membership card.
A prescription discount card has different meanings. If you hear or read the words:
Prescription savings card
Drug savings card
Drug Rx discount card
Discount prescription drug card
Pharmacy discount card
They all mean the same thing.

One question we get a lot is: can you really get 80% off of a prescription drug? The answer is "yes", you can; however, pharmacies don't discount every drug by that much. Moreover, many drugs aren't discounted at all!
In order to really understand how the prescription discount cards work, it's important to understand all the players involved.
Let's introduce those players next.
---
Who Are The Players In The Prescription Discount Card Market?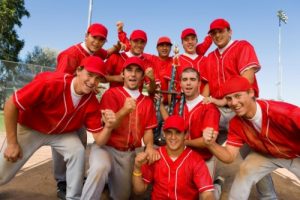 There are many players behind the scenes that make that discount off your prescription drug happen. Here's the thing. All the cards generally work the same way, same process. The difference is not all drugs are discounted by 80% (or whatever marketing line the cards use) by all card programs or even at all. Moreover, every card generally has some differences with discounts.
Let's introduce these players next.
The Pharmacy Benefits Manager
The pharmacy benefits manager is a company that creates the program (or works with a third party to do that) and negotiates the discounts with the participating pharmacies. For example, Express Scripts (a popular) is a pharmacy benefits manager and works with the popular GoodRx prescription drug discount card.
Sometimes, a third-party or marketing group creates the program (like GoodRx) and contracts with the pharmacy benefits manager. The third-party marketing group then advertises and markets the card to consumers.
(Or, the pharmacy benefits manager creates the card program themselves and then works with outside marketing organizations to promote and advertise the card.)
The Pharmacy
The Pharmacy Benefit Manager reaches out to pharmacies and signs them up to the plan. Certainly, every pharmacy will honor different discounts for different drugs.

Many of the larger pharmacies participate in these card programs. Pharmacies such as Walmart, CVS, Walgreens, Kroger, all participate. However, many smaller and independent pharmacies may participate as well.
The Marketing Company
Someone has to promote the card program, right? That is the job of the marketer. The marketer can be the company itself marketing the card program or independent brokers, agencies, and third-party marketing organizations. It can also be non-profit associations and the like.
---
How The Prescription Discount Cards Work
We've just described how the prescription discount cards work. However, it is much easier to view in an illustration.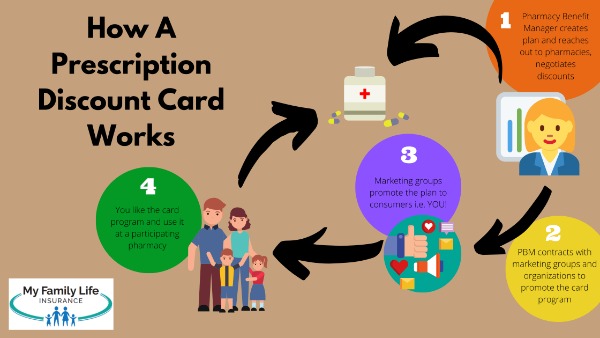 It's simple, really:
The pharmacy benefit manager or the marketing group develops the card program. Then, the pharmacy benefit manager negotiates drug discounts with pharmacies.
The pharmacy benefit manager contracts with marketing groups and organizations to promote the program.

You receive mailings, see advertisements, and videos on social media about the card program.
You like the program and use it at one of the participating pharmacies.
As I mentioned, it sounds easy. However, you might be thinking how in the heck everyone makes money on these cards. It's pretty straightforward. We'll discuss that next.
---
How Do The "Free" Prescription Discount Drug Cards Make Money?
All of these cards are "free". You don't pay a monthly premium (note: if you do, cancel, because you don't need to anymore). So, how do these "free" prescription discount cards make money?
Well, it starts at the discount and the money you pay, and then all the players get a piece of that money.
Check out the illustration below to see how the money flows. Everything will make sense.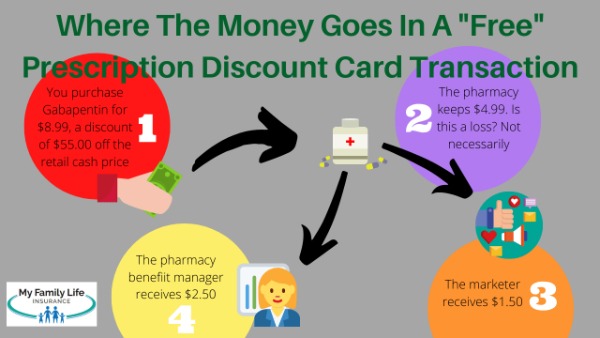 It's pretty simple, actually. Using the example above, let's say you buy Gabapentin for $8.99 from CVS on your prescription discount card.
CVS keeps $4.99. Because your card is tied to the pharmacy benefit manager and the marketer, they receive $2.50 and $1.50, respectively.
You may think that is a low amount; however, consider that 82 million Americans don't have adequate health insurance, which means they don't have adequate prescription insurance.
That's a lot of people. If they each get a free prescription discount card and fill medication every 30 days, that's 2.5 billion transactions in one month. Multiply that amount by 12, and you are looking at 30 billion transactions in a year.
Of course, my math is simple. It's meant to be. You can see, however, that the pharmacy benefit manager and marketer earn their money on the sheer volume of people using their cards. The better the card program and marketing, the more money they make.
What's in it for the pharmacy, however? It looks like they are getting a loss. We'll discuss this next.
What's In It For The Pharmacy?
In our example above, the pharmacy is only getting $4.99 on the Gabapentin. Are they losing money?
Likely, no.
The pharmacy prices the drug at a marginal gain or loss. The main reason it does this: foot traffic.
In an age where people use their phones and computers to purchase goods online, foot traffic in a store is a rarity. (And, this link if from 2017!)
Just think…a person buys Gabapentin for $4.99 and thinks she also needs shampoo, toothpaste, and why not purchase a candy bar for her child.

You see, impulse buys abound. No one does that better than the retail pharmacies.
Let's be real: when was the last time you walked into a pharmacy for one thing and walked out with that only one thing?
That's why all the major and popular retail pharmacy chains participate in these programs. They would miss out on foot traffic if they did not.
---
Who Can Use A Prescription Discount Card?
Now that you know how prescription discount cards work, you may wonder who can use these cards.
Really, anyone can. You may need a prescription discount card if you:
don't have adequate prescription insurance
have pets – the good ones all cover pet medication as well
have drugs that aren't covered by your health insurance
like additional benefits the card provides
missed out on the Part D Medicare prescription enrollment window
So, even if you have prescription insurance, having a prescription discount card is useful as well.

That brings us to an important point.
Many people ask us if they can use the prescription discount card and their insurance together?  The answer is, no. You can't. It is either one or the other.
There's really no secondary prescription drug insurance, unless you have a hospital indemnity plan which covers prescriptions.
---
The Popular Prescription Discount Cards
Just look up "free prescription discount cards" and you'll see many options.
Remember, they are all about the same.
Additionally, they all don't have the same discounts on the same drugs.
We at My Family Life Insurance offer one as well.
It's free, and it actually beats the pricing on nearly all the other card programs out there.
For example, a 500mg metformin tablet, 60 day supply in Dallas, TX will cost $6.23 at Kroger (the lowest, outside of the typical $4.00 Walmart coupon) through GoodRx.

Our program will cost $4.08 at the same Kroger! (the lowest outside of the $4.00 Walmart coupon, which we offer as well.)
You won't see our program advertised like GoodRx or any of the other card programs.
It's Clever Rx, and you can check out our Clever Rx link.
Will it beat every card program? No. But, it will beat most.
---
Now You Know How Prescription Discount Cards Work
We hope you now understand how prescription discount cards work! It's not that hard, is it?
Are you interested in a prescription discount card? As we mentioned, we work with one that beats most of the existing card programs out there.
Feel free to contact us or use the form below. We would be happy to go over your options and answer any questions you have.
Learn More
Are you interested in learning more about the information in this article? Please fill out the form below, and we will email you additional information or give you a call. We always work in your best interest. By entering your information, you are providing your express consent that My Family Life Insurance may contact you via e-mails, SMS, phone calls, or prerecorded messages at any phone number(s) that you provide, even if the number is a wireless number or on any federal or state do-not-call list. Additionally, you understand that calls may be placed using automated technology, and that consent is not a requirement for purchase. Your information will NOT be sold and will remain private. However, you may opt out at any time. We respect your privacy first and foremost.