Need A Contact Lens Exam? Your Insurance May Not Cover
Updated: April 22, 2021 at 10:23 am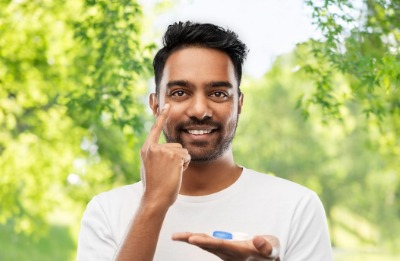 A contact lens exam is much different than a normal eye exam. In this article, we discuss contact lens exams and if your insurance covers one. Some do. Most don't.
What Is A Contact Lens Exam?
A contact lens exam ensures your contacts are fitting correctly and that they are not harming your eyes in any way.
Contrast this with a comprehensive, routine eye exam. In a routine eye exam, the optometrist is looking at the health of your eyes. Did you know your eyes indicate diseases or conditions like hypertension and diabetes? Yes. The optometrist can also look for signs of glaucoma, at your vision sharpness, at your eye's prescription strength (e.g. 20/20 vision), and for a host of other issues such as cancer or other serious conditions.
The contact lens exam is much different. In the lens exam, the optometrist determines if your eyes have the strength to support contact lenses. If so, he or she will determine the correct size. Optometrists will also examine your tears. Yes, your ability to produce tears keeps those contacts in your eyes. If you have dry eyes or trouble producing tears, you will have trouble wearing contacts.
As you can see, the two exams are completely different.
The optometrist determines if you are fit to wear contacts. If so, you will need to decide if you want to wear disposable contacts or extended wear. He or she usually gives you a trial pair with a follow-up exam in a week to see how they fit. At the follow-up exam, your optometrist makes any adjustments as needed.
Does Insurance Cover?
As you can "see" (ok, bad pun), a contact lens exam is very important. Does your vision insurance cover contact lens exams? Actually, many insurance policies do not. Some plans offer a high copay, such as $40, for a standard lens exam. Others offer a discount off of the optometrist retail price. For example, if the contact lens exam is $100, your optometrist might charge you $85.
Some plans also allow you to use your contact lens allowance to pay for the lens exam. Why would you want to do that? That just means you have less dollars available for your contacts.
No matter how you slice it, you still could have significant out of pocket costs for a contact lens exam.
Insurance Options
We have several plans that offer a contact lens exam as part of the insurance coverage – either for free or a low copay – really at no extra cost than what you are paying now. They do not require use of the contact lens allowance to pay for the exam.
Conclusion
If you wear contacts,  you need a contact lens exam for the reasons we described earlier. Are you tired of paying out of pocket for your lens exams? We offer plans that fully cover your lens exam or at a low copay. Feel free to contact us or use the form below to get in touch with us. We would be happy to review your options and discuss which is the best plan for you. As with everything that we do, we only operate with your best interests first. That means if we feel your current plan, or another one available, is better than what we offer, we will tell you that.
Learn More
Are you interested in learning more about the information in this article? Please fill out the form below, and we will email you additional information or give you a call. We always work in your best interest. By entering your information, you are providing your express consent that My Family Life Insurance may contact you via e-mails, SMS, phone calls, or prerecorded messages at any phone number(s) that you provide, even if the number is a wireless number or on any federal or state do-not-call list. Additionally, you understand that calls may be placed using automated technology, and that consent is not a requirement for purchase. Your information will NOT be sold and will remain private. However, you may opt out at any time. We respect your privacy first and foremost.