Independent Review of GTL Advantage Plus
Updated: October 18, 2017 at 1:18 pm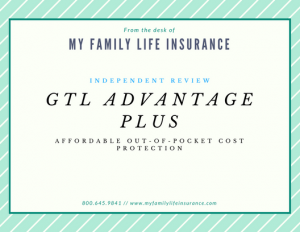 Raise your hand if you are worried about your out-of-pocket health care costs. We thought so. As we discussed in previous articles, health care costs continue to rise, even much quicker than the ordinary cost of living. As of this writing, the average health insurance increase for 2018 plans is between 8% and 10%. Many carriers have dropped out of the Affordable Care Act (i.e. Obamacare) exchanges. Do you have affordable health insurance options in your area?
To remain solvent, these carriers need to raise costs extensively. Premiums aren't just increasing. Copays, coinsurance, and deductibles are increasing as well. How will you manage these costs? One way is to use a type of insurance which will offset these costs. In this article, we review GTL Advantage Plus. GTL Advantage Plus is a hospital indemnity plan which pays you a cash benefit for covered services.
Who Is GTL?
Guaranteed Trust Life Insurance Company (GTL) is an 80+ year old family run company. It offers life insurance as well as many other types of supplemental insurance. It is a mutual company, which means its policy holders own the company. Its products are available in 49 states.
The company prides itself on paying claims for its policy holders. Between 2014 and 2016, the company paid more than $80 million in claims.
They pride themselves that they don't have $0 debt on their balance sheet.
Arguably GTL's most popular insurance product is its Advantage Plus. Next we discuss the Advantage Plus in more detail.
What is GTL Advantage Plus?
GTL Advantage Plus is a hospital indemnity plan. You might be wondering what an indemnity plan is? An indemnity plan is an insurance plan which pays a cash benefit per a set schedule. For example, if you go to the doctor, an indemnity plan might pay you $50 back.
Indemnity plans usually do not work in coordination with your other insurance. For example, let's say you go to the doctor. You present your health insurance information. Your allowable insurance amount for going to the doctor is $64.25. You then send in the claim information to your indemnity plan. Per the plan, you receive $50 back. Your out-of-pocket cost is $14.25. You can do whatever you want with the $50. Although it is outside the scope of this article, indemnity plans can help with negotiating your out-of-pocket costs as we describe in another article.
There are many types of indemnity plans. Some indemnity plans focus on accidental injuries and the associated costs. Others are more general and pay for a myriad of things. Then there are those that cover hospital costs. The Advantage Plus plan is a hospital indemnity plan.
The Advantage Plus plan is usually used in concert with Medicare. Since Medicare and most Medicare plans leave subscribers with significant out-of-pocket costs, this plan can help offset those costs. However, it can be used in concert with typical health insurance as well. The minimum age for GTL Advantage Plus is 40 years old and the maximum is 85.
A person can apply at guarantee issue between ages 64.5 and 65.5. That means people with significant health conditions such as diabetes, COPD, etc can obtain this plan. They can obtain this plan provided they apply during the guaranteed issue timeframe between ages 64.5 and 65.5.
The Specifics Of The GTL Advantage Plus Plan
As we mentioned, the GTL Advantage Plus is a hospital indemnity plan. This means if you go to the hospital and have any other covered situation, you will receive a cash benefit to offset your out-of-pocket costs.
The Advantage Plus plan covers:
hospital confinement
ambulance trips
cancer
dental and vision
short duration hospital stay / observation care
outpatient surgery
skilled nursing facility
Hospital Confinement
You have 4 choices for the hospital confinement. You can select a 3 day, 6, 10, or 21 day hospital confinement. Additionally, you can choose up to a $600 per day benefit. The hospital confinement covers you if you have a stay in the hospital. Let's say your Medicare Advantage plan's hospital copay is $300 per day and you spend 4 days in the hospital. Your OOP is $1,200. If you selected a plan with a $300 benefit, you would receive $1,200 back from GTL. If you selected a plan with a $600 per day benefit, you would receive $1,800 back and pocket the $600.
The hospital confinement comes with an accident benefit and a mental health benefit. These benefits are in addition to the hospital confinement.
A major advantage of the Advantage Plus plan is that it covers Medicare observation status (observation care). You may not realize that observation care is considered outpatient for Medicare. Essentially, this means you will pay a higher amount than if your stay was inpatient. We wrote a whole article on observation status. The main take-away: you don't have to worry as the Advantage Plus plan will pay 100% of the daily hospital benefit you select.
As long as you do not have another hospital stay within a 60 day period, your hospital confinement days restore back. For instance if you select a 10 day plan. You are in the hospital for 5 days and released. You don't go back into the hospital until the 61st day of the window. Your benefit restores back to 10 days. If you go back in the hospital within the 60 days, you can use up any eligible days. In our example, you have another 5 days remaining. After 5 days, the GTL Advantage Plus plan won't pay a benefit until you are out of the hospital for 60 days.
Riders
The GTL Advantage Plus plan comes with many riders. Where you live determines the available riders. Be sure to check your state. These riders come at an additional cost.
ambulance – will pay a benefit to and from hospital. Hospital admittance is not a requirement usually.
lump sum hospital rider – will pay a lump sum on admittance to the hospital in addition to your hospital confinement
skilled nursing facility – will pay a benefit upon admittance to a skilled nursing facility (provided you were an inpatient in a hospital for 3 days). Some states will allow first day benefit. Other states allow a benefit upon the 21st day in a skilled nursing facility
outpatient surgery – must have an outpatient surgery, will pay a lump sum
cancer rider – will pay a benefit upon incidence of cancer
short stay hospital – 12 to 24 hours in a hospital, Advantage Plus will pay a benefit
dental and vision rider – will pay you a benefit for out-of-pocket costs for dental and vision costs. Will pay you 80% of actual charges. A $100 deductible exists for non-preventative procedures. Preventative procedures like cleanings or eye exams have no deductible. You can receive a cash benefit by going to any dentist or optometrist you choose
Underwriting / Application
Simplified issue application. There are no MIB checks or phone interview. It is simple yes/no questions. How easy is that? Way easy!
As we mentioned, people ages 64.5 to 65.5 are eligible for guaranteed issue. It does not matter what kind of health conditions they have.
There is a 6 month pre-existing condition limitation. Anything seen by a doctor during last 6 months not covered for the following 6 months. This limitation does not apply for guarantee issue applicants! This makes it important to apply during this guarantee issue window.
E-application is available. A  short verification phone call is made for identity purposes. It is to prevent identify theft.
Claims
You call customer service. They will mail or email forms to fill out. If you sign the HIPAA form, GTL will obtain an itemized hospital bill on your behalf. Once the required documents are received, claims are paid within a week.
Conclusion
The GTL Advantage Plus plan can help you save money on your out-of-pocket health care expenses. Although we did not discuss premiums, they are very reasonable. Depending on your age, riders, and coverage amount, you could obtain a plan for less than $400 annually.
Nest steps? Contact us for a quote. Remember, this works in concert with both traditional health insurance as well as Medicare. With increases in medical costs, this plan can help offset your out-of-pocket costs. We are conscientious of a budget as well as protecting your family. We will work with you to determine which plan is right for you.