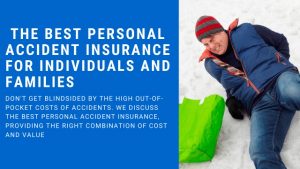 I think you'll agree with me having a strong, affordable personal accident insurance policy gives you peace of mind.
There are few things that can be worse than going to the ER or urgent care, right? ER and urgent care visits dampen any day. I mean, most people don't wake up and say, "Honey, let's spend 5 hours at the ER today!"
Ask the 40 million people who visited the ER last year for non-fatal accidental injuries (not including urgent care). That's a lot of people. Did you know they spent, on average, $1,400 per visit?
That's a lot of money! Talk about adding insult to injury! (No pun intended.)
You know that your underlying health insurance won't cover these accidents well, especially if you are still within the deductible range of your health insurance.
That means a huge bill that's hard to pay, considering most Americans don't have $1,000 saved for an emergency.
Continue reading The Best Personal Accident Insurance We Like For Individuals And Families [Affordable And Great Value]