The Wrong Way To Name Your Child As A Life Insurance Beneficiary | And, 3 Options To Make It Right
Updated: July 6, 2022 at 1:39 pm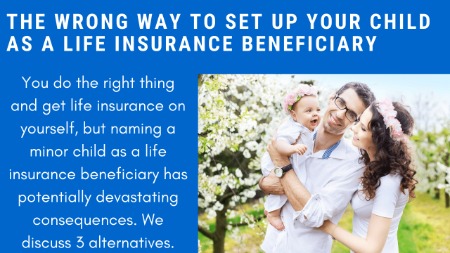 It's fantastic. We've helped many parents apply and enroll in life insurance in the last several years. A simple, term life insurance plan is a cheap and economical way to protect a person's family in case of an unexpected death. However, most of these parents were making a huge mistake on their application: naming their child, children, or another minor as a primary life insurance beneficiary.
How is that a mistake, John, you ask? If I pass away, I want my money to go to them and not someone else!
It is, and we will discuss further.
However, we will also discuss 3 ways you can make this right.
Let's jump right in and discuss the potential, negative impact of naming your child, children, or minor as a life insurance beneficiary.
---
Here's The Big Problem When You Name A Child Or Minor As A Life Insurance Beneficiary 
John, I still don't understand what the big deal is with naming my children as my beneficiary.
Here's the problem. First, let's back up and discuss a major advantage of life insurance.
When you pass away, the death benefit proceeds from a life insurance policy go right to your beneficiary. (Of course, there are situations where there are beneficiary mistakes, but let's not assume these mistakes for this example.)
In other words, your beneficiary and loved ones file a death claim with the life insurance carrier. They submit your death certificate and other paperwork. The carrier then mails your beneficiary a check for the life insurance proceeds.
All of this avoids courts and probate. I think you'll agree with me that that is a huge advantage!
Yes, it is!
Except, when you name your child, children, or another minor as the life insurance beneficiary.
Many carriers will NOT pay out the death benefit until a custodian is named. Check out the excerpt from this major carrier.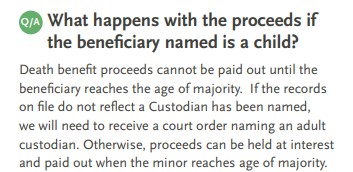 Your loved ones will be involved in court proceedings to make this happen. The life insurance would have to be brought into the courts. Additionally, it's possible for the courts to name a custodian. It's unlikely you would not know this person. This person manages the death benefit proceeds until your children reach the age of majority. The custodian's decisions may not coincide with your intentions and wishes. Depending on your state, the courts also require reporting from the custodian. This increases costs and fees.
When you applied for life insurance, I am sure you did not intend all of this to happen!
Thankfully, there are 3 ways to avoid this unfortunate situation. We discuss those next.
---
3 Ways To Properly Name Your Child, Children, Or Minor As A Life Insurance Beneficiary
Here are three ways to correct the unfortunate scenario above. Before we do so, we are not a lawyer or an estate planning attorney. I am a CFP® Professional, so I know more about this topic. However, I am not qualified to give advice on your specific situation. So, if you have follow-up questions, please speak with a qualified attorney in your state.
#1 Name Another Adult
A simple correction is to name another adult. You still need to meet the insurable interest definition. This person, though, should act in the way you would want to for your children. I am already assuming that.
So, your Mom or Dad…or a brother or sister can be named as a beneficiary.
If you are married, you want your spouse as the primary beneficiary.
Whoever it is, you want to trust this person if you pass away.
But, what if your spouse passes away or your pass away at the same time?
Then, you can have this adult as a contingent beneficiary. A contingent beneficiary steps in the place of the primary beneficiary should the primary beneficiary die first.
However, what if you've gone forward and already established a guardian for your kids? You can submit this paperwork to the carrier as it proves insurable interest (i.e. this person will be taking care of your children upon your death).
This is the easiest solution, but you want to make sure the person manages the money and takes care of your children as how you would.
#2 Set Up A UTMA
There is a law called the Uniform Transfers To Minors Act which allows assets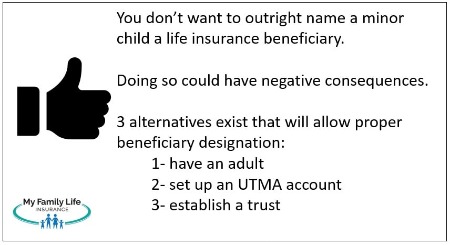 like life insurance proceeds transferred to a custodial account. All you would need to do is fill out the paperwork of a financial institution to receive this money and give this paperwork to the life insurance company.
A guardian would still have to be named, likely. However, the benefit here is that the money is technically not tied up in the court system. It is with a financial institution. Money is then paid out for the children's needs and care.
#3 Set Up A Trust
A trust, like a revocable living trust, is another option and potentially offers more flexibility.
You name the trust as the primary beneficiary (you are the owner and insured). Your children and other loved ones are named beneficiaries within the trust documents. In the trust documents,  you name a trustee and how you want your wishes carried out.
Upon your death, the death benefit proceeds transfer to the trust. The trust paperwork noted above dictates how the trustee pays out the proceeds to your children.

The main advantages of the trust include:
Avoiding court and probate
Flexibility
Another type of trust exists – an irrevocable life insurance trust (ILIT). This works similarly to the revocable living trust above.
I think a trust works very well in this situation. However, as I noted above, you will want to consult a qualified attorney in your state.
---
How My Family Life Insurance Can Help
We hope you learned how to list your child, children, or another minor as a life insurance beneficiary.
As we wrote, you do not want to list your child outright as the beneficiary. You want to:
Name an adult as the beneficiary
Set up a UTMA
Establish a trust
Do you have any questions? We are happy to help in any way we can.
Feel free to contact us or use the form below.
As with anything we do, we always put your best interests first and foremost. If we can't help you, we will point you in the right direction we best we can. You can always reach back to us if your needs change.
Learn More
Are you interested in learning more about the information in this article? Please fill out the form below, and we will email you additional information or give you a call. We always work in your best interest. By entering your information, you are providing your express consent that My Family Life Insurance may contact you via e-mails, SMS, phone calls, or prerecorded messages at any phone number(s) that you provide, even if the number is a wireless number or on any federal or state do-not-call list. Additionally, you understand that calls may be placed using automated technology, and that consent is not a requirement for purchase. Your information will NOT be sold and will remain private. However, you may opt out at any time. We respect your privacy first and foremost.