Best Sickness Insurance For The Self-Employed
Updated: February 16, 2018 at 1:10 am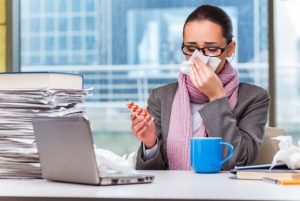 Picture this: You wake up one morning. You ache. Your head is hot, but you have the chills. You aren't hungry at all and the room spins. Making your way to the bathroom, you take your temperature. The thermometer shows a fever of 103.5. You fear you have the flu. As a self-employed business owner, you don't get paid for being sick (or injured). You work through your illness. However, you wish you could have "sick day". It's hard. It doesn't have to be this way anymore, though. In this article, we discuss sickness insurance for the self-employed.
What Is Sickness Insurance?
That's a good question. Sickness – and really, accident, too – insurance is a short-term insurance plan designed to pay you a benefit due to a sickness or injury, and you can't work. It is also known as sick pay or sick-pay insurance. If you work for a company, you probably have sick days and even a short-term disability plan which will pay a benefit if you are out sick or injured for a length of time. The self-employed don't have that. In fact, according to the Department of Labor, 40 million workers here in the US do NOT have a single sick day benefit. Wow! And, 7 out of 10 Americans would have financial difficulties if they missed a paycheck, according to the American Payroll Association.
If this is you, or you work for an employer with no sickness insurance, we have an affordable solution for you.
The Importance of Self-Employed Sickness Insurance
The importance is rather obvious. You will receive a benefit upon sickness or injury. Instead of fighting through a major illness or injury, you can take time off while receiving a benefit.
Think about what that means. If you have the flu or bronchitis – or you injure yourself –  you will receive some money back for your missed work days. You will take the necessary time off to recuperate and receive some benefits back. Does that give you peace of mind?
Who Is Eligible For Sickness Insurance?
Really, anyone. Sickness insurance is ideal for the self-employed. However, people who may not have sick-pay benefits at work could use this insurance. Here is a list of occupations that could use the sickness insurance:
(1) carpenters
(2) electricians
(3) plumbers
(4) hair stylists and cosmetologists
(5) massage therapists
(6) firefighters and police officers
(7) roofers
(8) veterinarian technicians
(9) dental hygienists and dental assistants
(10) nannies
(11) housecleaners and housekeepers
(12) secretaries and office managers
(13) accountants
(14) financial planners
(15) fishermen
(16) truck drivers
(17) sales personnel at auto dealerships
(18) bakers
(19) bartenders
(20) convenience store owners
(21) dry cleaners
(22) chiropractors
(23) dog walkers
(24) fitness trainers
(25) computer, IT support
(26) waiters and waitresses
The list goes on and on…any occupation will qualify. That is right. Even the most hazardous occupations qualify for this insurance.
The Best Sickness Insurance For The Self-Employed
Not many carriers offer sickness and accident insurance on an individualized basis. The carrier we work with offers either 4 or 6 month annual benefit periods. Obviously, the lower the benefit period, the lower the premium, all things being equal.
Underwriting is easy and simplified, which means you simply answer some personal and health questions. If all checks out, you will have sickness insurance in a few days.
The maximum monthly benefit amount is $1,500. That may not seem like a lot, but if you are out for a month, $1,500 can make or break paying the bills. Your maximum benefit amount depends on your income.
Within each benefit period, you have maximum benefits based on the sickness or injury, depending on the plan. For the 6-month benefit plan, you have up to
*1.5 months (about 45 days) towards sicknesses such as the flu and minor injuries such as strains and sprains. This is an annual maximum which resets each year.
*3 months towards injuries or illnesses that require hospitalization, inpatient or outpatient surgery
*6 months towards major illnesses and injuries such as cancer, heart conditions, etc.
For this plan to work, you need to visit the doctor or specialist. He or she must indicate on a doctor's note or letter how long you will be out of work. You are paid based on the missed time. Partial benefits are paid via a pro-rated monthly amount. For example, if you have the $1,500 monthly benefit and the doctor says you need rest for 10 days from the flu, you will be paid $500 ($1,500 / 30 days X 10 days = $500).
All Occupations Qualify
All occupations qualify. That means you, bartender, oil rigger, actor, or some other occupation that usually ineligible for traditional disability insurance, can qualify for sickness insurance. This is one of the best parts, other than affordable cost. It bears repeating, though. This is not disability insurance even though the plan pays a benefit.
Cost of Sickness Insurance For The Self-Employed
You may have heard that short-term disability insurance and sickness policies are expensive. This one is not. Depending on the plan and income amount, you could pay anywhere between $20 and $50 per month. Maybe more or maybe a little less depending on your situation. It is very affordable coverage.
Premiums are not tax-deductible.
Conclusion
If you are self-employed or you work for a company that does not offer sick-pay benefits, you now have an affordable solution. You can obtain individual sickness insurance which will pay you a benefit in case you are ill or injured. Premiums are very affordable. Underwriting is very easy.
Would you like to learn more or interested in a quote? If so, please contact us or fill out the form below. We will send you a list of questions that need answering for underwriting. Once we receive that, we can then provide you with a quote and go from there.
Like anything else we do, we only work in your best interests and for you only. If this plan isn't right for you, we will provide an alternative or help you with another recommendation.
Learn More
Are you interested in learning more about the information in this article? Please fill out the form below, and we will email you additional information or give you a call. We always work in your best interest. By entering your information, you are providing your express consent that My Family Life Insurance may contact you via e-mails, SMS, phone calls, or prerecorded messages at any phone number(s) that you provide, even if the number is a wireless number or on any federal or state do-not-call list. Additionally, you understand that calls may be placed using automated technology, and that consent is not a requirement for purchase. Your information will NOT be sold and will remain private. However, you may opt out at any time. We respect your privacy first and foremost.