The First Question To Ask A Life Insurance Agent
Updated: January 6, 2018 at 3:51 pm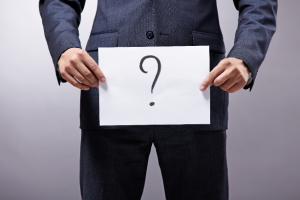 If you have researched life insurance needs and coverage, you know selecting the right kind for you can be complex. Life insurance can be confusing. You probably have 1,000 questions. However, in our experience, there is one question that is most important than any of the others. If you are starting the life insurance search, you need to ask this first question to a life insurance agent. You can even ask this question to your current agent if you still have questions or concerns. In this article, we discuss the first question to ask a life insurance agent.
The First Question To Ask A Life Insurance Agent
Let's review some of the most common life insurance questions to ask a life insurance agent. They include:
• how much life insurance coverage do I need?
• what is the difference between term and whole life insurance?
• will the death benefit adjust for inflation?
• what happens if I am disabled?
• how do I pay premiums?
• what happens to the money when I die?
• what happens to the money if my primary beneficiary dies before me?
These are all valid and important questions that need answering. However, there is an underlying assumption that you made. Do you know what that is?
That you trust this person. You trust his or her knowledge. Most importantly, you trust that he or she has your best interests at heart.
So, the first question to ask a life insurance agent is:
"How are you paid?"
Wait? What, John, you ask? I can't ask that.
You sure can, I respond. Why not?
Because that is personal, you say. They aren't going to ask me how I get paid.
We aren't saying you need to ask how much he or she earns each year. And, if you proceed with the life insurance process, the agent will have to ask you personal information about your salary and other financial information anyway.
But, how does that establish trust, you ask?
We'll tell you why. Here is an education on how life insurance agents, including us at My Family Life Insurance, are paid. And, why that is important in establishing trust.
Why "How Are You Paid" Is The First Question To Ask A Life Insurance Agent
You may know some of these sayings about money:
• "the love of money is the root of all evil"
• conversely, "the lack of money is the root of all evil"
• "He that is of the opinion that money will do everything may well be suspected of doing everything for money"
• "a wise person should have money in their head, but not in their heart"
What are we saying here? When you are speaking or meeting with someone, and the conversation isn't going the way you expect it to, there is a reason, right? Your not-so-warm-and-fuzzy feelings are probably driven by money.
Nearly all life insurance agents are paid on a commission, including us at My Family Life Insurance. What is a commission? In the life insurance area, the commission is usually a percentage of the premium you pay. For example, if a term life insurance plan costs you $500 per year, and the agent commission rate is 50%, then the agent will earn $250. Generally speaking, the agent will earn a renewal commission, like 3% of the premium, if you keep the policy.
Earning a commission isn't really a big deal – if the agent presents a plan and options that meet your unique situation and needs. The fact that we earn a commission is where we at My Family Life Insurance and some other insurance agencies diverge. (That is our opinion.)
Other Types Of Compensation
You see, there are other types of compensation. Agents receive these "extras" all the time. These include:
• money bonus on the life insurance transaction
• money on other agent's transactions
• a referral bonus
• incentives such as vacations, sales trips, computers, or other products
These agents should mention those, too. If they don't, you should ask if they earn trip or bonus credit with the sale of any life insurance policies.
How can an agent have your best interest if there is a trip or other incentive behind the transaction?
That is not a big deal, John. As long as the agent has my best interest. The agent should have my best interests…right, you ask?
The Difference Between Agents
Well, we hope.
First, there are many, many great and wonderful insurance agents who do the right thing for their clients. They will, and should, get to know you and your needs and go to great lengths to get you the right life insurance policy. They work uninhibitedly for your best interests. The amount of the commission doesn't matter to them; only that you received the right type of life insurance for your given situation. They then also provide service after the transaction. They are always there for you and your family.
Then, there are some who don't have your best interests. Like in any industry, there are some bad apples that make the cart smell rotten. They might have strong selling techniques or are strong-arming you into buying coverage that seems unnecessary or too much. A simple analogy, you just need a car with 4 wheel drive for the winter, to get you to and from work for a limited monthly budget, but the agent is trying to sell you a Cadillac. If the agent is really pushing a product, without clear description why it fits your situation, then most likely there is a serious financial reward to the agent. Really, why else would someone push something? We all have been there in various situations one way or another.
There are independent insurance agents, like we at My Family Life Insurance, who have an affiliation with many carriers. These agents should present to you the different options from the carriers and describe their recommendation to you in detail.
What Are Captive Agents?
Agents who are contracted with one or two insurance carriers are known as captive agents. This situation can lead to problems. Why? They have one or two solutions. Is this a bad thing? Maybe…maybe not. In our previous example, if you were looking for a Cadillac, then a Cadillac salesman should be no big deal. However, you were only looking for a car with 4 wheel drive to get you to and from work within a set budget. Is a Cadillac right for your situation? Maybe a Subaru is better for you?
Why would anyone work as a captive agent? There are a few reasons. Captive agencies may offer benefits for the agent such as health insurance, a retirement plan, etc. These agencies also typically offer incentive trips and bonuses to sell more of their products. Is this concerning to you? Back to our example, again if you were in the market for a Cadillac, then probably not.
How do you know if the agent is captive? He or she should tell you, but if not, just ask. "And, you are paid or represented by whom?" If an agent responds with a one-named carrier, chances are he or she is captive.
Look Out
We aren't disparaging captive agents. All we are saying is that the one-carrier relationship can lead to problems for yourself. Remember, if you are in the market to purchase a Cadillac, then going to a Cadillac dealer is no big deal. If you know for a fact that XYZ insurance is right for you, then speaking to a representative of XYZ insurance is no big deal.
There are plenty of bad independent agents out there too looking to make the most money off you. If an agent, captive or independent:
• isn't presenting the lowest cost option for your given situation,
• describing why he or she recommends the product,
• doesn't readily answer your questions,
• presents one solution, or
• does not disclose conflicts of interest,
then probably there is a monetary reason behind it. Unfortunately, the person does not truly have your best interest.
How Can You Vet Your Life Insurance Agent?
The ability to search online nowadays is extraordinary. There are ways to do that online. You can search the agent's name or contact your state's department of insurance. If your agent has a website, review it. Is content fresh? Unique? Does the blog represent a myriad of solutions and content?
However, asking some simple questions can go a long way, too.
How long have you been in business? If your agent is new to the business, that shouldn't necessarily be a deterrent. However, if your agent does not have a good support team, that could be a concern.
What are your credentials? There are many financial designations out there. Some, frankly, are worthless. Many designations are insurance-industry based. They do showcase a knowledge of insurance, but not necessarily ethics or best interests. Then there are some designations like the Certified Financial Planner (CFP) marks which combine knowledge and ethics.  There are many CFPs who sell life insurance. (We included at My Family Life Insurance.) CFPs are required to act in your best interest at all times, including the life insurance process.
What types of policies have you placed? If your agent only sells whole life, but you are looking at term. Thank him or her for the time. You want an agent who has done both and can truthfully describe why one is better in your situation than the other. m
Who do you work for? Already discussed.
How are you paid? As we discussed, an agent should readily answer this question. Ask follow up questions. Sometimes, a bonus or trip is tied to the insurance product.
Conclusion
The life insurance process is already complex enough. We feel that one question to ask a life insurance agent can weed out many problems. Don't ask how much coverage you need. Don't ask what type of life insurance you need. Ask how they are paid. The answer usually defines if the agent has your best interest or not.
Are you confused during the life insurance process? Do you need to work with one who has your best interests at all times? Feel free to reach out to us or use the form below. We would be happy to help you and your family's life insurance needs, and we always work in your best interests.
Learn More
Are you interested in learning more about the information in this article? Please fill out the form below, and we will email you additional information or give you a call. We always work in your best interest. By entering your information, you are providing your express consent that My Family Life Insurance may contact you via e-mails, SMS, phone calls, or prerecorded messages at any phone number(s) that you provide, even if the number is a wireless number or on any federal or state do-not-call list. Additionally, you understand that calls may be placed using automated technology, and that consent is not a requirement for purchase. Your information will NOT be sold and will remain private. However, you may opt out at any time. We respect your privacy first and foremost.