Get The Right Mortgage Protection | It's Not Life Insurance. It Is Mortgage Disability Insurance!
Updated: August 3, 2020 at 10:37 am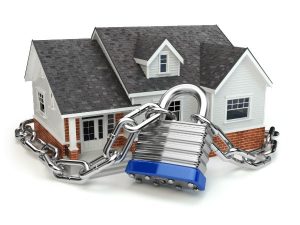 If you own a home, you understand that you need insurance for mortgage protection.
What's mortgage protection insurance, you ask? 
It's simply insurance that will step in and pay your mortgage if you can't.
Great, John. I have it already, you say.
You do?
Yes, I have mortgage protection right from my loan provider.
No. I'm not talking about PMI. And, other types from your provider are a waste – honestly. And, we will get into that in a minute.
Unemployment?
Nope. I'm not talking about that.
Ok, then life insurance?
Yeah…mortgage life insurance protects you to a point. But, while some people die during the term, most people don't. That doesn't mean you will. It just means, more often than not, most people don't. You still need life insurance, though. Don't get me wrong.
Then what is it?
Let's talk about the right mortgage protection insurance. I guarantee you don't have it or very little of it.
---
What's The Right Mortgage Protection Insurance?
If you think the right mortgage protection insurance is life insurance, you are wrong.
Ok, ok. Maybe a little backlash. You need to protect your mortgage if you unexpectedly die. That is right. And, from that perspective, the best way to do that is with term life insurance.
You just pay these level premiums for the term. If you die during the term, your family receives the money to pay for the mortgage and other things.
If you'd like to see what rates could be on a term policy, likely they are cheap. Just enter your information. Be honest about your health. For coverage, enter your remaining mortgage and the term you like. (note: we may give you a call or send you an email/text thanking you for visiting our site. We don't sell your information or call you 1,348 times per day.)
You see. Mortgage protection using life insurance doesn't cost that much. Cheap! And, yes, it is important.
However, that's where most people stop. They think they are "all set". Unfortunately, that's where many agents stop, too.
The right mortgage insurance protects you from illness, injury, or some other sickness. It will pay a benefit that you can use to pay your mortgage if you are sick, ill, or injured.
---
The Right Mortgage Protection Insurance Is Disability Insurance
That's right. Disability insurance is the right mortgage protection insurance.
Why?
You have a greater chance of being disabled than dying prematurely. It's true. Depending on which life insurance carrier you ask, their claims department will say between 2% and 4% of term life policies pay a benefit.
(That doesn't mean you should go without life insurance to protect your mortgage (and other important things in your life…like your family!). However, most people stop there, thinking they are "all set".)
The Social Security Administration releases these statistics every few years. The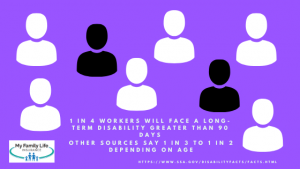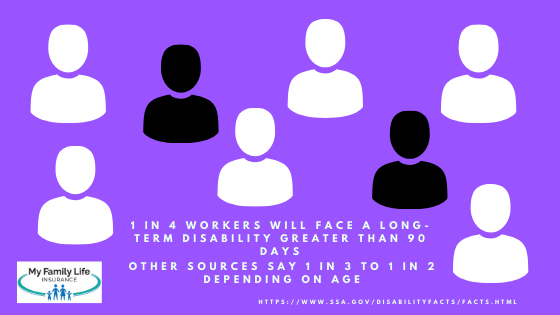 constant is that they rarely change:
1 out of 4 workers will face a long-term disability that lasts greater than 90 days
Social security administration declines 65% of disability insurance applications. It can take years before someone receives a benefit
When you do receive a benefit, the amount is only like $1,200 per month if you are lucky. Can you pay your mortgage on that?
The answer is, "no". You can't. You would have to make some hard decisions about your and your family's life including your home.
Are you ready for that? I hope you say, "no".
What A Disability Really Is
That's great, John, you say. But, I'm not going to be in a wheelchair.
Most of us have a skewed view of a disability. We notoriously think it's someone in a wheelchair or using a walker. The fact is a disability can be from anything that prevents you from working.
you are diagnosed with cancer and need to step away from work
your child's toy is hiding on the staircase. You don't see it, slip, and fall down the stairs. Unfortunately, you break your back and hip
you are a carpenter. Suddenly, you become distracted and cut 3 of your fingers off (I saw this happen in a previous life)
What's the common theme in all of this. Well, there are several:
you are not in a wheelchair. But, you can't work
a disability can happen anywhere, anytime
there's no logic to a disability. It doesn't wait until you are ready. There's no sequence of events
the unknown and future is scary
There's no logic to a disability. Even the healthiest of people receive bad news or are injured. Disability does not discriminate. It doesn't wait until you are ready, and it always comes at the wrong time.
This is the purpose of disability insurance. It provides peace-of-mind to your family.
---
How Mortgage Disability Insurance Works
With 25% to 30% (and higher) of workers having some type of long-term disability, wouldn't you want some insurance coverage to protect your mortgage and family?
That's where mortgage disability insurance comes in. It is simply a disability insurance policy that protects your mortgage.
Purchasing disability insurance completes your mortgage protection.
You'll receive that monthly benefit for as long as you are disabled or when the term ends, whichever comes first.
Think about your peace-of-mind, knowing your mortgage is covered if you are sick, ill, or hurt and can't work.
Oh? Do you already have some disability insurance through work? Most people do. But, I know it's not enough.
Huh? What do you mean?
The IRS taxes disability benefits from group employer plans. That means the benefit you receive is much less every April when you have to pay. Additionally, many plans cap the monthly benefit.
So, that $2,000 you receive, for example, will be taxed. You'll have a lot less than you think.
You'll have to make those tough decisions we alluded earlier.
Supplementing your disability insurance with your own individual plan or simply having your own plan outright makes sense. It's likely inexpensive, too. More on that, next.
In the simplest terms, we would set up an individual plan or add on to your group plan. We would make sure your mortgage is covered.
---
Cost Of The Mortgage Protection Insurance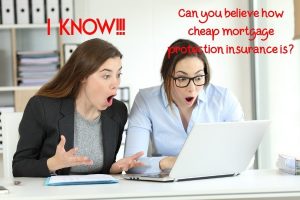 Mortgage disability insurance isn't expensive. If you just want to cover your mortgage, you are looking 2 cents to 3 cents for every dollar of coverage.
Yes, that is right.
Maybe a little more, maybe a little less. But, on average about 2 to 3 cents on the dollar to cover your family's mortgage and give you peace-of-mind.
Covering your mortgage with disability insurance costs 2 to 3 cents on the dollar. Will you say "no" to that kind of protection?
For example, covering a $2,000 mortgage might cost $60 per month.
That $2 per day or a cup of coffee you might spend at Starbucks.
If you want to supplement your group-employer disability insurance coverage, the cost could be a lot cheaper.
There are many ways to see the affordability of disability insurance to protect your mortgage.
You Are Not On Sale Or Milk
You have to remember you are not milk. Cost is an important factor, but remember what this is. This is coverage for you and your loved ones to keep everyone in your home. Milk goes on sale. "Shopping around" – as many people like to do – doesn't fit with mortgage protection insurance. There's no sale, other than the best time to buy it is right now. You can spend all day "shopping" and chances are, you'll never get anywhere. It's time-consuming. You'll put off this important insurance. Then, when you need it the most, it's not there.
How do we know this? I've personally received phone calls back from people or loved ones wanting to know if they can apply. The problem is they got too sick or injured. They no longer qualify.
The right way to go about it is to contact an independent agency like My Family Life Insurance who works with nearly all the carriers. We can find you the right mortgage protection insurance and disability insurance, saving you time and money.
---
Do You Know The #1 Reason Why People Lose Their Homes?
You should get this question right. Yes, it's because of a disability! Technically, it's because of unpaid medical bills. These medical bills happen because people get too sick or hurt to work.
Hmmm…does this sound like a disability?
I can't stress enough how a simple and affordable plan like mortgage disability insurance saves you and your family's future.
---
Now You Know The Right Mortgage Protection Insurance!
Now you know the right mortgage protection insurance is disability insurance. Yes, term life insurance is important, too. I bet, though, you've overlooked disability insurance. You are more likely to not work due to injury or illness than die prematurely.
Remember, you aren't milk. You don't need to shop around. It's not expensive, either, considering the ramifications. If you want to partner with an agency that cares about you and your family, why not reach out to us? Contact us or use the form below. I would be happy to discuss with you the benefits of using disability insurance as part of an overall mortgage protection strategy.  Of course, if we can't help you, you've learned something new, and we will part as friends.
Learn More
Are you interested in learning more about the information in this article? Please fill out the form below, and we will email you additional information or give you a call. We always work in your best interest. By entering your information, you are providing your express consent that My Family Life Insurance may contact you via e-mails, SMS, phone calls, or prerecorded messages at any phone number(s) that you provide, even if the number is a wireless number or on any federal or state do-not-call list. Additionally, you understand that calls may be placed using automated technology, and that consent is not a requirement for purchase. Your information will NOT be sold and will remain private. However, you may opt out at any time. We respect your privacy first and foremost.