5 Mistakes Medicare Beneficiaries Make
Updated: September 13, 2018 at 3:58 pm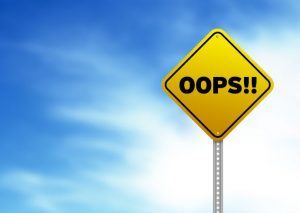 Medicare is serious stuff. If you are reading this article, you are likely enrolling in Medicare for the first time. For years, your employer has provided access to major medical group insurance. Medicare has its own set of rules and regulations. It's different. One trip up, and you could face a lifetime of penalties and higher costs. In this article, we discuss 5 mistakes Medicare beneficiaries make when they enroll in Medicare. After reading this article, Medicare and potential pitfalls will be more clear.
We want to stress potential pitfalls. As we always say, the best solution is the one which meets YOUR needs and situation.
Looking At $0 Premium Plans Like They Are The Best Thing Since Sliced Bread
Many mistakes Medicare beneficiaries makes include the $0 premium Medicare Advantage plans. You know these plans. You have seen commercials on TV or received mailings touting "no premiums paid". It is true; you don't pay a premium. Here's what we don't like about these plans. They tend to give an illusion that you won't ever pay anything. Now, we know that isn't true. Carriers state this on their information. However, people still think this way. I mean "$0 is a hero" here.
You need to think about Medicare health care costs like a see-saw. The lower premiums you pay, likely the higher out-of-pocket costs. The higher the premiums, the lower out-of-pocket costs, generally speaking. Just look at the below diagram. It will make sense.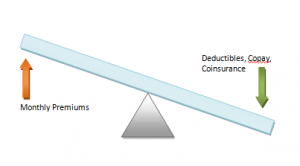 Do you really think you'll save money on $0 premium Medicare Advantage plans? Maybe? Maybe not? No one knows. Here's what I do know. If you do get sick or injured, you'll likely pay a higher out-of-pocket amount than if you paid a premium plan. For example, many $0 premium plans allow the maximum out-of-pocket $6,700 (for 2018). Let's say an alternative plan has a $3,400 out-of-pocket maximum. However, you have to pay $60 per month. Which is better? Well, there is more to that answer, but, in this case, you will pay $720 annually for better cost sharing and a lower out-of-pocket maximum. Not knowing our health future, personally I lean towards having better out-of-pocket cost protection.
Note: $0 premium plans can be beneficial to people who have alternative primary health coverage such as our veterans with VA insurance.
However, before you go "all in" and sign up for that $0 Medicare Advantage plan, really assess your health, needs, budget, and your ability to pay any out-of-pocket costs.
You Think You Are All Set
OK. I know this is an all-encompassing mistake. But, we have had many beneficiaries think they are all set, let time go by, and mess up. They don't do anything. Time goes by. They now face a lifetime of penalties or because of these impending penalties, they do not enroll in the health care they need.
Here are some reasons. These are all true reasons from people we have helped:
(1) I thought the government would handle it. (No… you will receive billions of information from carriers when you are turning 65, which indicates you need to do something, but the government won't enroll you.)
(2) My employer never told me. (It is up to you to figure this out, not your employer. Did you know that people who work for an employer with fewer than 20 employees – and there are millions of these small businesses in the US – must sign up for Part B at 65? Many don't know that. These people think they are all set.)
(3) I am on COBRA…isn't that creditable coverage? (Nope.)
The list goes on and on, but it all goes back to your thinking that you are all set…when you are not.
What to do? Start your education with Medicare now. Talk to your employee benefits department and ask them how Medicare coordinates with your group employer coverage. Talk to someone like us who can provide independent advice without sales pressure.,..and just answer your questions. As the saying goes, knowledge is power.
Automatically Select The Retiree Insurance
Other mistakes Medicare beneficiaries make include retiree insurance. Many employers offer their retirees a retiree health care benefits package. Many retirees automatically select this option. They think retiree insurance is adequate because their employer offered group major medical health insurance for so long.
Is selecting the health insurance offered through your employer good for you? Maybe…maybe not…
As we stated earlier, the real answer depends on your needs and situation. We have had many people love their retiree health insurance. There are probably an equal amount of people we have helped who wished they never enrolled.
You need to measure and weigh the retiree health and prescription drug options versus those offered by Medicare. Analyze the doctor networks, costs, and other impacts. Only then can you make an informed decision,
True story: we helped a woman who was paying over $6,000 annually on her prescription drug medication through her retiree insurance. She took specialized drugs, and if you know the PDP tier system, you know specialized drugs usually fall in tier 4 with a high coinsurance amount.  We helped her with a plan that cost her $2,000 annually.
Does this mean that the retiree insurance offered by your employer is bad? No. It means it could be if you don't do your homework and analyze what YOU need.
Not Enrolling When Required
Here is something you may not know. Medicare enrollment at age 65 is a requirement. Yes. It is a requirement. It is not an option. UNLESS…of course, there is an "unless". Unless you have creditable coverage elsewhere, you can delay your Medicare enrollment (usually Part B because Part A paid through payroll taxes) to a later date.
What is creditable coverage?
We define creditable coverage in a couple of ways. In terms of your health / medical insurance, you need to have group employer or union coverage that states that coverage was at least as good as a Medicare policy. With prescription drugs, generally, employers mail you a letter stating your drug coverage met Medicare's creditable coverage requirements.
Many people mess this up. They don't sign up for Medicare at age 65, for one reason or another, or they lose creditable coverage. In both cases, they face a lifetime of penalties. For example, many people don't sign up for a Part D plan when first eligible. They tell us they were not taking any prescription medication at the time, so they did not think they needed a plan. These are the type of people who don't think. Now, upon enrollment, they face a lifetime Part D penalty because they did not enroll when first eligible.
Many times throughout your life, you may have a special enrollment period (SEP). These SEPs are one-off cases where Medicare allows you to make changes to your plan without penalty. There are many cases. Let's say you want to move closer to your children and grandchildren who live in a neighboring state. If you move to a new state, that move is a SEP. You can then select a new Medicare plan within a certain timeframe. If you miss this window, you won't have coverage.
You Spend Way Too Much On Medicare
Yes, in my opinion, people spend way too much on their Medicare plan. You might be thinking, "John, how can you say that?" Do I have any evidence? No, I'll admit. This mistake is anecdotal based on my own experience in speaking with and working with Medicare beneficiaries.
Time and time again, I speak with Medicare beneficiaries who are spending upwards of $430 per month or more on monthly Medicare and insurance plan premiums. Is that a bad thing? Well, it could be. The total cost of $430 per month extrapolated over 12 months is almost $5,200 annually. What does this $430 include? Of course, everyone's situation differs, but this is $134 (Part B), $250 (Plan F Medicare Supplement), and $50 (Part D).
I'll be the first to admit: insurance is not a gainful situation. We have insurance to protect ourselves, not to profit. Having said that, we don't need to spend too much on insurance if we don't have to. (Yes, coming from an insurance agent.)
An Example
For example, use our estimation above. Let's say you go to the doctor twice per year. Well, you just spent $5,200 annually to go to the doctor twice. See our reasoning? I know what you will say, "John, the $5,200 gives me peace of mind." If it does, great. I'm just saying you don't have to spend that amount of money. Why can't you have a less expensive Medicare supplement plan or Medicare Advantage plan, bank the savings, and self-insure? You can. Most Medicare Advantage plans have out-of-pocket maximums less than the $6,700 cap. Same with Medicare Supplement plans.
Let's say you have a Medicare Advantage plan that costs $60 per month with a $3,400 maximum. You save almost $3,000 annually in premiums. You bank the savings. Six years later, you go into the hospital. You have a bank of $15,000 to work with and also an out-of-pocket maximum on your side.
I am simply saying there are other options which can save you money. Of course, if you go to the doctor a lot and have many health issues, a Medicare supplement plan may very be in your best interest.
Conclusion
Thank you for reading our article on the 5 mistakes Medicare beneficiaries make. I hope you found it informative. Do you need assistance with your Medicare plan? Have you made any of these mistakes? What questions do you have? We are more than happy to help you out any way we can. Feel free to contact us or use the form below. As with everything we do, we have your best interests first and foremost. That is the only way we know how to work with our clients.
Learn More
Are you interested in learning more about the information in this article? Please fill out the form below, and we will email you additional information or give you a call. We always work in your best interest. By entering your information, you are providing your express consent that My Family Life Insurance may contact you via e-mails, SMS, phone calls, or prerecorded messages at any phone number(s) that you provide, even if the number is a wireless number or on any federal or state do-not-call list. Additionally, you understand that calls may be placed using automated technology, and that consent is not a requirement for purchase. Your information will NOT be sold and will remain private. However, you may opt out at any time. We respect your privacy first and foremost.