10 Things You Need To Know About Your New Medicare Card
Updated: May 3, 2018 at 8:41 am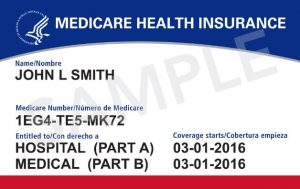 In April 2018, the Centers of Medicare and Medicaid Services (CMS) started mailing new Medicare cards to beneficiaries. The new Medicare card program ends in April 2019. Likely, you have not received your new Medicare card yet. It will have a different look and feel than the one you have been carrying around in your wallet or purse over the last several years. What has changed and why is this important? That is what we discuss today. In this article, we discuss the 10 things you need to know about your new Medicare card.
Overview Of New Medicare Card
I don't need to tell you how bad identity theft is. Even I was subject to identity theft from the Equifax breach. Identity theft is rampant.
Your social security number is on the current Medicare card. Crazy, isn't it. Your Medicare card is a key card you keep in your wallet or purse. Lose your wallet or purse, and a thief potentially has your social security number from your Medicare card.
This is why CMS is issuing the new cards: to fight identity theft, prevent fraud, and keep US taxpayer dollars safe.
Your new Medicare card will have a new Medicare number. More on that next.
Let's now talk about the 10 things you need to know about your new Medicare card.
10 Things You Need To Know About Your New Medicare Card
Destroy Your Old Card
Maybe this is common sense. Destroy your old card once you receive your new Medicare card. Your old card, as we discussed, has your social security number on it.
New Beneficiaries Receive Their New Medicare Card Now
If you are new to Medicare after April 2018, you will receive your new Medicare card upon enrolling in Part A.
Having said that, if you are a current Medicare beneficiary, mailing takes time. Be patient. If your brother, friend, sister, or neighbor received their new card, that doesn't mean you will receive yours soon. Just be patient.
Protect Your Card
Like any other important document…only give your card to your doctor, pharmacist, hospital, or other healthcare providers.
A Unique Number
Your new Medicare card's number is unique to you and you only.
You New Medicare Card Is Paper
Paper cards save a lot of money and are easier for providers to copy. Additionally, you will be able to print copies of your card easier.
Keep Your New Card With You
Rather obvious, keep the new card with you. At the same time, like anything important, guard and protect your card.
Don't Worry; Your Doctor Knows Your Card Is Coming
Your healthcare provider knows the new Medicare cards are coming and will ask if you have it upon your visit.
Searchable New Medicare Number
If you don't have your new number or you left your card at home, your doctor or healthcare provider should be able to look it up online.
Keep Your Medicare Advantage Card
If you have a Medicare Advantage plan, the Medicare Advantage card is your primary health insurance card. However, you want to keep your new Medicare card handy in case a healthcare provider asks for it.
If You Need Assistance…
If you don't receive your new card by April 2019, contact Medicare at (800)-Medicare (800) 633-4227 and TTY users at (877) 486-2048.
Conclusion
Be on the lookout for your new Medicare card. Have questions? Feel free to contact us if you have any questions. We are here to help answer your questions through this important change.