Best Disability Insurance For Stay-At-Home Parents
Updated: February 4, 2018 at 4:34 pm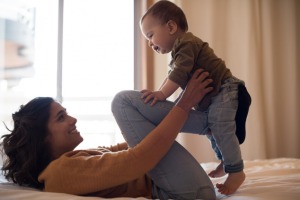 As a stay-at-home parent, your life is busy. The days (and nights) can go on and on. You are a chef, doctor, psychologist, event planner, landscaper, accountant, and much more, all rolled into one. Many people rely on you, though. Have you ever thought what would happen if you became sick, ill, injured, and disabled? Who could look after the kids or help around the house if you can't get out of bed? Disability quickly affects your future plans and the lifestyle you worked so hard for. In this article, we discuss disability insurance and the best disability insurance for stay-at-home parents.
You Are More Important People Than You Realize
We hear from stay-at-home parents all the time. When we ask them what the family plan is if they became sick, injured, or disabled? Their response, "It won't happen to me." Or, sometimes they respond that because they don't earn an income, they have no financial worth. Nothing can be further from the truth.
Look up the comparable salary of any stay-at-home parent, and you will see that stay-at-home parents are worth over $100,000 annually based on all of the stuff they do. So, there is financial worth.
You have to answer the tough questions.  What would family life look like if you are disabled? Would your spouse have to work more? Would you need to sell your home to make ends meet? Who could watch or be flexible with the children? Would you have the money to hire someone to take care of the kids? Or to do all of the things that you do? The tough questions can go on and on.
Disability is known as the destroyer of dreams. Your future and family dreams could be destroyed. They don't have to, though. With disability insurance, you have peace of mind knowing that you have a plan – and income – in place should the unexpected happen.
Yes, But It Won't Happen To Me
The second objection we face. Really? You think it won't. However, the probability of having a long-term disability is anywhere between 1 in 3 and 1 in 4 people. Contrast this to unexpected death, say from a motor vehicle accident, which is 1 in 114. Even dying from cancer has better odds: 1 in 7.
But, John, I'm not going to get hurt or be in a wheelchair, you say. Wow! I respond. If you know that, then you need to play the lottery! You won't have to worry about income at all!
Joking aside. In all seriousness, when we think of disability, we think of someone bound in a wheelchair, right? Not true and far from it. According to the Council For Disability Awareness, 90% of disabilities are from illnesses (like cancer) than from accidents. That means an illness or condition, such as cancer or a heart condition, has a higher probability of disabling you than a skiing accident. Yes, that is true!
Disability does not discriminate. It does not matter if you are a stay-at-home parent, a CEO, a firefighter, or an accountant. You need an income plan in place in case you are disabled. Ignore it, you will have to potentially make some very tough decisions that could affect your family's financial future.
Just truthfully answer this question to yourself: what will you and your family do if you are disabled?
The Importance of Disability Insurance For Stay-At-Home Parents
Hopefully, we have made a great case showing that stay-at-home parents need disability insurance. OK, John. You make great points that I need disability insurance, you say. But, I don't earn an income. How can I get disability insurance?
You can. Read on to learn how.
Disability Insurance Policy Basics
Sure, you don't earn an income. Many carriers, however, know how important you are. You can obtain coverage, even if you don't earn an income.
You probably know that your health matters for underwriting. Carrier also look into industry classifications, too. Most carriers will not cover high-risk professions for the simple reason of an increased probability of disability. Carriers classify the risk from a scale of 1 to 5 or B to 5A. The lower the number or letter, the riskier the occupation, and the higher the premium, all things being equal. Stay-at-home parents are typically classified as a 2 or 2A.
There is an elimination period, also known as a waiting period, which is like a deductible. It is the length of time that elapses before disability benefits begin. For example, a 90 day elimination period means your benefit period will begin after 90 days of disability. This means you need to have adequate savings to carry you and your family until benefits begin.
The maximum benefit period is to age 67. This means your disability benefits will last up until age 67.
The benefits from individual disability insurance policies are income tax-free.
And, the good news. We work with carriers that offer up to $1,000 monthly benefit. Think about that for a minute. That $1,000 can go a long way. It can pay someone to help with the kids, run errands, and help around the house.
The Best Disability Insurance For Stay-At-Home parents
You are probably wondering who we like to work with. First, we work with many disability insurance carriers. So, we are sure we can find one that meets your needs and budget.
However, there is one carrier that stands out to us. That carrier is Illinois Mutual. An A- rated carrier, Illinois Mutual operates in the middle-income market. More specifically, it offers a niche product designed for people like stay-at-home parents. Moreover, the premiums are generally very competitive. The underwriting process is simplified. This means no paramedical exam, blood sample, or urine sample required.
Additionally, they offer partial disability benefits without the requirement of total disability. This is an important provision as many disabilities start out as partial.
And, what about premiums, you ask? Depending on your health and age, the premiums could run anywhere from $0.50/day to $3.00/day. Think that is expensive? Do you or your spouse buy coffee or your lunch almost every day? Yes? What is more important? Having an income plan or buying a cup of coffee? There are many ways to afford disability insurance.
Conclusion
We hope now you have a solid idea why stay-at-home parents need disability insurance. Confused? Don't feel that way. We're here to help educate you and protect your future. Don't know where to start? Use this disability insurance needs analysis worksheet. Follow the instructions; it is rather easy to fill out (we at My Family Life Insurance try to make understanding insurance easy). Next, feel free to reach out to us for our assistance or a quote. We only work for you, your family, and your best interests only. We have helped many stay-at-home parents secure the right disability insurance for their specific situation, giving them and their families peace of mind.
Learn More
Are you interested in learning more about the information in this article? Please fill out the form below, and we will email you additional information or give you a call. We always work in your best interest. By entering your information, you are providing your express consent that My Family Life Insurance may contact you via e-mails, SMS, phone calls, or prerecorded messages at any phone number(s) that you provide, even if the number is a wireless number or on any federal or state do-not-call list. Additionally, you understand that calls may be placed using automated technology, and that consent is not a requirement for purchase. Your information will NOT be sold and will remain private. However, you may opt out at any time. We respect your privacy first and foremost.