Updated On: by My Family Life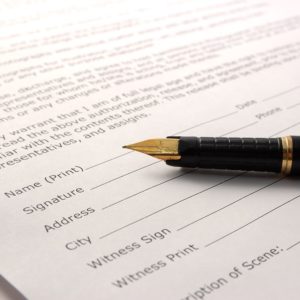 You did a nice thing for your son or daughter. You cosigned a student loan. Or, maybe you helped out your brother or sister, cosigning an auto loan. You feel good about helping a friend or loved one, and you go on your way. You don't think much about what you did.
"Stop!", we say. "You missed one important step that could have a damaging effect on your credit and ability to secure lending in the future."
"What step is that?" You ask.
"You did not ensure your borrower has a proper amount of life insurance, disability insurance, or individual unemployment insurance in case the unexpected were to happen."
"Ok." You roll your eyes. "Sure. Why do I need to do that? The loan company will take care of it if something were to happen."
You pause. "Right?", you ask.
WRONG!
What Does Cosigning a Loan Mean?
By cosigning a loan, you are telling the loan servicing company this:
if the borrower dies, becomes disabled, loses his or her job, or just can't pay, I will assume the payments.
That is the purpose of cosigning – and why servicing companies like cosigners. It essentially means the debt is guaranteed, by you. If you cosign, you are legally obligated to repay the loan in full if the borrower fails to pay.
If you have cosigned a loan, chance are you cosigned a student loan. These cosigned loans typically are private loans. (we will use a student loan in our discussion as it is one of the most popular cosigned loans. However, know that the loan can be any loan – auto, credit card, etc.) With private loans, the loan servicer establishes the terms and conditions. They specify how and when the cosigner is required to pay. You really need to ask questions and review the fine print. Contrast this loan with a federal student loan, which typically do not require a cosigner and generally have more relaxed parameters, particularly when the borrower can't pay.
Cosigning a loan may sound dour. Peruse the internet, and you will read many websites that tell you to never to cosign a loan. While there is much truth to that, it is because people don't know what they are getting themselves into. If you understand the risks, and set up a plan in case the borrower can't pay, cosigning a loan isn't scary as it sounds. There are still risks, but you have a plan that won't ruin your good credit and future borrowing capabilities.
Why Your Borrower Needs Life Insurance and Disability Insurance If You Cosigned A Student Loan
If you are allowing your good credit to be at risk, the borrower needs to be responsible and establish protection on him or herself. It's only fair; you are putting yourself on the line and he or she needs to do the same. If not, then don't cosign the loan!
In our opinion, here are three basic insurances the borrower needs to establish to protect you. Think they are expensive? Generally they are not. We will provide a couple of insurance examples. We assume, you cosigned a student loan, and the borrower is a male age 21 and very healthy. He is working and makes $50,000 annually. See the examples below.
The Insurance Needed
Here are the insurances required to protect yourself in case the borrower can't pay the loan:
life insurance – if the borrower were to unexpectedly die, the servicing company will require you to pay. Some companies will require you to pay each month while others will require full balance payment! Which one is spelled out in the contract. Do you think this is a joke or it can't happen to you? Follow this link to this unfortunate story; it happens more than you think. Are you thinking this must be expensive? A $100,000 death benefit, 20 year term with waiver of premium will cost about $10 to $11 per month.
disability income insurance – your young borrower most likely won't be able to obtain this coverage until he or she has a job. Don't wait on this! This insurance will pay should your borrower become disabled and can't go back to work. It happens more than you think. Expensive, right? If the required monthly loan payment is $500 per month, the monthly premium for a $500 benefit is under $5 per month for a base policy.
So, for under $20 per month, you will be protected should these two events happen. Again, this only an example. It assumes a 21 year old, healthy male. We have, however, helped individuals in their 40s and 50s. The cost isn't expensive, especially when balanced against the risk.
A Few More Types Worth Considering
Another type of insurance is supplemental unemployment insurance. It is not as popular in the US as it is in Europe and elsewhere; however, supplemental unemployment insurance does exist. This insurance will bring your state level unemployment benefits up to 50% of your weekly salary. This insurance is not available in every state. Premiums depend upon the elimination period, benefit period, and career. Is it expensive? Generally, no, depending on the state, career, and benefits selected. Let's say our borrower works in Illinois and in financial services. The monthly premium is about $5 per month. You are probably thinking, "That sounds too good. What are the limitations?" There are some. For instance, seasonal employment are not covered. If your company announced layoffs, your application will be denied. It is important to understand the limitations, but this type of insurance might work for a borrower.
There are other insurances  to consider: critical illness and accident policies, for example. These insurances could be beneficial and provide protection, but it is best to focus on the above three first.
Final Thoughts
In conclusion, if you intend to cosign a loan:
do your homework! Read the fine print. Is the borrower responsible and of good character to justify your guarantee? Do you understand the "fine print" in case of borrower death, disability, or inability to pay? Are you aware of the ramifications? If not, don't sign the loan!
ensure the borrower has the proper individual protection in case the unexpected were to happen: life insurance and disability insurance is a must. If available and depending upon the borrower's employment prospects, an individual unemployment insurance could be beneficial.
Talk to us, too. We are here to help. Feel free to use the quote tool on the right sidebar to determine an estimated insurance policy cost (you probably just need term life) or contact us. We can help you understand your situation. As we are independent, we work only for you with your interests first and foremost.