Short-Term Care Insurance: Easier Approval And More Affordable Compared To Long-Term Care Insurance
Updated: May 7, 2020 at 12:49 pm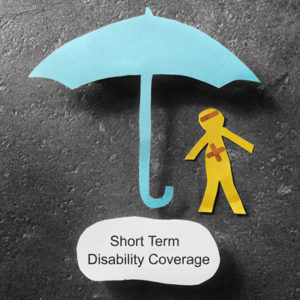 Have you heard of short-term care insurance? No? Well, you surely have heard of long-term care insurance. Anywhere you read or hear, someone is talking about the need for long-term care.
It can be hard for a person to qualify for long-term care insurance. Moreover, they may not like the thought of committing a large premium. They want coverage, though. All of that stress can make someone stuck and not progress to a better situation.
Enter short-term care insurance. Let's talk about short-term care insurance in more detail.
In this article, we will discuss:
what is short-term care insurance?
underwriting
the carrier we like for short-term care
who could use this insurance
---
What Is Short-Term Care Insurance?
Enter short-term care insurance. Short-term care is very similar to its long-term care insurance cousin. Short-term care covers essentially the same things. The difference is that the benefit period is shorter, up to a year.
Short-term care will cover costs associated with:
home health care
assisted living costs/facilities
skilled nursing home costs
adult day care/hospice care
nursing home care
Similar to that of long-term care policies.
Benefits vary by carrier, but short-term care insurance essentially covers similar costs as those covered by long-term care insurance.
It's important to note that some plans only cover home health care, whereas others will cover much more. You need to do your homework and understand your options. That is the only way you can make an educated decision.
How Long Do Benefits Last?
While long-term care insurance benefits can last 2 years or more, depending on your plan and selection, short-term care benefits typically last up to 1 year. Hence the name, "short-term" care.
Worried you won't have enough coverage? You should know that almost half of claims are for 1 year or less. Moreover, if you are worried about costs lasting beyond a year, we developed a strategy that can save you money if needs last beyond a year. We discuss that more in a minute.
How Do You Qualify For Benefits?
You qualify the same way as with long-term care insurance. You must be under the direction of a licensed healthcare practitioner. The practitioner states that you can't perform 2 out of the 6 ADLs (activities of daily living) or you are cognitively impaired.
---
Underwriting For Short-Term Care Insurance
Underwriting is generally easier than long-term care insurance underwriting. Usually, there are no medical exams to take and no cognitive screening. Also, there usually is no paramedical exam, either.
In many cases, people who were declined for long-term care insurance have had success in obtaining short-term care coverage.
Most of the time, you have to answer a "yes/no" questionnaire. Here's a snapshot of one popular plan's questionnaire.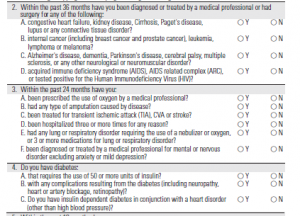 Sometimes, the carrier requires a phone interview.
The underwriting department will do the usual stuff like look up your application history in the MIB and your prescription drug history.
No different than applicants for long-term care, short-term insurance applicants tend to be in their 50s and beyond into retirement age.
Other Facts About Short-Term Care Insurance
These policies pay in addition to Medicare pays (remember, Medicare does not cover long-term care). Long-term care does not.
Rates are usually not gender based as they are with long-term care insurance. That means women could save a lot of money compared to that of a long-term care policy.
Benefit amounts can range from $100 per day to $300 per day.
0 day deductible/elimination period available. Contrast with long-term care which is typically sold with a 90 day deductible/elimination period.
Typically people up to age 90 are eligible.
Depending on the state and the coverage selected, a person could save over 50% compared to a comparable long-term care quote.
Most short-term care policies come with optional benefits and riders, such as a hospital indemnity plan.
Premiums On A Short-Term Care Plan
So, premiums will vary based on you and if you want additional benefits or riders. To give you an idea, though, here is a very preliminary of one carrier's rates. The premiums below represent the maximum benefit. If you don't need the maximum, your premium will be much less.
Note that some carriers may be less due to household or non-tobacco discounts. It's always important to compare apples-to-apples as best you can.

Carriers That Offer Short-Term Care Plans
There are several carriers we like to work with. These carriers offer similar plans, but they can be different in many ways. These carriers include:
Aetna
UCT – one of the cheapest rates and offer spouse and non-tobacco discount
Medico
GTL
Which one do we use? Well, the one that we can get you through underwriting and offers the lowest premium for your situation.
Who Could Use Short-Term Care Insurance?
You might wonder if short-term care is right for you. Short-term care insurance works well for someone who:
was declined from traditional long-term care insurance
wants a less expensive option
waited too long to purchase home health, assisted living, or nursing home care
wants to cover the elimination period of long-term care
is comfortable with taking the risk of being in a long-term care situation beyond a year (almost 50% of long-term claims are 1 year or less, so a short-term care plan may work well.)
Final Thoughts
We at My Family Life Insurance can help determine if this insurance is a viable alternative to a long-term care insurance policy. Feel free to call, text, email, or use our contact form to get in touch with us. As we have said before, there is no risk to contacting us. Why? Because we have duty of care for you and work in your best interest. If a short-term care plan isn't right for you, then you've learned something new, and we will part as friends. Seriously! That is how we operate. We will be happy to help.
Learn More
Are you interested in learning more about the information in this article? Please fill out the form below, and we will email you additional information or give you a call. We always work in your best interest. By entering your information, you are providing your express consent that My Family Life Insurance may contact you via e-mails, SMS, phone calls, or prerecorded messages at any phone number(s) that you provide, even if the number is a wireless number or on any federal or state do-not-call list. Additionally, you understand that calls may be placed using automated technology, and that consent is not a requirement for purchase. Your information will NOT be sold and will remain private. However, you may opt out at any time. We respect your privacy first and foremost.