We know it is difficult for individuals and families to find affordable health insurance. In the last few years, premiums of health insurance plans have skyrocketed. Deductibles have, too! And, you have probably seen increases in copays as well.
You need health insurance, but you are probably thinking how you are going to afford it with everything else you need to pay for. Maybe you don't even want to purchase health insurance now. Maybe you want to give up because costs are so much.
We say, "Don't." We at My Family Life Insurance have an affordable health insurance plan.
We do. No joke. Here are some of the benefits:
Save up to 70% versus Obamacare/ACA plans

Meets the Federal Individual Mandate  / ACA compliant (i.e. no tax penalty; however you MUST check with your state to make sure it complies with your state's mandate, if any)

No or low deductibles

Go to any doctor

Most importantly: customize the insurance to YOUR needs
Here is a potential savings example. We pulled a health insurance plan off the health exchange for a family of 5 (2 adults ages 42 and 3 children) and compared it to our affordable health insurance plan. Your situation and savings may be entirely different.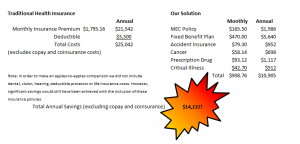 If you would like to learn more, please contact us or use the form below. We will be in touch within 24 hours. 
Plan not available in every state.
Learn More
Are you interested in learning more about the information in this article? Please fill out the form below, and we will email you additional information or give you a call. We always work in your best interest. By entering your information, you are providing your express consent that My Family Life Insurance may contact you via e-mails, SMS, phone calls, or prerecorded messages at any phone number(s) that you provide, even if the number is a wireless number or on any federal or state do-not-call list. Additionally, you understand that calls may be placed using automated technology, and that consent is not a requirement for purchase. Your information will NOT be sold and will remain private. However, you may opt out at any time. We respect your privacy first and foremost.